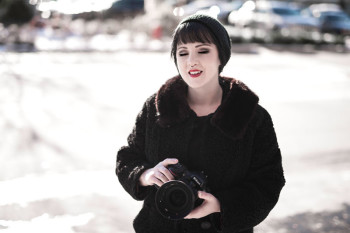 Natasha Gris is a Canadian artist and photographer, correspondent and event photographer in Miroir Magazine.
Q: How long have you been a photographer?________
A: I've been fascinated with photography from a young age. I used to study fashion magazines for hours in my room during high school and dabbled with disposable cameras and Polaroids during that time.
Later I had a Pentax film camera but I didn't get very far with it and struggled with the idea that this passion of mine was impractical, as many of my career ambitions throughout my youth were deemed so by my mother. Fast forward to around the Spring of 2014, when a friend of mine who admired my self portraits I had taken with my first DSLR, approached me to do some pin up style photos of her. From these photos that started circulating on the internet, her friends saw them, and their friends. Slowly but surely I realized that I did have talent and an eye for photography. The smallest amount of encouragement meant so much to me, and gave me the confidence to really pursue a life long dream-to be a photographer. So, to answer the question; I feel like I've been a photographer from age 15 or so. I've been actively pursuing it though for about 3 years though and things have started to really progress within the last year.
Q: Have you been trained, and if so from what institution? Or are you self taught?
A: I haven't been trained formally within the realm of photography. I have a background in Fine Arts though, having taken many art classes in high school at N.D.S.S. in Nanaimo, BC. I then completed one year of a Bachelor of Fine Arts at Vancouver Island University but decided I wasn't ready for Art school.
After realizing that this is my passion, I've studied on line watching countless tutorials. I feel that I have just scratched the surface really, and feel very lucky to have met and worked with some of my Idols in the last year that have helped me along the way. Kyle Cong is one of them. I was very impressed by his lighting techniques and over all aesthetic so I decided to message him on Instagram one day, asking if he ever needed an assistant thinking that I could learn from someone this way. Much to my surprise and delight, he asked me to assist him. I've learnt more than I probably realize from him. Working with other artists from different backgrounds and fitting the pieces together like a puzzle has been my strategy so far.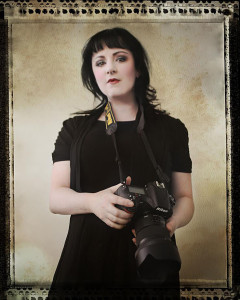 Another artist and photographer I've been watching for about 5 years, at least, was Nina Pak. It was last summer that I noticed her make a post about needing an assistant for a shoot. I immediately messaged her and was ecstatic to be involved with her "Empress" shoot which featured Lillian Liu and Joni Kim as the models. I was also a fan of Lilian Liu's photography making this even more exciting. I was there to assist with the set decoration and to take behind the scenes shots. Since this shoot I've kept in touch with Nina and contributed images that I took at Vancouver Alternative Fashion Weekend to Miroir Magazine. This is how we came to work together on the magazine. It's funny how things come together and just click. Although I haven't taken any formal training, I cannot say I'm fully self taught. I'm lucky to have had the support of some of the best artists in Vancouver.
Q: What inspires your photo shoots?
A: Before being a photographer, I have always been an artist. I've fought this for years, but as I'm getting older I feel there is no time to waste and to deny yourself. If you know who and what you are, you're better of to embrace it. Being an artist isn't an easy road though, so that's probably why many ignore their talent or choose another path. I've always been obsessed with fashion, make up and films that have a very strong aesthetic. In high school I watched Fashion Television with Jeanne Beker and Much Music constantly. I've always loved music as well and music videos which incorporated fashion and film elements. From early on in childhood I had a fascination with horror movies and dark fantasy as film genres. As I entered high school in 1993, mainstream music and culture had a more "alternative" influence than it does currently and I've always gravitated to themes, sounds and styles that are a bit off beat, quirky, eclectic and dark.
Some of my biggest influences include; Helmut Newton, Gustav Klimt, H.R. Giger, Mucha, Ellen Von Unwerth, David Lynch, and Manray. I've also always been drawn to different ethnic styles of dress and jewellery, vintage clothing and period costumes and alternative music and fashion as I mentioned earlier. All this makes for an interesting mix, and I'm constantly brainstorming potential shoot ideas in my head. It can be overwhelming sometimes. I'm partial to making lists to keep track of all my ideas so that I don't have to keep everything in my head and worry about forgetting about them. When I have the time, I can tackle one idea at a time.
Q: Was your family supportive of your artistic endeavors?
A: I think my mother would have liked me to pick a more practical career since she was raised with very old fashioned parents. I've always been fascinated by the Arts though so she has gotten used to this over the years. My dad was more open to the idea since he is a draftsman and designs buildings and is more connected to the art world. In the last few years though as it's become more obvious that this is my chosen path, all of my family have been very supportive. It really is important to feel that support from family and I'm grateful for that.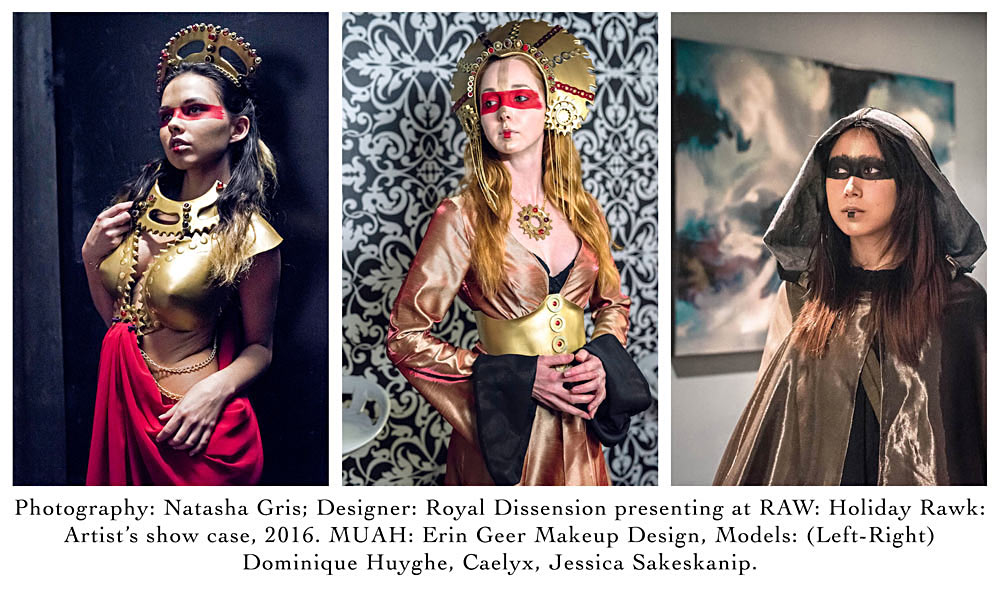 Q: Is there someone special who has encouraged your work and your path as a photographer?
A: Yes, I have had so much support from friends, and family more recently. My friend of over 10 years, Sara Santos, has always been there for me, even in my darkest hours and was very encouraging when I started on this journey. A little over a year ago I met another amazing friend and muse, Brittney Appleby. She is also an artist and model. We became instant friends and her support has made a world of difference in my life in such a short period of time. Without all the positive encouragement I don't know if I would have continued. Maybe I would have but at a slower pace.
When I met Kyle Cong though, I really felt inspired and it seemed like a new chapter had begun in my life. After that, meeting and working with Nina Pak has been another monumental turn of events that has given me even more inspiration and desire to continue to learn and grown as an artist and photographer.
Q: What are your hopes and dreams or future goals?
A: I feel that being a photographer is so many things, you are an artist, a historian, a therapist, a friend and so much more to your clients and to the world. To be able to document and help preserve memories and moments forever is very special and comes with much responsibility. I strive to continue to grow my skills to improve as an artist. I also look forward to continuing to meet new artists, which is a huge source of inspiration to me. This is why I love shooting fashion shows and live performances. I feel that the world needs to be able to see these artists in action and I feel very privileged and inspired doing so.
Another goal of mine is to create a book in the future. I feel that the pieces will come together eventually and a theme will reveal itself.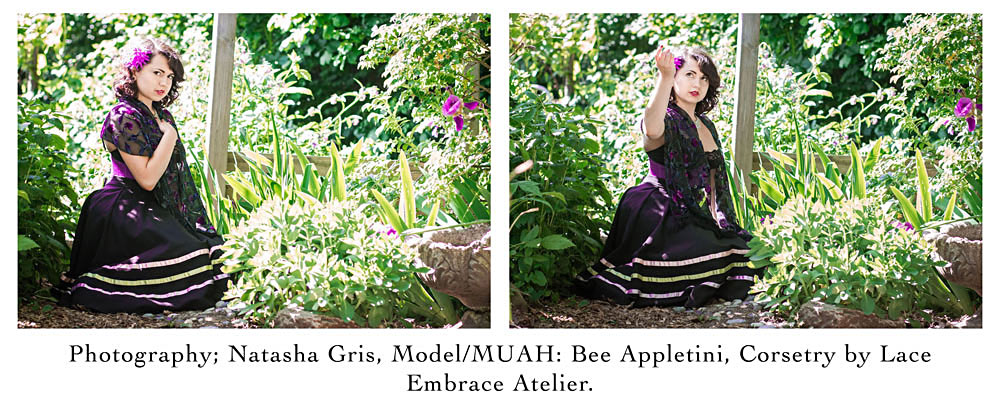 Q: Tell us about your work documenting events?
A: The past three years I attended and photographer Vancouver Alternative Fashion Weekend (Valt). This past year, I was one of the official photographers. Aside from Valt, I have shot RAW: Holiday Rawk fashion show and artists showcase at The Harbour Event Centre, Art Roots holiday party for Sugar Skull Studios as well as many burlesque shows including Kitty Nights West.
I love capturing artists in motion, while they are creating. I find this very inspiring and look forward to shooting more events like this in the near future.
Q: As a correspondent for the magazine what are your goals and aspirations?
A: I would like to interview and photograph artists working in different mediums whether it be Fine Art, fashion, music, dance, or other areas. I would like meet artists I admire and share their works with the Miroir readers in order to support their artist journey while enriching the magazine. I enjoy going to events and making connections in my own work, and feel that this position is a great opportunity to continue on my path while learning new skills and being part of a very special team.
Q: If you could photograph and interview anyone who would it be and why?
A: I have so many influences in different areas of the Arts. In terms of the fashion industry, I have been following Mahafsoun for a few years now. She is a model and bellydancer that lives in Vancouver, BC. I love her style and the photo shoots that I've seen of hers as well as her style of dance. In the last year I've started to photograph dancers and find this very inspiring. The motion, combined with dramatic lights and eclectic costumes lends itself well to a magical capture. Luciterra is a belly dance school in Vancouver, BC. that offers lessons. They also perform as a dance troupe. I'd also like to get involved with them this year.
Q: What has been your greatest achievement thus far?
A: In terms of photography, any time I take a photo of someone and they have a strong positive response. I've had many people tell me that they never knew they were beautiful until I took their photo. That was an eye opening experience for me. I used to work in the beauty industry as a make up artist, having studies at Blanche MacDonald and worked at Sephora. Not until I picked up a camera though, had I gotten that kind of reaction from someone.
I would also have to say that being involved with VALT ( Vancouver Alternative Fashion Weekend) and having my images published in Miroir magazine as well as Gilded are some achievements that I am very proud of.

Q: What mistake have you made that you learned a valuable lesson from?
A: To take on less. That it's ok to to say no. Learning to set boundaries and take time for yourself. You have to make room in your life for good things by letting go of toxic relationships and patterns, otherwise you are pushing them out of your reality. These are ideas that I try to focus on and not forget about. It takes time to retrain your brain towards thinking positively and to break old negative programming. I work on this every day and sometimes I slip up, but it's important keep going. Like everything, practice makes perfect.
Q: What advise do you have for photographers just starting out?
A: Learn your camera inside and out, shoot as much as possible, watch tutorials on line, find a photographer you admire and offer to assist them and learn as much as you can from them. Conduct yourself with manners and be respectful of models, potential clients and fellow photographers. Being good with people is a skill that really helps being a photographer, unless you are shooting wildlife. It's important to know how to make people feel at ease and comfortable around you. This, like anything takes practice, but I feel it is essential when photographing people. If your models aren't happy or they feel uncomfortable it will show in the images.

Also, promote yourself on line. It's free to have a Facebook page, or an Instagram account dedicated to your art. Have business cards made and bring them everywhere you go and don't be afraid to promote yourself. As artists, we have to do this, and there should be no shame in self promotion. If you are personable and create genuine relationships with people they will tell others. Word of mouth is the best advertising.