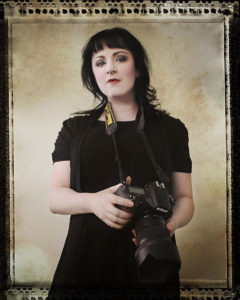 Natasha Gris is a Canadian artist and photographer, correspondent and event photographer in Miroir Magazine.
Q: How long have you been an artist? Please tell us a little about your chosen medium? Do you do any other creative arts?
A: I have always been an artist, even though I have tried to deny it in the past out of fear that it wasn't a practical or wise career choice. A few years ago, I realized that I had nothing to lose by doing the things I always wanted. It's been an intense journey and I have no regrets in following my dreams.
Q: Have you been trained, and if so from what institution? Or are you self taught?

A: I was always obsessed with art and beautiful things even as a young child. I would draw pictures of women's faces and shade them intricately with coloured pencils.
I wish I still had these drawing but I had a terrible habit of destroying "art" that I deemed unworthy in my later years. To this day I have no proof of the young artist I was. After spending most of my time in the art room in high school I decided to take a BAFA at Vancouver Island University, then known as Malaspina college, in 1998. My intention was to continue on to start photography courses in second year, but that never happened. I wasn't ready for art school, and probably never would be. I dropped out at the end of that year to explore my life on my own terms.
Q: You have been featured in Forces of Nature because many of your images depict nature elements, can you tell us a little about why you use them in your art?
A: The term "natural" has somewhat lost it's meaning these days in this unnatural world. Everything can be naturally derived, yet still be synthetic. I've always felt a connection to nature and it's simplicity and purity. Perhaps having had cancer at age 13, and having gone through Chemotherapy and a bone marrow transplant had made me grow up quickly and realize what was really important for me in life. To trust my intuition and focus on what was of true value to me, even though it wasn't what was popular with my peers. Even though I was so scared to lose my hair and be uncool, it made me thing about what was really important, and what was real. I think in this modern age, it's easy to lose focus on what really matters to us with all the distractions that we are bombarded with.
Nature is soft, lush and beautiful, but can also be harsh, dark and unpredictable like life. For me it provides endless inspiration to incorporate into my work and I find it so much more interesting than working in a studio. Weather permitting, there is usually always available light that will work and a variety of areas that can be used as opposed to a studio environment. I don't currently have studio strobe lights so I'm always looking for locations as well. As long as it's not raining, I really prefer to shoot outdoors currently.
Set Name: Duality
Model/MUAH/Wardrobe Stylist; La Lunetta
Photography/Post Edit: Natasha Gris
Lastly, I've always felt a strong connection to nature and the elements. I consider myself agnostic, however I am a very spiritual person. I am fascinated with metaphysical subjects and used to study Wicca, the Tarot and Ancient Egyptian mythology all throughout my high school years. I believe there is much that we cannot explain or understand. I am very sensitive to energy and wish sometimes I could turn that off like a switch. I've also known anxiety, and panic since I was a teen and have learned how to understand and cope with it over the years with much dedication to solving it's riddles. I think being a sensitive person, as most artists are, you are in touch with energy and therefore, nature.
Q: Was your family supportive of your artistic endeavors?
A: Not Always. My father is an artist and a draftsman who designs buildings. He has always supported this side of my personality. My mom and her parents are more pragmatic and worried about this not being a wise career choice which is a big reason why I tried to deny my artistic talents, and what I feel to be my true calling in life, for many years. About 4 years ago I asked for a camera from my dad. It was my first camera, a Canon Rebel 2Ti. I loved it so much and still look back on photos I took on that camera and love them.
I just reached a point in my life where I had fallen off track completely because I was so unhappy trying to do everything I though would please everyone else. Honestly, it made me very self destructive. Then I realized that I was wasting my life and that I felt I had nothing left to lose by doing what I really wanted. After that, I felt very free and like I could do anything. You only have one life, and it goes faster the older you get. If you have a passion for something then you should go after it.
Q: Is there someone special who has encouraged your work as an artist, if yes tell us about this person and how they have influenced your path as an artist?
A: My dad always indulged all my wild and crazy ideas, usually involving art, treasure hunting and moving away to go on adventures. I used to be obsessed with ancient Egypt as a young child and was convinced I was going to be and Egyptologist. My dad was totally supportive of this idea, as well as my artistic ideas, even though they weren't always practical.
In recent years, since I've lived in Vancouver, I've looked up to many artists. I remember being introduced to Nina Pak's art by a model friend of mine, Mihola Terzik. I was instantly mesmerized by her style as it resonated with themes I has always been drawn to. A few years later, when I got my first camera and started shooting pin up and boudoir styles, I dreamed of making more fine art and surreal images. I was hoping to find some kind of mentor and fantasized about working with Nina Pak. A few years later I found an add she posted on line for an assistant for one of her shoots which I jumped at. I was very nervous and overwhelmed with this experience and will never forget it. Lillian Liu and Joni Kim were the models and they were also lovely to work with as well as Ashley Young and Isabelle Pan on Makeup and Fashion designer April Peters. I was pretty star struck to say the least.
The other person I must mention is Kyle Cong. I met him through Instagram a few years ago since he needed an assistant. I jumped at the chance to work with him. It was always so much fun to work with him and he's a very easy person to be around. I asked him many questions about gear and the technological side of photography since I'm an artist at heart and not the best with more pragmatic areas. I wish I had more time these days to assist him.
Set Name: Duality
Model/MUAH/Wardrobe Stylist; La Lunetta
Photography/Post Edit: Natasha Gris
Q: What are your hopes and dreams or future goals, where do you see yourself in the next 10 years?
A: Wow, I have so many goals! I really want to move to Europe as I have been dreaming of for over 10 years. I've never visited, but feel as though I belong there. It seems as though they value the arts more and are surrounded by beautiful old architecture that we don't have here in Vancouver. I don't see myself living anywhere else in Canada either. I'm currently working on learning German since I've always like the language and been fascinated with their culture. Berlin is very appealing to me, as is Belgium or France. I do speak French, so maybe I'll start out there.
A: I am planning to get better with studio lighting, learn videography and hopefully own my own studio one day where customers can come to have photos taken or rent out a room to shoot for themselves. An art show and art book are two more ideas that I still have in the back of my mind for when I have time and funds to pursue. For me, ideas and inspiration are rarely an issue. Time and money though, can be areas of challenge.
Q: If you could do any project with full funding what would it be?
A: This is a tough question… I think it would be really interesting to make a documentary on what is involved in producing a creative photo shoot. Especially with an important theme such as mental illness or addictions awareness. The images would be submitted to be published in a magazine that was suitable to the theme and then shown in a gallery with prints available for sale. A portion of the proceeds would then be donated to an appropriate charity. With funding, there could be many amazing projects!
Q: If you could meet any artist who is no longer living, who would it be and why?
A: I've always been very infatuated by both Gustav Klimt and H.R. Giger. It's a tie between the two.
Q: Tell us your thoughts on the environment and preservation, there are many problems now for the natural environment, endangered species, global climate changes, what concerns you the most and why?
A: Global warming is a huge concern for me personally. I've lived in Vancouver, BC for over 16 years and I feel like it rains less and isn't as cold as it used to be in the winter. It pretty scary and the government seems to brush it off as though it's not a real worry. I also feel that many people don't recycle or claim to "not know how". It's pretty simple but it has to be a priority. I think the government has to care and spend money on educating the public about how important it is and how to take steps to help the issue. If the government doesn't care, it will be hard to create change.
Q: As an artist do you feel there is anything you can do?
A: Yes, I feel like people respond to visual images and that is why we have some power. For us to have an impact though, the message has to be marketable and relatable. I do feel that we, as artists can have an impact especially now with social media and the vast reach of the internet. If we can reach large groups of people and create awareness, that will affect buying power. Potential lost revenue for big corporations, who are hurting the environment, seems to be a major catalyst for positive change is this regard.
Q: Do you have any conservation projects currently in progress?
A: Spreading awareness and building a strong supportive network of artists will be the first step towards contributing to positive changes in society. Sometimes you need to help yourself before you can help others, but this is a goal I'd like to work towards.