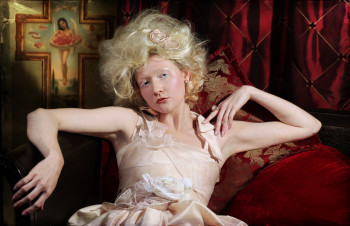 "Cherished" is a new photoset shot by Nina Pak in the home of Jo David and Marlow Harris. Models: Josephine Silverwolf, Tamara Wolf, Rose Froze, AJ Mietus. Photographers assistant: Gene Fox. Designer: Helene Hawthorne. Hair by Kristine Hawthorne. Make-up by Nightshade Beauty.
When Kristine Hawthorne and I got together to do this shoot, we were looking for a lovely Victorian home where we could showcase her amazing period style gowns. Kristina designs under the business name Helene Hawthorne, after her grandmother who taught her to sew.
I had recently reconnected with my friend Jo David in Seattle and asked his advice on locations in the area. He told me he had a few friends with Victorian homes and he would ask around. I had not been to his home yet, that he shares with his wife Marlow and three boys, at that point we had just been chatting on the internet about art and catching up after half a lifetime since we knew each other in our twenties. He messaged me back and invited us to do the shoot at their home and told me it was filled with an art collection of contemporary and pop surrealist originals.
I planned the shoot from Vancouver, and met with the designer and the rest of the team there. The designer and I had been communicating for many months about collaborating on a creative shoot, and this was also the first time Kristine and I met in person and had a chance to work together. One of my favorite make up artists who lived in Vancouver, Kat Morris, met us there to work her magic on our four models; the sisters: Josephine and Tamara, as well as Roze and AJ. We were fortunate to have Gene Fox join us to assist me and to do the video.
This was by all accounts a magical day, first because the environment was so richly decorated with collectibles, fine art, and antique furniture, the home itself is a Victorian mansion that is massively impressive on it's own… then Marlow and Jo were such wonderful hosts, and so kind to allow us to take over the place for the whole day.
It was after this shoot that I spoke with Jo about the idea of creating Miroir magazine. At that time my mock up covers and plans for this fine art publication was to be called simply Mirror, but once we started looking for a domain name we found that was taken, and we went with the French spelling instead. In any case the day was momentous, Jo had not heard about the possibility of Print on Demand publishing and when I shared with him what was possible he got really excited about the idea.
Jo and I had worked together in Seattle in our youth on a magazine of his creation called City Kids. It was a full page visual magazine all about what was fun and interesting in the city: entertainments, cool shops, restaurants and events. It was not sophisticated by today's standards, but it was really cool back then, and no one was doing any thing like it. Jo mentored me in the layout process and photography, I learned so much from him at that time. Which is why he was the first person I thought of when I had the idea to do a fine arts magazine. It was in fact something we had dreamed of doing way back in the day, only then it was just a pipe dream that we never expected to fulfill. City Kids started out on newsprint and was all done by hand, our later editions had a glossy full color cover and glossy pages in black and white with spot color inside. We didn't have computers, so like I said, it was all done the old fashion way, with letter type and ruby lyth, four color separations, all very time consuming and exacting work. It was a press run, so we had to sell advertising to afford the printing. And we did all of that too. Which often consisted of putting together photo-shoots for the shops and creating those ads that we printed in City Kids. It was a huge job, I guess that is where I learned how to do many of the things that I still do today in regard to organizing shoots and curating the magazine.
Now we have Miroir and it is a gloriously beautiful product… but much like the old days, we still don't make any income with this wonderful creative venture. Sadly the whole industry is not profitable, Print on Demand made it possible to do something we never expected we could, but it also changed the print industry in such a way that the only people profiting are the printers.
MIROIR MAGAZINE – "Surreal" – Featured in our SURREAL edition: Nina Pak, Mark Ryden, Marion Peck, John Brophy, Mark Garro, Jonathan Kane, Darren Hopes, Ric Colgan, and more.• Miroir Magazine is an international fashion and arts magazine promoting aspiring and established creative artists. We are unconventional, and dedicated to bringing you the highest caliber contemporary artists and the most unique presentations of current fashion,…