We published thirty-five themed issues of Miroir Magazine and eight special editions since 2012. We took a break during 2020 to determine if we should continue to produce a print copy of Miroir or not.
We have decided to publish two editions in 2021. Please see our Q&A page for details.
One of the questions we are still interested to know is if a print issue is of value to our artists and collectors? For many people, it seems that digital consumption of news and even art has surpassed the need for a product they can hold in their hands or have available for promotion. And certainly, the cost of a Print-On-Demand magazine is considerable, compared to something you might buy off the newsstand.
If you have any feedback or suggestions for us, please feel free to write your advice, a review of the magazine, or your experiences with us in the space provided.
We will continue to post artists' reviews on our website blog and to support our artists on the Miroir Magazine social media platforms.
We want to thank everyone for your support over the years, it has been our great pleasure to showcase the artists we love, and promote their beautiful creations.
With our best wishes to you all,
Jo David and Nina Pak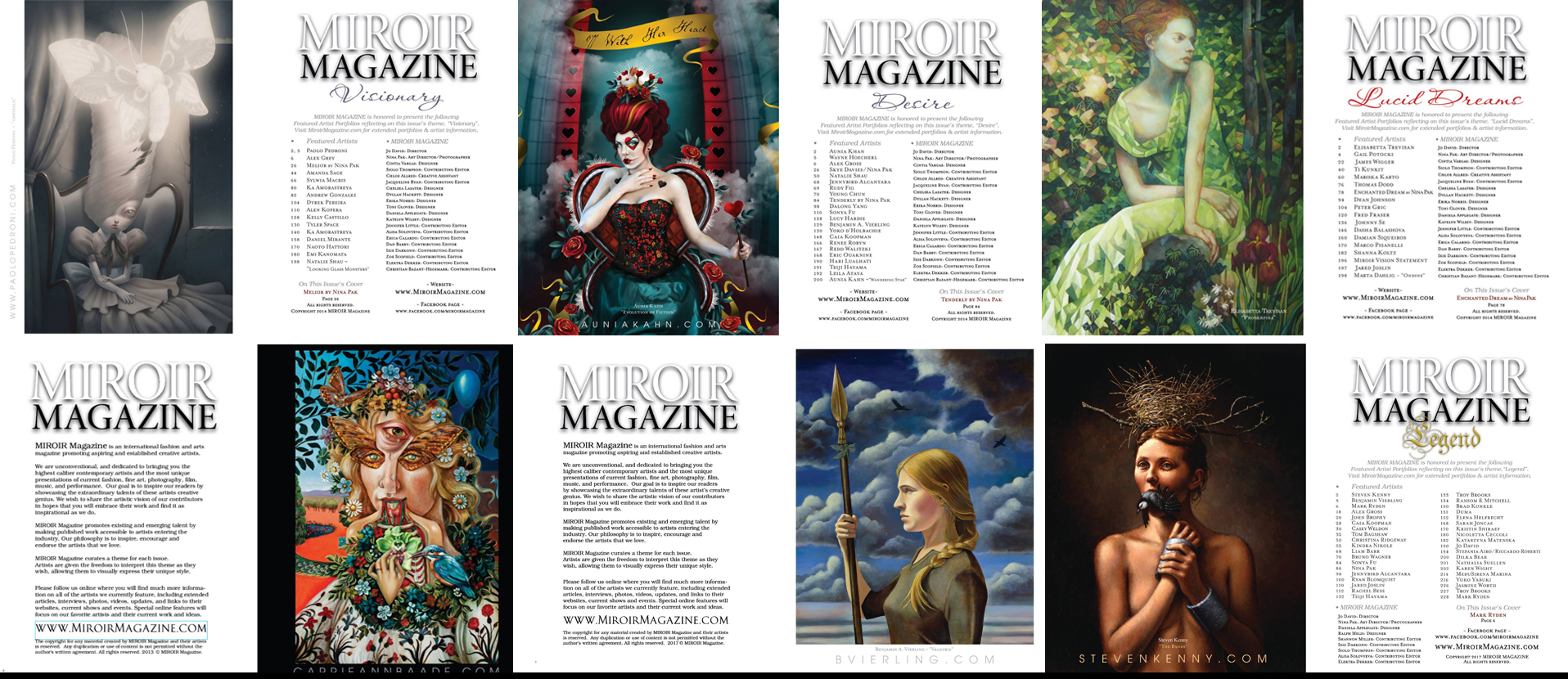 Roger James:
A fantastic ride on a fantasy not imagined before. Wonderful, the world is a much better place with works of art like these. Thank you For a marvelous voyage.
Sincerely, Roger James
Steven Kenny:
Dear Nina and everyone at Miroir, It has been an honor to be featured in such a thoughtful and beautiful magazine over the years. Rest assured that you enriched many people's lives and helped broaden our awareness of all the wonder that surrounds us.
Gratefully, Steven Kenny
Anne-Kristin Vaudour:
I am following your stunning magazine since many years. I must confess that I never purchased one of your printed copies, although I would like to have them. I love browsing hard copies and would be sad if the world turns merely digital due to the obvious reasons. However your final decision will be, I will follow you on and offline.
Paul Neberra:
Can't tell how sad I am about you guys having to take a break from the printed magazine, but I totally understand that this is a more digital ERA. I always get at least two copies of each magazine I'm in, it's a great promotion tool, but most of all, it's a wonderful memory. Thank you so much for your hard work!
Natalia Berglund:
Hi Nina and Jo,
Thank you for producing the magazine and giving me the opportunity to share my work and discover works of others! I did order a hard copy of my issue, so it was of value to me.
Benjamin Vierling:
Greetings Nina and Jo, Saw this announcement on the social media, and am indeed sorry to learn the project is being put on hiatus. There are scant few print Art magazines showcasing the unique visions of working artists, and it was always an honor to be included. Thanks to you both for all your hard work in making it happen over the years! As for suggestions as to how to move forward – I'm not sure I have the requisite experience to provide any meaningful insights here. From what I have generally observed, the options are either to take advertisers, or to self-fund through crowd sourcing and preorders. The former obviously requires a compromise in aesthetic and presentation. The latter requires a near incessant social media campaign. Both require time and energy. In any case, please keep all of us posted, and good luck with your next chapter! All my best wishes
~ Benjamin
Lucy Hardie:
Hi Nina, thank you for featuring my work in your magazine and for your amazing support of artists! It's been a pleasure to work with you. In answer to your question, I have not bought a print edition of the magazine as I generally find it more beneficial to share the digital version with people. As long as I have a digital copy on hand as a record, then that suits me fine. Looking forward to what this next stage in the creative process brings!
Bryan Hufalar:
Thank you Nina and team for all that you did to feature artists, get their work published, and provide a medium for thought provoking art. It was great seeing some of my work in printed form along with other artists and their visions. Sorry that the model didn't work out financially to keep it going. It was a very good platform for artists to share their work… digitally and in print. Thanks.
Simon Clarke:
Nina, your magazine was beautiful, eclectic and wonderfully curated. I loved it because it celebrated collaboration over competition, and individuality over trends. What made it stand out for me above other magazines was that it wasn't just a portfolio of pretty pictures; it explored themes of humanity, our environment, and our creativity with words that complemented the images, and vice versa. I was inspired by it, and in turn, found some wonderful collaborators. I truly wish I could have bought more copies, but the ones I have own are treasured. It's always so rewarding to see one's work in print, but I understand that times are changing. I'm disappointed (partially because I was about to submit some images to you!), but excited to see what comes next.
Tristan Risk:
Thank you for all of your hard work on this project. It's always been a point of pride of mine to be able to share and show off any of our past collaborations. But if you are ending this chapter, I look forward to see what other magic you will go on to produce.
Steven Kenny:
Thanks so much for all your good and valuable work, Nina. It's been an honor to be featured in the magazine.
Mark Garro:
Hey Nina and Jo!
I know how much work goes into Mirroir…
It is such a great promotional device for myself, when ordering hard copies of Mirroir. I give them to my collectors and models. It's such a vivid expression of all the hard work the artists do, and a welcome break from staring at a computer. I've certainly appreciated the hard work and exposure you have done and afforded us artists trying to stand out from all the internet 'static'. You guys rock and I hope you rock on!
Warmest regards, Mark Garro
Rene Gaviola:
Always love Miroir Magazine, thank your for making us part of it!
Bob Doucette:
Love your magazine, I wish you well with your decision.
Skye Davies:
Thank you Nina and Jo for your countless hours of work putting together Miroir Magazine for our creative community. I have been honored to be published in Miroir several times and it has formed an important part of my development as an artist. Thank you for selecting me to be part of your creation and I do hope it resumes in the future. All the best.
Jo Jayson:
What an amazing achievement… Wishing you both success and joy in whatever you do next.
I loved my printed copy, but I also know the day of printed magazines is gone… sad but true.
Hoping you decide what's right for both of you and thank you again for including my work in yours…
Kevin Stiles:
Hello Nina and Jo. I did buy the hard copy edition of the magazine I was featured in… in fact, I think I may have bought more than one. I would have loved others to have done similarly and promote not only your lovely publication – but, also expose themselves to all the amazing artists. To this day, I still have all the magazines that I've been in available for my customers and guests to peruse in my studio… and Miroir is always heavily complimented – people truly love that particular magazine.
Tom Chambers:
Hi Nina and Jo, I'm sorry to hear that you may be suspended the production of the magazine. I have used it to promote my work on social media – FB and Instagram. That said, its very hard to gauge what kind of impact it has on sales. Its next to impossible to gauge what any kind of exposure has on sales, which is important to me. Thank you for your support of my work in the past years, I appreciate it!
Dasha Balashova:
Using the current circumstances to express my infinite thankfulness and appreciation of the deep creative collaboration I had with the Miroir Magazine! It was a thrilling and spiritual journey! Thank you Nina and Jo for your talented and devoted work!
I am sure that your exceptional and unordinary creative vision, generous work of presenting and promoting so many different artists' worlds made lots of artists feel happy! What you do is unique, as well as taking in the hands the printed version of the issue. It is a beautiful edition that I love showing and sharing. I believe for many, many people real printed books have still more unique value than virtual ones. Thank you very much for this fantastic opportunity and gift!
Dio Sumagaysay:
Print is valuable to the artist and so as to the audience (art lovers, art collectors, and critics). I'm excited to received a print issue, it gives the opportunity to pause from reading electronically and have the ability to read leisurely and enjoy art using the print copy. Also as a collector, I'm excited to see a painting that I purchased in the front page or inside the pages of the magazine.
Tina Cassati:
Hello Nina and David,
Thanks again for working together, it's a lot of work, I can understand it.
We were also unable to realize our planned magazine due to time constraints and effort. All the best,
Greetings Tina
Natasha Gris:
Thank you for everything you have done for the Art world over the past 8 years. I'm very honoured and humbled to have been a part of such a magical publication and I hope that it will resume at a later date. I feel that it is very important for artists to see their work in print. The people I've met and experiences I've had from being involved with Miroir are priceless and will be remembered always.
Janie Olsen:
Will miss your magazine… it was the best. My thought was maybe only do 2 issues a year and that might give you time to get some advertising in it??? Having an actual printed issue is just so nice have. I know so much hard work goes into it and you always did such a great job so thank you for that. Also thank you for featuring my work! Will love the magazines I do have forever.
Aunia Kahn:
Hello Nina, Thank you for writing and asking for feedback. As an artist that has been featured I have to admit that I never purchased a print edition (an have not either of other magazines I have been in) based on financial constraints. If I had a lot of income I would buy all copies of the magazine in a heartbeat. I do feel that print is not dead and important but I also understanding the changing atmosphere with the digital world and consumption of print materials like books, magazines, etc and could totally support you guys going only digital so you can still keep creating such a beautiful magazine!
Please send us your feedback or suggestion
[contact-form-7 404 "Not Found"]