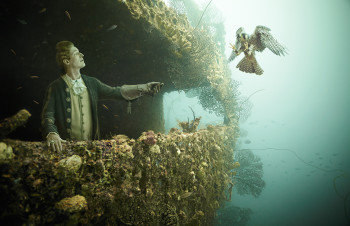 The SS Stavronikita lies at the bottom of the ocean at 13.8 N, 59.38 W, right off the Caribbean island of Barbados. It is the spot Andreas Franke has discovered and chosen to stage a game full of overflowing decadence and exuberance. A traveling salesman, the Stavronikita fell victim to a devastating fire over 20 years ago and with no hope for recovery it was lowered into the silent depths to lie there – fossilized into an artificial reef which one thought would sleep for all eternity.
But life clawed at the ship. For decades the sea enwrapped it with strange and splendid furnishings. A blinding submarine magnificence moved in, assumed command of the desolate freighter and made it vibrate with life. Innumerable shimmering corals, sponges and shells rampantly started clinging onto the stern, the masts and the walls and swarms of fish of the most varied natures began twitching restlessly round and about the scorched freighter.
The wreck of the sunken Stavronikita is a stunning symbol of life's irrepressible avidity. Life cannot be drained. It cannot be exhausted. It unfolds, it thrives, it proliferates, burgeons and multiplies. Right off the coast of Barbados it celebrates its expansive power, substantiating itself like a glimmering monster that devours and engulfs its victims.
This swarming, decadent parade of life conquered the mind of Andreas Franke when diving on the premises of the SS Stavronikita. The well-known Viennese artist, who is famous for his meticulously construed photographic stagings, became possessed with the desire to make the Greek freighter into his next stage and thus the successor to the USS Vandenberg. He would create surprising, bizarre and equally bewitching images by combining photographs of the wreck with sceneries produced in a studio.
The sight of the ship was like a landscape that had dropped its veil, vain and flirtatious. And it was almost as if the Stavronikita craved a mirror for the ever progressing, flickering life it displayed. But what above the surface would correspond to all of this submarine ado?
Rococo.
The Viennese artist determined that this European era, this age of decadence with all its intoxicating extravagance, its vanity and disdain would sign-on to the Stavronikita.
But did he really determine it? Was the Stavronikita not rather urging him to do so? The wreck full of lavish life demanded a match as overflowing and abundant as Rococo, its ideal equivalent. Out of algae, sponges and shells on the Stavronikita scenes seemed to emerge by themselves – scenes of provocative and voluptuous abandon.
Three young ladies court gossip during a lavish picnic, accompanied by eminently trimmed and trained poodles.
A woman in a blue dress obliviously indulges in a piece of cake, surrounded by an extravagant amount of overelaborate pastries and confectioneries. It is a typical image of Rococo: disgraceful, self-indulgent and immoderate.
Andreas Franke presents you with one of the most flashing and flamboyant epochs of European style and cultural history in the midst of a scenery, in which nature displays all of its own abundance and prodigality.
Magnets have been attached onto the pictures, which were then fastened onto the ship with great care taken not to disturb the ecological balance of marine life or to damage the outer skin of the Stavronikita.
Those who search for life at its fullest on land will search in vain. They will have to dive to a depth of 24 meters. At 13.8 N, 59.38 W.
Down to the SS Stravronikita, which now holds what is probably the lushest load it ever carried…
Credits:
Andreas Franke likes to thank all the people who contributed to this project, especially:
Joe Weatherby, Reefmakers
Dive Hightide Barbados, Dive Crew
Jim Driscoll – Ostech Diving Barbados, Technical Diving Support
Joe and Ozlem Berg, Way Down Video
Jakob Illera, Technical conception
Teresa Rotschopf, Casting/Styling
Thomas Orsolis, Makeup
Alex Moser, Hair
Alex Rieder, Foodstyling
Herbert Pecher, Animalstars Austria
Clemens Franke, Photo Assistant
Martin Brack, Photo Assistant
Wolfgang Rieder, Staudinger+Franke Postproduction
Monika Sulzer, Production
Doris Radwanovsky, Production Vienna
Special thanks to all models, their agencies and to the BHTA Dive Product Club.
Purchase the print publication of "WET" by clicking this link below
MIROIR Magazine • "WET"- Featured: Andreas Franke, Brooke Shaden, Philip Delaney, Kris Lewis, Gail Potocki, Joe Traina, Juliet's Dream by Nina Pak, Peter Benke, Elisa Lazo de Valdez, MeduSirena Marina, Sylphes by Nina Pak, Rosanne Olson. …also Contributors: Ransom & Mitchell, Olga Valeska, Natalia Fabia, Deborah Scott, Sarah Joncas, Julie Zarate, Patrick Alt, Joe Helms, Cate Rangel, Dan Chase, Jeff Wack, Aunia Kahn • Miroir Magazine is…