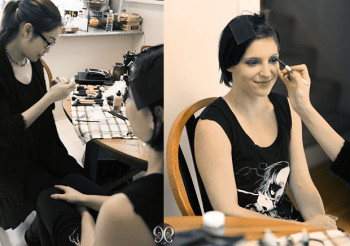 It's always a pleasure to shoot with Nina because it's a very inspiring process, and I can see myself grow as an artist. I still remember the first few times we shot together, I would stay up all night to plan looks in my head and look at different photos online to get ideas. I know I have grown because in the more recent shoots with Nina I can plan as I go and get inspired while at the shoot.— Rachel Kerby
Nina Pak: This last shoot with Rachel Kerby couture was very fun. The gowns were gorgeous and the craftsmanship was impeccable. We had 3 gowns to showcase so I came up with 3 looks. I didn't want to do period specific makeup for the very Victorian gowns because I wanted to keep it looking modern and relatable, afterall women during that time seldom wore makeup except maybe some powder. I did keep the skin very pale and cool to give the very classic, porcelain doll-like look that was very in vogue back then. I love these creative shoots where I can explore with lots of different colours, while of course coordinating with the gowns.
 Our lovely model Molly brought a grey wig to set and immediately I knew I wanted to do something silvery on the eyes and a cool pink cheek. I used a product that was new to me (Mehron metallic powder in silver, used dry here) and it worked great on the eyes. Molly also brought some paper lashes to the shoot and I wanted to incorporate those into this look. I tried applying them a few times but unfortunately the angle of the lashes and the stiffness of them made it very hard to stay on. So in the end we decided to glue them on the eyebrows! And it worked wonderfully giving a very unique and interesting look.
Another look we did was with the blue gown. It was so meticulously sewn, with a lot of delicate details. (Rachel had mentioned a lady from Italy actually ordered the same design in pink!) I wanted to feature Molly's beautiful fair skin. I kept the overall look very light and cool toned, and applied my treasured pair of white feather lashes that I got on a trip to LA. They give a very specific look and I wanted to wait for the perfect shoot to use them, and they were perfect. They were a little heavy because of the size, so I kept the lower lash line very light to not completely "close off" the eyes, and Molly rocked them!
Our final look was a dark red and black gown. I immediately knew I got the perfect lip colour for it (OCC lip tar in black dahlia). It was a deep, saturated wine colour, and slightly glossy. I incorporated some gold into the look so it wasn't TOO goth-y with just the red and black, and I tried putting that new product in the first look (the Mehron metallic powder, but in gold this time) on to the lips, and it gave a foiled look which I really liked.
This shoot was wonderful as always and I love the freedom I have to create different looks. It's very enjoyable for artists to be able to do different things and express themselves through art work.
Written by Heidi Cheung.