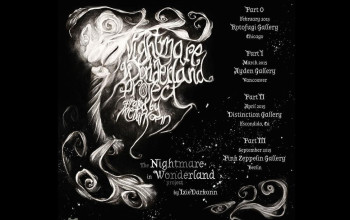 The Nightmare in Wonderland Project opened its first of four exhibitions on February 13th, 2015. This first "colorless" installment, presented at the Rotofugi Gallery in Chicago, features mostly black and white original artwork by international artists and is curated by Ixie Darkonn. To purchase art in this exhibit, please see the previews and price list at the Rotofugi Gallery.

For more information, please see the project website and the following previews of some of the works that are currently on view. If you have the means of making it to Rotofugi Gallery, go before this special exhibition closes March 1.
Stay tuned with Miroir Magazine for more updates on The Nightmare and Wonderland Project and its future exhibitions, the next of which will occur at Ayden Gallery, Vancouver BC, March 6-March 30.
MIROIR Magazine would like to give special thanks to Ixie Darkonn and Rotofugi Gallery for providing us with photos, and thanks also to the Miroir crew of Shannon Miller, Dani Applegate, and Jo David for assisting on this post.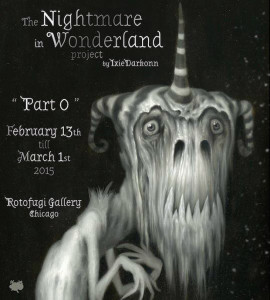 Featured artists in this exhibit:
Valentina Zummo
Selena Leardini
Goto Atsuko
Natalie Shau
Paolo Pedroni
Matt Dangler
Julie Filipenko
Leila Ataya
Marco Tarascio Moby Dick
Dulk
Heather Nevay
Vavje

Virginia Mori
Ryan Myers
Roby Dwi Antono
Mark Kostabi
Eric Lacombe
Dean McDowell
Usanne Apgar
Ixie Darkonn
Valency Genis
Kristian Adam
Aaron Jasinski
Aunia Kahn

Chris Mars
Megz Majewski
Domenico Scalisi
June Leeloo
Lola
Jel Ena
Marco Mazzoni
Yoko d'Holbachie
Alessia Iannetti
Tasha Zimich & Deth Becomes You
Mark Elliott
Here is artist and curator Ixie Darkonn, who flew from her home in Italy to brave the icy cold of Chicago's climate to attend the opening of the exhibit that she curated, as the first installment, Part Zero of her ambitious series of four international exhibits, titled The Nightmare in Wonderland Project. Part Zero is presented at Rotofugi Gallery in Chicago.
Stay tuned to Miroir Magazine as the Nightmare continues with our coverage of the four exhibits in this Nightmare in Wonderland Project.
Coming in winter 2015, Miroir Magazine will publish a special collector's edition, "The Nightmare in Wonderland Project" documenting all of the artwork in the four exhibits, along with artist interviews and special features.