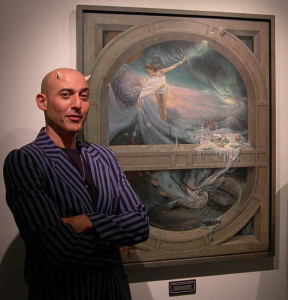 Q: Tell us about your beginnings as an artist, when did you begin to draw or paint?
A: As early as I can remember, I made art. At age 5 I was making Dinosaur Dioramas in shoeboxes and Pop-up Dinosaurs made of paper. Did I mention I like Dinosaurs? I always drew, but didn't start painting until the age of fifteen.
At age eight I started doing flip-pad animations. They started simple, just a ball bouncing. They evolved into seemingly always violent, but somehow hilarious scenarios, like a car crashing into a tree. One animation is of a surfer being eaten by a shark and features an early use of my present "above and below" motif, which has always fascinated me.

Q: Do you have a formal education in art or are you self taught?
A: When I'm asked this, my first impulse is to say both, because it's the truth. I've been around creative people throughout my life. Trial and error were my earliest learning experiences, especially with painting, but I did go to art school. My academic experience was that no technique is actually taught. I've never been formally schooled on how to set up a palette or even how to apply paint to a canvas. That isn't to say that teachers weren't hugely inspiring! For me, art school was receiving assignments to solve independently, and learning how to deal with the critiques when the piece was hung up in front of the class to be picked apart. Now anybody can get a critique at any time from people all over the world!
I've always been obsessed with technique, all types of techniques ranging from Maxfield Parrish , to Jackson Pollack and everything in between. My favorite way to try to absorb a new technique is to pick a painting by an artist from history that I admire, then copy the painting as closely as possible. Pure trial and error mixed with sheer persistence.
Q: You have a very unique style, what inspires you to make this art? Tell us a little about why you use animals and nature to adorn your human figures, how did this come about?
A: I think there is an honest intent in my work. My environment and daily surroundings have had a profound impact. Fourteen years ago I left an urban setting to go back to my roots and a more rural lifestyle. Today, I am surrounded by nature, mountain vistas, and wildlife galore. My property is home to countless animals. Over the years I've spotted eighty-one different species of birds. Nothing invigorates me more than staring at the stars. There is no light pollution and clear nights are spectacular.
My aesthetic has been a slow evolution of assimilating every technique I ever loved, and incorporating them in a cohesive style that feels natural, and flows compositionally. Painting, for me is about the 6 "C's" Composition, Color, Chroma, Concept, QUALITY and Crazy.
Q: Who is your biggest supporter? Is there someone special who has helped you along the way?
A: Different people for different periods in my life. For the last 21 years my top supporter without question is my wife. Growing up, I'm fortunate that my parents never impeded my creative impulses. Overall, my high school art teacher may have given me the most confidence to pursue art as an adult. Also as a young professional, I apprenticed under a fantasy painter who really helped me take my technique to a higher level.
Q: Is there an artist in history who influenced your work, or is there an artist with whom you feel an affinity?
A: Many, many, many, but if forced to boil it down, I would say actual exhibitions I attended had massive impact. You have to see the real thing, period. Having said that, Dali, Carravaggio, John Singer Sargent, Maxfield Parrish, Frederick Church, and Norman Rockwell. Overall I feel most connected to Dali and Parrish and Sargent for reasons unknown. As far as contemporary painters, Frank Frazetta and Roger Dean were hugely inspirational.
Q: If you could do any project with full funding, what would it be and why?
A: I aspire to continue the work I'm doing on a much larger scale. My far out fantasy wish would be to create dioramas like those in the Museum of Natural History. Mine would be in the style of my paintings, and installed in a patron's home. To paint the ceiling or behind the altar in a cathedral would be another wish.
Q: What if anything has strongly influenced your art?
A: Nature, The Cosmos, The Passage of Time, The Folley of Man, lucid dreams, altered states.
Q: What comes next? Do you have anything in progress or shows coming up that you would like to share?
A: More of everything good I hope! I just finished a new solo show, my sixth for Copro Gallery, Santa Monica, CA, opening on November 12. It has the usual apocalyptic undertones, sprinkled with the cosmos, so I titled it, "Cosmolyptic". Galactic, cosmic and solar system inspired dress encouraged! Wearing all black and saying you are a Blackstar or a Blackhole will count! Support your local or even not so local galleries. Seeing art live is unmatched and crucial to the health of civilization.
Q: Has your published work in the print issue of Miroir Magazine helped your career as an artist in any way?
A: I can say one thing for sure, it certainly hasn't hurt! Thanks Miroir!
See more of Mark Garro's art on Miroir »
Mark Garro's website »