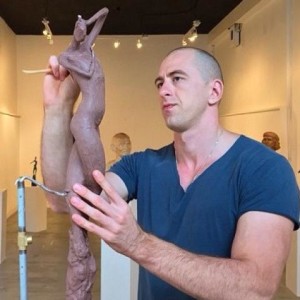 Photos by Nina Pak
Photographer Nina Pak and media correspondent Jacqueline Ryan of Miroir Magazine recently attended the Art Gala Exhibit: SENSUAL TEKTONICA, a show of sculptures and hand made sculptural shoe designs by the artist Rudolf Sokolovski.
Rudolf Sokolovski is an artist and designer currently based in Vancouver, Canada.
Born in Odessa, Ukraine, Rudolf apprenticed under his father, internationally acclaimed artist Valeri Sokolovski, from whom he received an art education and training.
The combination of his exposure to European classical art and Soviet realism at an early age, and the many years of traveling the world, studying art and culture and different styles, has led him on a path of developing his own expression that has been described as powerful, sensual and modern. His works have been featured in film, magazines, press, solo exhibitions, group exhibitions as well as international art expos.
His pieces and commissioned portraits can be found in private collections. Rudolf's sculptures explore themes of power, inspiration, and the human form. His bronze and wood sculptures, deceptively classic in a more traditional Fine Arts aesthetic, have become at once more meditative and experimental, in a new search for artistic identity. Unmistakably sensual and elegant, these are studied works of texture and erotic shapes that emotionally engage the viewer in subtle yet memorable ways.
Rudolf Sokolovski Art and Design http://www.rudolfsokolovski.com/
Photographer: Nina Pak