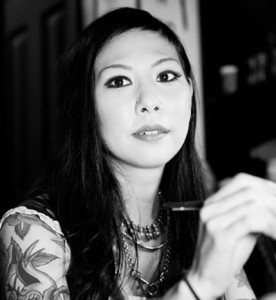 Q: How long have you been an artist? Please tell us a little about your chosen medium.
A: I would say I officially started showing my work as a professional artist about 4 or 5 years ago. I paint with acrylic paint on wood panel. I like the smooth surface of wood panels, which allows for more detailed work through a lot of layering and blending.
Q: Have you been trained, and if so from what institution? Or are you self taught?
A: I am self taught. I graduated from Rhode Island School of Design, however majored in apparel design. It wasn't until a little later in my life I decided to paint.
Q: What inspires your creations?
A: I am inspired by religious art, dark fairy tales and children's books, dolls, toys, vintage Halloween, just to name a few things.
Q: Was your family supportive of your artistic endeavors?
A: Yes, my dad wanted to become an artist, but his parents wanted him to have a financially stable career. So, he was very supportive of my artistic endeavors. My mom wished for me to have a stable 9 to 5 job. She eventually came around and is now very supportive.
Q: Is there someone special who has encouraged your work and your path as an artist?
A: My dad has always been encouraging of my interest in art since I was a child. He was very proud when I started painting. I think he was also living vicariously through me. Unfortunately, he passed away several months before I had my first show and big step into the art world. But, I know that he knows.
Q: What are your hopes and dreams or future goals?
A: I find that I have been hoping and dreaming a lot less than I did used to. Now that painting has become a reality, it is pretty demanding. But I do hope that I continue to improve and evolve as an artist. I hope to create greater and deeper work that comes from years of experience.
Q: Are there any living artists whom you particularly admire, and if so, what about them impresses you the most?
A: There are many living artists I admire. I am constantly impressed by all the talent and creativity out there. It pushes me to work harder and improve myself.
Q: How would you like to be remembered?
A: Just to be remembered at all in such a fast paced, rapidly changing world would be amazing.
Q: Majestic symbolizes a grand endeavor, a great undertaking, or something exalted, imposing, lofty, magnificent… What mind-blowing mark on the world do you wish to make with your art?
A: In a fantasy world, I would love to make a mind-blowing mark with fame and fortune and be able to save all the animals on this planet. But in reality, I would be happy knowing that there are people out there who appreciate my art and would like to save all the animals on this planet.
Q: If there is something you would like to say about yourself or your current projects, or what comes next, please elaborate, feel free to add questions and answers to introduce your topics. Also please only answer the questions you feel interest you and do not feel that you need to answer those that don't inspire you.
A: I am currently preparing for a solo show at Arch Enemy Art in Philly in August and I have a few more group shows after that in California and Australia this year.