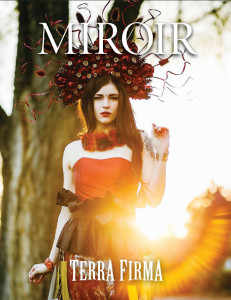 Q: Tell us about Skye Davies Inc. what are your goals and future plans for your designs?
A: The primary inspiration for Skye Davies Inc. comes from Mother Nature and through my brand, I create one of a kind, hand-dyed apparel for women of all shapes and sizes, sourced from ethical fabric suppliers. I want the women who wear my clothes to feel at their zenith while being comfortable, empowered and free to express themselves through the colours, textures and silhouettes of my creations.
Future plans for my brand include capsule collections of hand-dyed, ready-to-wear knitwear, a line of reusable bags, satchels and purses, as well as a collection of colourfully detailed, patch worked, evening skirts.
Q: Your fabrics are unique, can you share with us a little about your process of preparing the fabric and making it original?

A: Bold colours, prints and striking combinations of patterns and textures are some of the most identifiable parts of my designs and therefore I want to be a part creating those and not just the garment itself. When I give the fabric a life of its own, I usually start with a base Shibori type dye technique where the fabric is bound in some way. After I see the results of the base dye, I add on 1 to 2 more layers of dye by hand, or another submerge or dip dye method, depending on the end use of the fabric. If I still want more texture, then I add hand-drawn or block printed accents using found objects or stamps I have carved myself. Sometimes the dyeing/printing portion of garment creation is the most time consuming but it is such a gratifying process.
Q: You have some garments which are made with a patchwork technique, please tell us about this and how you were inspired to use the fabric in this way.
A: I like to play with illusion and perspective when I design and create garments and this "patchwork technique" is an example of how I like to evoke the viewer's interest. Most recently I have been experimenting with appliqueing various remnants of my hand-dyed fabrics onto tulle, to create windows through the garment. This see-through method creates depth in the garment and allows for layering of other pieces such as leggings, tanks and maxi-dresses, to change up the look in numerous ways.
Q: Many of your outfits have handmade accessories and head pieces, please share with us what inspired you to make these, how you envision the whole costume, and then proceed to create your total look.
A: The original inspiration for creating all of the accessories was my desire to do something with the horrifying amount of fabric waste there is in garment production. That aside, when I visualize a costume, I take into account what kind of feeling I want the character to convey and sketch up a few possible examples of silhouettes. Balance in colours, texture and shape are important when creating the whole look. Once I have decided on the character, I pull a big pile of possible supplies, edit them down to a short list and then just play with them either on a mannequin or hat form and see how they behave. Fashion is a process and often times the outcome is nowhere near the original idea but I sure do enjoy the journey and learn a lot along the way. Though there are many elements to master, I don't think there are any set rules to wearing or making clothes and accessories. Everyone has different perspective and that is part of what keeps fashion fresh.
Q: Have you been trained, and if so from what institution? Or are you self-taught?
A: My passion for creation has fueled my desire to learn many different ways of working with fabric. There is no replacement for practice and experimentation when it comes to perfecting a new technique. My formal fashion education happened here, in Canada, at Vancouver Community College. I did a Diploma of Fashion Arts and graduated in 2012, as best designer. I've also taken some courses at Kwantlen Polytechnic University and classes from various other people working on unconventional textile manipulation and dye techniques.
Q: Was your family supportive of your artistic endeavors?
A: My family always encouraged me to express myself in artistic ways. Painting, saxophone and drums were all part of my childhood. I have also sewn from a young age, having been inspired by my mother's ability to make her own brightly coloured clothes, as well as ours, as kids of the 80's. I can tell you I have far more patience with a sewing machine now than I did as a novice! I have also danced and made costumes for many years and can never remember a time when I didn't have numerous art projects on the go at once. I am lucky to have such creative, encouraging and resourceful parents.
Q: Many of your outfits have a distinct "nature" influence, which is why you are being featured in Terra Firma, please tell us your thoughts on the environment and preservation, there are many problems now for our natural environment, endangered species, global climate changes, what concerns you the most and why? As an artist do you feel there is anything you can do?
A: I think the biggest problem facing our natural environment is people's lack of respect and restraint for our resources. There needs to be a better balance of responsible consumption and preservation of our planet. From the perspective of someone in the apparel industry, I think there needs to be to be further research into more recyclable and less polluting textiles and the practices that go into making them. Being an artist gives me a platform to advocate for change and to find a better way of doing things. I feel I am responsible for representing both my voice as an artist and the voices of those whose work forms part of mine, in making a stand on putting our environment and our health before profit.
Q: Do you have any projects currently in progress that speak to these concerns or are you interested in doing more to bring awareness to these issues?
A: There is no denying that on most scales, whether it's a natural or a synthetic fibre, making and dyeing fabric are extremely polluting processes. Whatever we can do to reduce the impact they have on our environment, needs to be done now. I believe Skye Davies Inc. can have an impact on environmentally responsible methods of the gamut of fibre and fabric production. Building farm to fibre relationships, so we know where our cotton/bamboo/hemp/wool are coming from before it is made into fabric, as well as knowing where and how our fabrics are milled, dyed, manufactured and transported are important ethical partnerships to pursue. Working with local craftsman and production facilities that have fair wage and safe working conditions, as well as proper recycling and by-product treatment, are paramount to our core values. My latest project involves a natural dye plant nursery, where it will be possible for me to grow and process the plants into natural dyes for sale and use in my own work. I'm also mad about giving new life to recycled garments and textiles that could otherwise end up in landfill. I believe the decisions we make every day, as business owners and inhabitants of mother earth, about who and what we choose to work with, should have positive impacts society and on our planet. I try to bring that to all that I do.