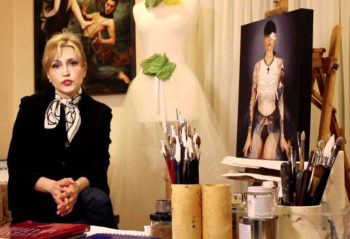 Q: How long have you been an artist? Please tell us a little about your chosen medium?
A: I have been involved with art since the age of eleven. Even though I am trained and experienced in a variety of mediums, I have always preferred oils paints.
Q: Have you been trained, and if so from what institution? Or are you self taught?
A: From an early age, my life has been rich with culture and art. I was born and raised in Armenia, where my parents enrolled me in after school programs and art school. It was at that young age that my creative spirit was ignited. After art school, I graduated from Fine Art College and subsequently State Pedagogical University where I majored in Teaching Fine Arts.
Q: You have been featured in Forces of Nature because many of your images depict nature elements, can you tell us a little about why you use them in your art?
A: In my most recent series of surreal figurative work, you will find the theme of nature decaying and weakened by the forces of humanity, particularly through vanity and self promotion. I portray images of strong women with almost god-like capabilities to impact the animals and environments around them. They are fierce and in control, which, as I show, may be detrimental to their surroundings.
Q: You have been teaching for some time, please tell us about your teaching experience and a little about how you teach, what you find is most important to impart to your students and what you hope for them to gain?
A: Yes, I own a private studio, where I teach my methods and techniques in a classical, academic, and traditional manner. I individually tailor the program to the needs, goals, and level of each student. We go deep and thoroughly examine materials, techniques, color, composition, human anatomy, art history, drawing and painting techniques, and content. I give individual instruction and critique, and I also help my students with personal projects and portfolio pieces. My students receive one on one attention in a small group setting geared towards reaching individual artistic goals. They also explore various mediums and techniques under my guidance, and I help them develop their artistic technical and creative abilities in becoming better versions of themselves.
Q: Is there someone special who has encouraged your work an artist, if yes tell us about this person and how they have influenced your path as an artist?
A: I have not been born in the family of artists. My mother was a Biology/Chemistry professor, my Dad, after retiring from military service worked as a meteorologist. I consider myself a very lucky person for having been born to wonderful parents who have supported my decision of becoming an artist and later a designer.
Q: What are your hopes and dreams or future goals, where do you see yourself in the next 10 years?
A: I really hope to stay healthy and have the same energy and creativity as I do now; to be able to continue doing what I love to do. And I hope in ten years from now I will still wake up every morning and feel the same love and passion for creating art that continues to grow in me every day.
Q: If you could do any project with full funding what would it be?
A: I would probably do my own solo exhibition.
Q: If you could meet any artist who is no longer living, who would it be and why?
A: I have always admired Rembrandt as an artist. Also most of the artists of baroque period. I personally love the way Rembrandt expresses the depth of emotion and the soul in his subjects. I also love the rich and lush environments that baroque period artists tastefully created.
Q: Tell us your thoughts on the environment and preservation, there are many problems now for the natural environment, endangered species, global climate changes, what concerns you the most and why? As an artist do you feel there is anything you can do?
A: I have always been greatly concerned about the global environmental changes, including loss of biodiversity, species extinctions, and destruction of natural habitats. This has been a topic that I am very passionate about, and I hope through my art I can provoke the realization that right now, we, as a species, have the opportunity to stop this downward trend of destruction to this planet; our home.
Q: Do you have any conservation projects currently in progress?
A: Yes, I'm working on my new series which highlights concerns about environmental issues