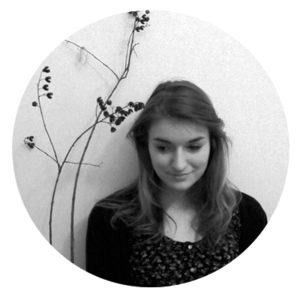 Q: Tell us about your art technique and what first sparked
an interest in this medium.
A: I've always gravitated toward portraits – my four year old scribbles were mostly odd faces. But it was the style and thinking process behind the portraits that changed. I used to work mainly with pencil and my goal was recreating a photo as realistically as possible. Around age thirteen, I discovered Photoshop and my world changed. With more freedom to make mistakes (ctrl+alt+del needs to exist everywhere), I loosened up and began experimenting.

A lot of it had to do with getting older and becoming more experienced, but working digitally did allow a shift toward bolder colors and more expressive design. Nowadays, I normally start a piece by sketching out my idea in black and white. After tweaking the composition, values, and being generally nitpicky, I start seeking out references and refining my sketch. I then throw in textures and add color using a variety of layer modes (soft light, divide, multiply, whatever may feel best). Toward the end, I detail the piece and call it a day!
Q: Do you use any special materials, or do anything out of the ordinary when you are creating your art, If so, could you tell us about it?
A: While I primarily paint digitally, I do create and scan traditional textures to use in Photoshop. I'm particularly drawn to watercolour textures -I love their spontaneous quality and try to incorporate this fluidity into my work. There's something about the unpredictability of watercolor that is hard to capture using just digital methods. I try to recreate this sense of movement in a more controlled way, overlaying my digital artwork with these textures. I also prefer using chalky and textured Photoshop brushes to mimic traditional effects.
Q: What are your favorite products or brands and why?
A: I paint digitally using Photoshop CS6 and my lovely Intuos 3 Wacom tablet. I was instantly hooked on my first day of using a computer and tablet. Working with unlimited colors and canvases helped me experiment more, allowing me to grow and develop my style. I still use the same Intuos tablet that I've been using for at least a decade, I'm a creature of habit.
Q: When did you begin to take an interest in art and for how long have you considered yourself an artist?
A: As a child, my first canvases were the walls of my bedroom and it's been a strange, fantastic ride ever since. When I found out that people actually make a living with art, I was determined to pursue a career doing something I love. I started with smaller, local commissions in high school, though after becoming active on social networks I began creating a more professional network. I've been freelancing full time since graduating from university three years ago. I think I've always considered myself an artist, but I am now proud to call myself a professional illustrator.
Q: What inspires your creations?
A: My love for nature, biology, and portraiture are recurring themes throughout my work. I tend to create portraits with a combination of graphic and realistic elements and often draw inspiration from abstracted environmental elements.
I love the beauty and unpredictability of nature. It's a perfect complement to the human figure. When I can, I love finding an escape outdoors. I'm also inspired by movement and texture, lyrics and melodies, expressions, color variations, pretty much anything which makes me want to grab my tablet and paint (which is almost all the time). Often, a concept to a piece will come as an accident. A loose brush stroke will suddenly take on shape or design of its own, and I'll just go with it.
Q: Do you use live models and if so do you have a favorite muse? Do you find that having a model helps to inspire your creation? Or do you create everything from your imagination?
A: In general, I roughly sketch out a face and then look for reference. I tend to search for photos or take pictures of friends. My portraits are normally a composite of a few different reference images. When it comes to anatomy such as hands or more challenging poses, I'll often reference myself out of convenience. I did a lot of life drawing in university, and still enjoy going to life drawing events. I find it relaxing to loosen up and be around other creatives. While I don't typically use these life drawing sketches for work or fully rendered personal paintings, I do have piles of sketch books full of life drawing to help reinforce anatomy and traditional techniques. Life drawing events are also just a fun change
of pace from the solitary freelance life.
Q: What challenges do you have when you're creating, and what makes you the happiest when you're bringing a new project to fruition?
A: It can be difficult to stay motivated in a piece. I find it helpful to work on more than one painting at a time to keep the painting process fresh. It's also a challenge finding a balance between professional and personal work, and not to feel burned out by a job. But as far as freelance goes – I like having a flexible schedule, being able to work almost anywhere, and interpreting a client's wishes using my own voice as an illustrator. In any case, painting is very therapeutic. Even when sitting at a desk moving my hand, it's not a passive process. There's no better time to let your mind wander. I often try to incorporate this meditative state into characters' expressions. In general I just love art. I love creating it, I love looking at it, I love getting excited over a project. I love getting any sort of response, I love the rush when something's going well, and the frustration when I've been working for hours and have nothing to show for it. I love the thrill when I find an artwork that's beautiful and overwhelming and turns that frustration into inspiration. I consider myself so lucky that people have given me opportunities to create art both personally and professionally.
Q: Were you formally trained or are you self taught?
A: At the beginning, I was mostly self-taught and practiced digital art through web tutorials as well as trial and error. I took a few traditional art classes in high school, and fortunately a painting teacher encouraged me to look into art colleges. I attended the Savannah College of Art and Design in Georgia where I received a BFA
in Illustration in 2015.
Q: What advice do you have for artists who are seeking to follow a creative path as a career?
A: Draw every day, even if it's just a little sketch. Refresh your color theory, attend life drawing sessions, and study works that you admire. Figure out the aspects of your favorite pieces you are attracted to, as well as what you personally enjoy creating. Combine these inspirations, and your own voice will emerge. Explore the possibilities, be persistent, and don't compare yourself to others – instead track your improvement. And never stop making lots of wonderful things (whatever that may mean to you)! In terms of shifting towards a professional career, I've found that having an online presence is tremendously helpful for both personal and professional artistic communication. Almost all clients have found me via social media sites. Updating often helps your work become more consistent, visible, and recognizable. I found art university to be valuable because I was surrounded by creatives who pushed and inspired me. However, if there are financial or other hurdles I would say that being self-driven and practicing through personal projects is the most important step towards improvement. I like referring to The Graphic Artists Handbook of Pricing and Ethical Guidelines for professional practices with clients – it has good tips on contracts and pricing.
Q: Has there been anyone in your life who was particularly influential or someone who supported your choice to become an artist?
A: My childhood was spent in San Francisco listening to my dad read children's books using goofy voices. I found the pictures just as fascinating as the stories, and an interest in illustration blossomed. My dad always encouraged my artistic pursuits and indulged my love for drawing. As a professional sign maker and percussion mallet creator, he loves machinery and design and provided plenty of sketchbooks and tips to strengthen my drawing skills. More than anyone he's inspired me to stay motivated in art.
Q: Can you name any artists who has influenced your style or techniques, and why they were favored?
A: As a youngster I was inspired by the traditional classics, and found that Bouguereau, Sargent, and the Pre-Raphaelites capture the human form in a beautiful way. As time went on, I found myself inspired by the balance of realism within decorative surroundings. I was drawn to Mucha and Klimt's use of pattern contrasted with a rendered figure. I love Egon Schiele's more experimental, figural style as well and also grew up admiring Wyeth's storytelling abilities, sense of movement, and cohesive colorful palettes.
Lyendecker's vintage, subdued colors and painterly strokes are also inspiring.
Q: Do you find that your environment or music influence your creative process, if so can you describe a perfect setting for you to do your art.
A: I draw whenever I can, but I'm a night person at heart and feel most inspired after dark. I always need something in the background to focus – whether that be audio books, shows, movies or songs. Depending on my mood, I'll be listening to a playlist or podcast, films and television. I like to multitask as I paint, and to take breaks here and there by tuning in and out of the background entertainment. I always have a cup of tea on hand while I work.
Q: If you could meet anyone who inspired you to be an artist (living or dead) who would that be and why?
A: That's a tough one because if I met an idol, I would probably be overcome with awe and not say a word!
Q: If you had full funding to do any project what would it be and why?
A: I'd love to tackle an art book one day. I'm not sure what that would involve, perhaps it would be a series of illustrations under one theme or a picture book with a story running through. It's been on my mind for a few years, but freelance has been occupying more and more of time recently. Which is really great, but at some point it would be amazing to revisit the days where I could create for the sole reason of creating.
Q: What comes next? Do you have any big projects in the works or plans for the new year?
A: I'm not sure, I wouldn't say I have any big projects planned. I'm very happy with how things are now, and I'd like to continue freelancing in Edinburgh, the beautiful city where I now call home. On a personal note, I'd love to be able to travel lots in the new year and keep myself occupied with art and good food!