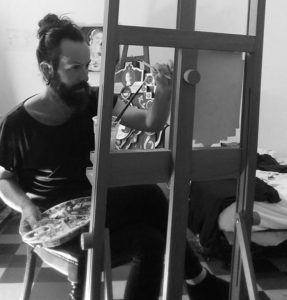 Translation by Costanza Tagliaferri
Q: Tell us about your art technique and what first sparked an interest in this medium.
A: To achieve the sculptural and three-dimensional effect of the painting, all my work with tempera paint is on carved and assembled wooden pieces following a specific order of stratification. I usually paint on lime following the fundamental principles of ancient mural paintings; while the trim of each piece is in twenty-two carat gold leaf.
Q: Do you use any special materials, or do anything out of the ordinary when you are creating your art. If so could you tell us about it?
A: For my paintings, I usually mix polychrome pigments with natural glues, creating a tempera paint that follows the technical guidance of the great masters of the past.
Q: What are your favourite products or brands and why?
A: I do not have a favourite brand. However, I am always looking for the purity and quality of the material to achieve the best result.
Q: When did you begin to take an interest in art and for how long have you considered yourself an artist?
A: I think that you are born with a sensibility for painting; I believe it is a natural predisposition of the individual, like singing or having a peculiar eye colour. I began my journey as a professional painter roughly when I was studying in the Rome academy of art; I was nineteen, that was twenty years ago.
Q: What inspires your creations?
A: My paintings derive inspiration from the spiritual and intimate dimension of the human being. I look for this spirituality in people's expressions. Like words, I use these symbols to narrate allegoric tales guiding us in a journey to reach exclusively the archetype at the core of our nature.
Q: Do you use live models and if so do you have a favourite muse? Do you find that having a model helps to inspire your creation? Or do you create everything from your imagination?
A: I only work with living models, with existing people that are more or less part of my life. Nothing comes from imagination. The icon belonging to each face is actually the face of the model portrayed itself, exactly at the first epidermal layer. I never use the same face twice.
Q: What challenges do you have when you're creating, and what makes you the happiestwhen you're bringing a new project to fruition?
A: My greatest challenge is to illustrate the Beauty; exploring and narrating Beauty without the arrogance of representing it.
Q: What advice do you have for artists who are seeking to follow a creative path as a career?
A: You need to study and to know as much as possible. You need to learn from the great masters but being humble and never forget that Beauty is the ultimate scope.
Q: Were you formally trained or are you self taught?
A: My inspiration is the humanity as entirety.
Q: Has there been anyone in your life who was particularly influential or someone who supported your choice to become an artist?
A: I think of two people… from the past, to my art teacher Barbara Ferabecoli who taught me the ethic of art; today, to my companion Lorenzo who is walking with me through this amazing journey.
Q: Can you name any artists who have influenced your style or techniques, and why they were favoured?
A: I can say that I am very fascinated by great artistic movement, from Gothic art to Flaming renascent to secession time. I strongly believe in the ritual gesture and rhythmic movement of thoughts. For this reason, the typical taste of orthodox tradition always captures my attention. It is a taste that goes beyond the faith; it fascinates me for the approach to the image focussed on the symbol.
Q: Do you find that your environment or music influence your creative process, if so can you describe a perfect setting for you to do your art.
A: I listen to very rhythmic music. I love to paint when I am alone, in the twilight; it is
where I can see everything I need.
Q: If you had full funding to do any project what would it be and why?
A: A communal space of creativity and pleasure promoting art in any of its expressions.
Q: What comes next? Do you have any big projects in the works or plans for the new year?
A: There are lots of projects; I am collaborating with musicians, a perfumer and various other cultural makers for group creative projects. I am also about to start a series of numerous works dedicated to contemporary literature.