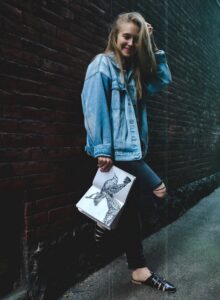 The surrealistic, imaginative ink artworks of Olivia MacDonald are conversation pieces. They draw on various elements, all combined into one image that carry a positive message for the viewer.
Olivia has been creating a drawing everyday on Instagram for over three years now, pairing them with thought-provoking captions that add another layer to each piece. She is inspired by her frequent walks in nature, her Swiss-American identity, her background as a creative writer, and her everyday experiences.
She began her journey when her cousin in Switzerland was going through depression and she couldn't be there to support him. But her art traveled.
Each piece to her is a sort of raw metaphor for life and overcoming. It gave him hope and inspiration and continues to give him and Olivia's followers of 23K and counting the same each day.
You can find her at Instagram @inkbyolivia, Tik Tok @inkbyolivia, and shop her art prints and stickers at inkbyolivia.com