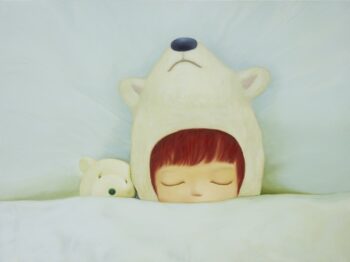 On Saturday, April 22nd, downtown Los Angeles' Corey Helford Gallery (CHG) will proudly present their next major solo show, Ephemeral Existence, from Japanese oil painter Mayuka Yamamoto in the Main Gallery.
Yamamoto is widely recognized as one of Japan's leading second-generation contemporary artists, whose works depict children sporting animal features and enigmatic expressions. The artist's oil paintings often appear reticent and introspective. The emotions of the child characters in Yamamoto's works, or "animal boys" as she often calls them, are meant to be a mystery to the viewer. They exude an aura of otherworldly calm and demeanor that belies their true emotional and psychological states, juxtaposed against subtle settings painted in soft, muted color tones.
Regarding her new series, Yamamoto shares: "I created these new works hoping to express that 'something' certainly exists. I've visited many catacombs throughout Italy and France, and while doing so, I remember initially feeling I was searching for something but didn't know what. Italy's The Capuchin Catacombs of Palermo left the strongest impression on me, as there were mummies of children (between 5-8 years old) wearing dresses. I couldn't help but imagine the parents of those children, putting a brand new, beautiful dress on their deceased child, as was customary during this period (hundreds of years ago). For me, in that moment, 'ephemeral existence' was the most appropriate term for those children and I knew I found the meaning I was searching for…my journey was over." Adding, "Most of my works are 51 x 38 inches in size, which I like because the canvas is large enough to look at but still easy to hold, like a little child. For this show, most of the pieces feature children dressed as animals and I tried painting them without facial expressions."
Open to the public and free of charge, Ephemeral Existence is set to debut on Saturday, April 22nd from 7:00 pm – 11:00 pm in the Main Gallery at CHG, alongside a solo show by Hera of HERAKUT in Gallery 2. The show marks Yamamoto's fourth solo at CHG, following Monochrome, Apples and Animals (Sept. '21), Animal Crossing (Oct. '20), and Animal Boys (Feb. '19) ‒ click here to watch a video tour of her last solo at the gallery.
About Mayuka Yamamoto:
Born in 1964 in Okayama, Japan, currently working in-between Tokyo and Gunma, Mayuka Yamamoto received her master's degree from Tokyo's Masashino Art University in 1990 and joined the Japanese Government Overseas Study Program for Artists to continue her studies in London until 1999.
Widely recognized as one of Japan's leading second-generation contemporary artists, Yamamoto is known for her oil paintings portraying children in animal suits (or some other defensive, physical animalistic costume) with enigmatic facial expressions. The children seem to instinctively hide behind a second skin, like a protective armor, in response to their emotions and psychological state. In some pieces, Yamamoto paints settings inspired by nature, further enhancing the contemplative space in which the subject seems to find solace in the dream-like natural habitat.
Yamamoto has exhibited her work throughout Japan, as well as in Korea, Amsterdam, New York, and Los Angeles. In addition to being found in prestigious private and public collections all around the world, the artist's work has been profiled by Juxtapoz, American Art Collector, Beautiful Bizarre Magazine, and Japan's Art Collector, among others.
About Corey Helford Gallery:
Established in 2006 by Jan Corey Helford and her husband, television producer/creator Bruce Helford (The Conners, Lopez vs. Lopez, Anger Management, The Drew Carey Show, and George Lopez), Corey Helford Gallery (CHG) has since evolved into one of the premier galleries of New Contemporary art. Its goal as an institution is to support the growth of artists, from the young and emerging, to the well-known and internationally established. CHG represents a diverse collection of international artists, primarily influenced by today's pop culture and collectively encompassing style genres such as New Figurative Art, Pop Surrealism, Neo Pop, Graffiti, and Street Art. Located in downtown Los Angeles (571 S. Anderson St., Los Angeles, CA 90033) in a robust 12,000 square-foot building, CHG presents new exhibitions approximately every six weeks. The gallery is open Tuesday through Saturday from 12:00 pm – 6:00 pm. For more info and an upcoming exhibition schedule, visit CoreyHelfordGallery.com and follow on Facebook, Twitter, Instagram, TikTok, and YouTube. For available prints from CHG, visit CHGPrints.com.
OPENING RECEPTION
April 22, 2023 | 7:00 pm – 11:00 pm
ON VIEW
April 22 – May 27, 2023
COREY HELFORD GALLERY
571 S. Anderson St. Los Angeles, CA 90033
Open: Tuesday-Saturday, 12:00 pm – 6:00 pm
(310) 287-2340