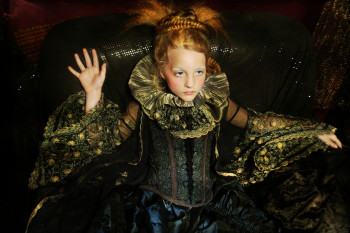 Obscure Trinkets and Rare Obsessions is a new photo session by Miroir Magazine photographer, art director and curator Nina Pak for the "Surreal Issue" of the Miroir Magazine, published on 12.12.2012.
For this creative shoot with The House Gallery Boutique we planned a vampire theme, we wanted pale skin, a dark mood with elegant dramatic costumes. We had a huge cast of models and stylists for this shoot.
The make-up artist Lawrence Hon doing double duty as a model because one of our male models was a no-show. There were actually 9 models that day, but we had so many costumes shot and so many different looks that we made several magazine submissions out of the material that was edited.
When we do a production like this with so many people involved it is a huge job just to organize and plan for the shoot date. First order of business is the casting process. I had my God daughters Naia and Eden and their parents Josephine and GJ, coming into town and April had made garments for the girls in small sizes. All other models were selected for the theme, I wanted models with pale complexions and strong bone structure.
Coordinating everyone's schedules and keeping in touch with each member of the team to make sure they have all the information they need, sending mood boards to the stylists so they know what kind of make up we prefer, and letting the models know what they need to bring in way of undergarments, shoes or most importantly, reminding them to show up… this is the second order of business. When I do shoots at my studio I am also cooking for everyone… This shoot was held at the designers boutique, April Peters, and her mate Hagai Amir are wonderful hosts, Hagai prepares a huge spread of healthy foods and drinks for the team. He also is my assistant on set.
April created the most luxurious costumes for this period style theme, Garments for women with corsets, lovely outfits for the men as well… every piece of clothing was something special, something you would want to keep, that made you feel Royal, elegant… lace, brocade, satin, velvet, and all accented with jewels and accessories, hats and lovely props. It truly takes your breath away when you walk into the shop and see what she has ready for the models to wear, and they all get so excited.
I had the help of very creative make up artists: Donika Rudari, Krysten Merrick, Lawrence Hon, and one of my favorite hair stylists: Katie Webster. One of my hair people could not make it, so I did double duty for half the models on this shoot, styling the hair… I was also the wardrobe stylist. (credited under Dreamloka).
The shoot day begins with make up and hair, and creating the sets… with so many models, there is a lot of down time while models wait for styling, a time to eat and chat and get to know each other. As each model is ready, and dressed then the shooting begins, I like to shoot them individually and in pairs or groups, so I have more material to help tell a story for editorial submissions. From the point where the shooting begins, I am on my feet and focused on that process for the 5 to 7 hours that it takes, usually ending when the sun is setting. In this case I was also helping April Peters to dress and accessorize the models and changing the hair styling (on the models I was doing hair for) between looks.
Because I rarely think of eating or drinking during the shooting process, April or Hagai are very thoughtful to bring me sustenance throughout the day and remind me to stay hydrated. They are such caring and kind people, I love to work with them.
The last outfit I shot on this day was of Eden, my God daughter, the youngest. She has an eye for costume and loves to dress-up and model. She had found some garments that were not created for her, but were small enough… I thought we were finished for the day, everyone was exhausted, Except Eden! She came to me with this outfit on, all excited, and says "I have an idea", she took me to the back room, picked up some props and began to model. Those images had a strong presence. One of them was included in the "Exposure" Awards and was showcased at the Louvre in Paris.
I will add a few additional images that we took on this day, which were not chosen for the Miroir submission, just so you can see what an amazing day this was. As well as some of the Behind the scenes shots so you can see how our day progressed.
Of course the shoot day is not the end of the process for me, following this are many hours of editing the images to make them perfect for the print issue of Miroir and other publications. I do all my own post edit work. At times this entails nothing more than removing blemishes, lines scars, and cleaning up the image in this way, sometimes doing a little slimming to the body or removing unwanted things like hairs across the face or some item in the frame that takes away from the image. But other times, such as with this shoot, some more manipulation is needed for dramatic effect. This can take many hours for just one image, but the result is worth the effort. To achieve this I work in Photoshop with layers and textures.
To illustrate how important it is to have a really good photo editor, I will include some before and after shots from this day.
Here are some Before and After images of the shot
Photography by Nina Pak
Designer: April Peters of the House Gallery Boutique
Photographers assistant: Marc Marayag
Models: Eden Silverwolf, Lindsay Rideout, Corey Pettet, Kyla Lee, Anisa Salmi, Lawrence Hon
Make-up artists:Donika Rudari, Krysten Merrick, Lawrence Hon
Hair Stylists: Dreamloka, Katie Webster
MIROIR MAGAZINE – Surreal – • Featured in our SURREAL edition: Obscure Trinkets and Rare Obsessions by Nina Pak, Mark Ryden, Marion Peck, John Brophy, Mark Garro, Ric Colgan, Jonathan Kane, and Darren Hopes.• Miroir Magazine is an international fashion and arts magazine promoting aspiring and established creative artists. We are unconventional, and dedicated to bringing you the highest caliber contemporary artists and the most unique…