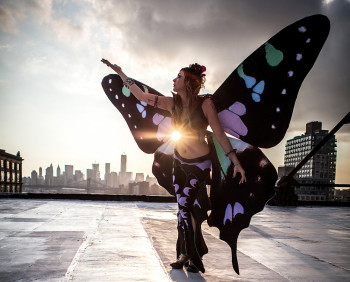 I am an actress, model, performance artist, teacher and speech-language pathologist. I enjoy that no matter which hat I may be wearing that I get to be my true self in each of these avenues. I have also found that even in the most different of tasks – the same qualities of creativity help me along the way to be my best, most intuitive, and resourceful self.
Ali Luminescent is a multifaceted international performance artist and teacher living in New York City.

Q: Tell me something about your history in the creative arts. Did you have a formal school education or are you self taught?
A: I grew up in the theatre and the costume closet. Constantly yearning for new challenges and new ways to create magic have led me to where I am now. I participated in a professional Shakespeare Program after high school but my formal training (bachelor and master degree) are in the realm of Speech-Language Pathology (SLP) . Once done with school I was able to dive back into film, theatre, and spectacle performance in addition to helping people in hospitals and clinics as an SLP. I
continue to freelance and follow my creative ventures in all avenues and its become a great balance for me.
Q: We're interested to hear about your basic inspirations that drive your creative energies.
A: Inspiration can come from the darkest and brightest of moments. A flash of lightening, a breeze of fall air rustling leaves, the sparkling iridescent embrace of a true faerie or just a glimpse of a crescent moon. Cities, nature, resourcefulness, civilization, goddesses, the jungle, the ocean, the incredible life in the ocean, the desert, sunrises and sunsets, faeries, mermaids, unicorns, magic, and collective community sharing their resources are a few things that really inspire me!
Q: What were the circumstances that planted that first creative spark in you, and how is that tied to your current inspirations?
A: When I was told I could be whatever I want when I grow up I thought for sure I would become a bird. My mother had to explain to me over and over again that I could not be a bird, but that I had to do something that people do instead. I decided in my five-year-old mind that I would become an actress and pursued this dream ever since. It has become a more vibrant reality each and every day. Through acting and performing I get to be so many different characters and creations and truly fly through this beautiful life.
And, although I know I cannot truly be a bird- my time as the Purple Spotted-Swallowtail in "Dreams of the Last Butterflies" was probably pretty close. When we did the promo shots for my butterfly – the moment Zina helped me slip the wings into place – A FALCON actually came and landed on my roof in Brooklyn. Neither of us could believe our eyes, but it was definitely true and definitely the first falcon I have ever run into in NYC. So, if I can't actually be a bird- at least I get to fly with them in my own way.
Q: Do you have others in your family with creative energies?
A: My mother, affectionately known as Janet Planet Queen of the Universe, has always inspired me with her creative ability to make anything into reality. She made a Sylvester the Cat costume for Halloween when I was little that looked like the real cartoon- from that moment onward I knew that she was more magic then I could even understand. The years went on, blessed with glitter, make-up, and the freedom to dress however we pleased. She is an amazing make-up artist, florist, and costume designer!
My sister is an incredible artist with color pencil and my brother was a great musician. My partner of almost 6 years, Justin Aubuchon, is an inspiring graphic artist, a talented tailor, and a fun partner-in-crime. We often dress up together and have been known to do stilt and fire duets. He makes tiny hats and I love his collages!
Q: Where is the source of your creative inspiration, initially, and how has it been nurtured throughout your creative endeavors?
A: I suppose that my creative inspiration began with the things that caught my interest from a young age. Beyond my own imagination or exploring the country side of the farm I lived on when I was little – I was influenced by productions such as "The Dark Crystal", "Labrynth", "The Nightmare Before Christmas", "Wizard of Oz", as well as the classic claymation movies like "Rudolph the Red-Nosed Reindeer". I have always been fascinated by these alternate and co-occurring realities whether through film, art, theatre, or the possibilities of what could be occurring in my own backyard.
Q: Where do you get your ideas?
A: Inspiration comes in the strangest of ways. I've labored over ideas for months carefully crafting the final product or sometimes I am possessed by an inspirational flash with a fervor and write and write and write like I'm getting some kind of download from another planet. I produced a circus theatre piece a few years ago called "The Wonderneath" and when it came to me it felt like I had been struck by lightening – I was walking to work – and all I could do was try everything I could to write it down fast enough before it disappeared. It was like I was possessed. I had to lock myself in my office and write for hours – walking home I was writing it on my phone and walking down the street – It went on into the night and the next morning – and just like that the story was complete with casting, costumes, stage direction and lighting cues. It was amazing and I was so thankful but it just came to me – like a gift. That was actually the first time my friend Kai Altair and I worked together on a creative project – I cast her as the lead.
Q: How do you feel that creating your "art" is a part of your lifestyle, and life's plan for you?
A: I am very color sensitive and I enjoy the creative process. Whether I'm doing my hair and make-up for a regular day or putting together a performance piece; I am constantly mixing color, sparkles, and magic into everything I do. Inspiring people to do what they are called to and not be suppressed by social pressure to be "normal" is something I am passionate about. Listen to your true self!
I have always been a little "different." From a young age it was apparent – I was a tom-boy that loved to wear fancy dresses. No matter if I was playing in the mud, the woods, or climbing the tractors around the barns – I still had on lace petticoats and patent leather shoes – as I got older my choices in fashion were thrift store finds and 70's prom dresses because they were affordable and then it did not matter if I was inspired to cut them up and pin them together in a different way as I made my way out the door for school each morning. I made good grades and participated in theatre so the schools I went to cut me a little slack. They knew I was a "theatre kid" and let me be a bit more expressive than the public school system traditionally allowed. I had to get used to the stares from other kids pretty fast, it used to make me really uncomfortable, but at some point, I just owned up to the fact that I am who I am and stopped worrying about what other people thought.
My undergrad and graduate experience as a medical professional caused me to reel it in a bit. Eventually, my true nature found ways to shine through. My clinic clothes were professional but artistic, my hair began to push the boundaries of the professionally allowed color palette of blonde, brown, and red and as I progressed into the working field I realized that as long as I am good enough at what I do – it does not matter what I look like. I also began to learn the invaluable lesson that sometimes it is better to beg for forgiveness, than to ask for permission.
It is an interesting experience to be a medical professional with wild hair. I work in hospitals and clinics and provide direct patient care. I sit in on team meetings and work with leading doctors, nurses, researchers – the whole gamut. It began with red turning into bright red and then fading to pink, then I started adding purple and white into the mix and at one point I rocked a sophisticated version of multi-colored sparkling wool dread locks created by Dana Divine the Goddess Maker. It was probably one of my favorite hair styles ever. I worked in a leading medical center in NYC and honestly, I was quite nervous I might get fired over it. However, I had worked there with multi-colored hair for years without it being a problem and many employees there had dread locks and that was also fine – so why should this hair style I have wanted for years be a problem? I went for it unabashedly.
In the end it brought great joy to the people I was helping and working with in the hospital. The doctors and nurses did not have a problem with it and it did not affect the quality of my work, my manager on the other hand was not pleased. In the end – she could not discipline me for it without it becoming a discrimination case and I learned – that no matter what I should follow my heart and honor my true self.
My hair currently is very mermaid-esque, pastel mint green with white and aqua highlights and sparkling bling string mixed throughout. People often approach me complimenting my hair and then lament- "Oh I wish I could do something like that- my work would never let me." Don't believe the hype folks! You actually have personal creative freedom of who you are! And as long as you are good at what you do – it doesn't matter what you look like!
My art extends beyond my hair and personal look of course – but it is in these rudimentary places across my life where my art first began to surface and make its mark. My creativity, sensitivity, and passion for color shape my lifestyle in every way.
Q: How has your creative nature influenced your personal relationships?
A: My creative nature has encouraged me and drawn me toward other creative beings in this life. Communicating a creative vision to other people is much different than creating a creative vision on your own. By experiencing other peoples art as well as collaborating with different types of artists I feel it broadens all of our horizons. We all learn. We all grow. In the end we all expand our knowledge around novel ways to explore the production and relationship that each of us hold with our craft.
Q: Do you ever want to get away from it all? What do you do for release, and to shake out the cobwebs of energy spent?
A: Absolutely. Ebb and flow are important in all aspects of life. I take breaks between projects when able, try on different roles within projects to switch it up, and try not to be too hard on myself.
I also find that getting my body in motion and quieting my mind is a great release. I hula hoop as performance, and I teach classes at retreats on hula-hooping and fire performance as I travel – but I also turn inward in the hoop and use it as a tool to clear my energy. I find that when I am spinning inside my hoop that I fall into a flow that let's me turn my mind off and lets my body move in ways that feel like a more ancient history is working through me. After releasing all the busy thoughts in my mind and falling into the hush that it is inside my hoop I feel renewed and re-energized.
Q: How do you feel the environmental landscape of New York has affected your work?
A: Stairs and elevators have always fascinated me, as does living in an urban environment. I have been inspired by all of its nooks and crannies, roof top views, and waterways. New York City has also influenced me as an artist by increasing the amount of artists I come in contact with on a daily basis. New York City has a vivacity that you just don't find anywhere else. People come to New York to live out their dreams- and therefore the people you encounter are here to get things done. This not only helps me be more productive, but constantly inspires me to push my work and collaborations to the next level.
Q: "Dreams of the Last Butterflies" has an environmental message that you have addressed eloquently, in what becomes a work of art with a message. What do you think of art as activism?
A: Art as activism is a way to incorporate and reach a broader scope of people. It also gives creativity even more purpose than 'art for arts sake.' By infusing powerful messages into creations it also allows the artist to more intricately address a message and drive it home on a variety of levels. Showing what can happen can be a thousand times more powerful then telling someone what can happen.
Q: Can you speak about the cross disciplinary nature of your creative interests, involving the physical and cerebral, and sensory and sensual elements of art, music, dance, film, performance, storytelling, costuming, writing, directing…?
A: Each of us are unique and special beings. We all receive input into our minds and bodies through different mediums in different ways. The more aspects that one can stimulate through each project, the more opportunities we are creating to experience our world. We also create more opportunities for others to experience our art, therefore, widening the scope of people reached.
Q: So many of the projects you've been involved with involve collaboration with so many others needed to complete the presentation of something larger than the sum of it's parts. Can you speak about how this interaction with fellow collaborators works for you?
A: Collaboration for me is like a being a kid at Christmas time. You sneak down the stairs and see all these boxes and you don't know what each one holds. As you pull back the wrapping, clues begin to show themselves piquing your interest. Once you have it all the way open it has the potential to be the best thing ever or something that you never knew you wanted. Either way- it is a surprise and an adventure.
I like collaborations because the result will be different than if you were the only one working on it. The more ingredients you throw into the pot – the more intricate the flavor.
Q: What is your moment of perfection?
A: My moment of "perfection" is when art and life are seamlessly overlapping.
Q: Where do you go when you need that fire inside you stoked?
A: I visit places that inspire me. Museums, galleries, nature, etc. I'll spend time starring into the sky watching the clouds change color and shape, I go to the waters edge and let the water lap over me, or climb deep into the urban jungle and explore stairwells and rooftops. I am
most inspired during times of movement- walking, bicycling, swimming, hooping, and dancing. It is important for me not to put too much pressure on 'trying' to be inspired and go about my daily life- those are realistically the moments when things really come to me.
Q: 2012 – verging on 2013! What's the best part of being who you are right now?
A: Being myself and growing my craft.
Q: What do you do in your other life?
A: I am an actress, model, performance artist, teacher and speech-language pathologist. I enjoy that no matter which hat I may be wearing that I get to be my true self in each of these avenues. I have also found that even in the most different of tasks – the same qualities of creativity help me along the way to be my best, most intuitive, and resourceful self.
MIROIR MAGAZINE – Lyrical Dreams – Featured in our Lyrical Dreams edition: Ali Luminescent, Dreams of the Last Butterflies, City Nymph, Surreal Dreams, Nina Pak, Exiles from Delight, Stephen Thorne, Ragen Mendenhall, Charlie Terrell, Francis A. Willey, Kelly Brown, and showcasing the art of Mark Garro, Josh Keys, John Brophy, Marion Peck, Mark Ryden, and Ron English. • Miroir Magazine is an international fashion and arts magazine promoting…