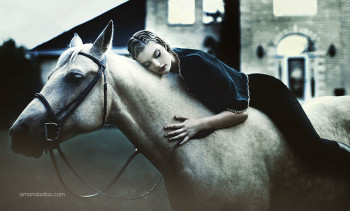 Q: Could you please tell me a little something about your history in the creative arts. When did you begin creating your arts? Did you have a formal school education or are you self-taught?
A: It's actually a little bit of both. I was studying Graphic Design and I chose photography as an add-on to the course so I could complete the certificate.
Once I got into that section of the class, I did not realize I would become obsessed with photography. I learned the basics of photography, but the creative side, I believe, that has to come from within – plus a lot of hands on learning!
Q: We're interested to hear about your basic inspirations that drive your creative energies.
A: A lot of times my inspirations come from paintings and movies. I love the fairy tale imagery that you see portrayed in movies and art. It's so inspiring. I also do love to look at my favorite fashion photographers and be inspired by them as well. So, I feel like my work reflects both fashion and art mixed together.
Q: What were the circumstances that planted that first creative spark in you, and how is that tied to your current inspirations?
A: I think it was when I did my first ethereal shoot. Out in a natural environment, I thought it was so magical, romantic and just fairy tale like. I think because of that, that's why I keep going back to that style of photography. It's the work that I look forward to because it allows me to be creative and have full control.
Q: Do you have others in your family with creative energies?
A: Not really. My mom likes to doodle, but that's as far as it goes… although, her father was a painter and artist, so maybe I got some of his traits and applied it to my photography.
Q: Was there a particular person in your past that nurtured your creative instincts, like an artist, or a teacher, or mentor of some kind?
A: To be honest, no not really. I just have always loved art and beauty in things.
Q: Where do you get your ideas?
A: My ideas will come from a number of sources. I will take elements from multiple inspirations and use that to create something new!
Q: How do you feel that creating your "art" is a part of your lifestyle, and life's plan for you?
A: I think about this sometimes, the way I fell into photography. I believe this is what I was meant to do. Growing up I was always so confused on what it is I should be doing with my life. When I started photography and my own business, my passion for it was so strong and has not faded in the least, in fact, it seems to get stronger as time passes.
Q: How has your creative nature influenced your personal relationships?
A: Well, it has taken over my life for sure and I barely have a social life. Also, something that I battled with a lot and still do from time to time is friends or family expecting me to do free work. It ended a few friendships because of my frustration with it.
Q: What is a typical day like for you?
A: Busy!! Right now more than ever I am feeling overwhelmed. Editing is probably what consumes most of my day. Catching up on everything else works around it.
Q: Do you have personal partnerships with others connected to your creative sense?
A: No, I work my business alone. I would like to eventually get an assistant to help me with emails, paperwork, assisting at shoots, etc.
Q: Do you ever want to get away from it all? What do you do for release, and to shake out the cobwebs of energy spent?
A: Yes, all the time! Really hot baths work for me – it makes me relax. Also, listening to really good music, LOUD!
Q: If you do collaborative projects with others, can you speak about how this interaction with fellow collaborators works for you?
Q: I believe you have to be as thorough as possible when planning with others. Sending them visuals, explaining to models what you want from them, being specific when talking to your makeup artist, stylist, assistant (etc) about what you want. It really helps and minimizes the headaches later.
Q: What would you hope to accomplish in the next few years?
A: I want to continue to improve in all that I do, keep networking, getting published, work with big companies for their campaigns and just have a overall sense of accomplishment. I have a "dream board" that I created about 2 years ago with images I found in magazines, personal goals and sayings, and when I look at it (it's still on my wall) I realized I have accomplished half of the things on there – very inspiring.
Q: Do you have upcoming projects that you're inspired with?
A: Yes, a makeup artist friend of mine (Miss Vautour Makeup Artistry) and I have a whole series of Fairy Tale Princesses that we are currently in the works of planning and working on.
Q: What is your idea of success?
A: When you have reached a specific goal, even if it's a small one, and to keep creating new ones so you can achieve those as well!
Q: What is your moment of perfection?
A: I would say when I take a shot and I know right away I am in love with it!
Q: What do you do in your "other life?"
A: I actually work part time with children, and I've worked for years with children affected by Autism Spectrum Disorder.
Q: Can you say something about your use of storytelling, and its role in your work?
A: The only time I use story telling is when I do a fashion shoot or conceptual shoot. I usually will plan out some of the images, how many, and what the point of each one is.
Q: What makes you happiest?
A: When I can be fully creative in my work.
Q: Where do you go when you need that fire inside you stoked?
A: I actually take a break instead. Let my mind reset, gather new inspirations and just let my mind absorb my achievements.
Q: What's the best part of being who you are right now?
A: I feel good at where I am at this point right now, I am finally getting things done and no longer feeling confused at what I want to do with it my life.
Q: What is the next answer you have for us that we've all been waiting to ask?
A: I have been asked many, many times to offer courses, workshops, mentoring and other things like that, so I am happy to say I am currently working on a project that will be ready this April that speaks about finding inspiration, finding models, styling and so on. I will be posting more info on my fanpage once it becomes available!
MIROIR MAGAZINE • Amoré • Amanda Diaz- Featured: Amanda Diaz, Nina Pak, Ransom and Mitchell, Rebecca Parker, Madeline von Foerster, Rose Gabriel De La Lyre, Isabel Samaras, Bonnie Wood, Daniel Murtagh, Fiori Couture, Emily Soto.• Miroir Magazine is an international arts and fashion magazine promoting aspiring and established creative artists. We are unconventional, and dedicated to bringing you the highest caliber contemporary…