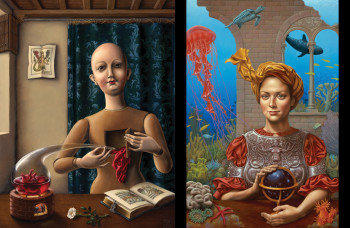 Madeline von Foerster is a very gifted and highly original artist, who brings new imagery and a novel approach to conservation — which we need. – Edward O. Wilson
To create her unusual paintings, Madeline von Foerster uses a five century-old mixed technique of oil and egg tempera, developed by the Flemish Renaissance Masters. Although linked stylistically to the past, her paintings are passionately relevant to the present, as such timely themes as deforestation, endangered species, and war find expression in her work.
Von Foerster's artworks are in collections around the world and have been featured in numerous publications, including "100 Painters of Tomorrow" (Thames and Hudson, 2014). She was also the subject of a television portrait on ARTE's "Metropolis," broadcast in Germany and France. Her upcoming solo exhibition, "Uprooted," will be presented at the Academy Art Museum in Easton, Maryland, and the Nevada Museum of Art in Reno. Born in San Francisco, von Foerster studied art in California, Germany and Austria. After fifteen years in New York City, she now resides in Germany with her husband.