Vancouver Alternative Fashion Week(End) – "VALT" – is a gathering place for a unique spectacle that sets it apart from anything you will experience inside other Vancouver fashion forums.

Art expressed itself freely in all forms and mediums, unabashed and unapologetic for displaying bold creativity, and presented itself with a flair outside of the confines of mainstream boundaries.
VALT has been the long-time vision and passion for Kat Ferneyhough and Kat Kozak, who made it their mission to bring Alternative Fashion to the West.
Techtopia is a newly forming idea, of a world in which humankind has improved by great leaps and strides from now on, in which life is dramatically improved but by no way perfected, mostly with a great deal of aide by continually improving technology. – Kat Kozak, VALT Co-Founder, Host of Techtopia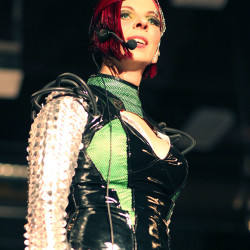 Maggie Fu Fashion
VALT was my first experience in a production of this magnitude. The two Kats were very accommodating and understanding of my needs. The models were so fabulous, not only did they want to know how to walk, but they were interested in me as a designer and my fashion. It was very exciting to see their personalities on the runway! My designs come from a place of movement and freedom, and the acceptance and celebration of the human body – especially female – even though I do have some pieces for males, my target audience is women. I can't force what I do. When I create, I let the piece talk to me and let me know what to do with it. That's the reason why I can only do One-Of-A-Kind. Sure, I can duplicate the design, but every piece has something different about it. – Maggie Fu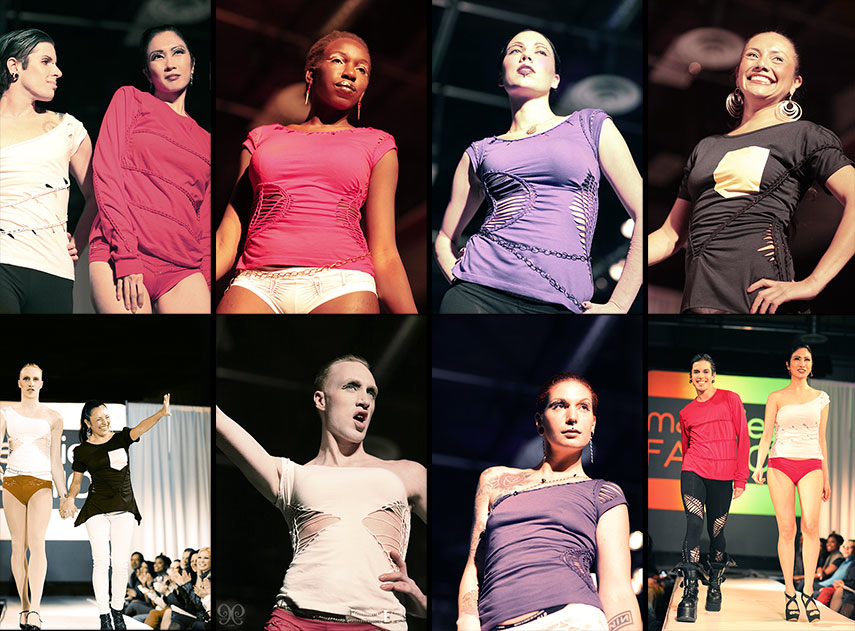 Avant-AFI
Ziggy Stardust and Major Tom would scramble to wear Avant-AFI's spacey, futuristic line. Curious cutouts provided sheer symmetry and unexpected seaming within the patterned and quilted leathery jackets and dresses. Spiked shoulders and collars offered some flashy accents to these fitted, no nonsense militants.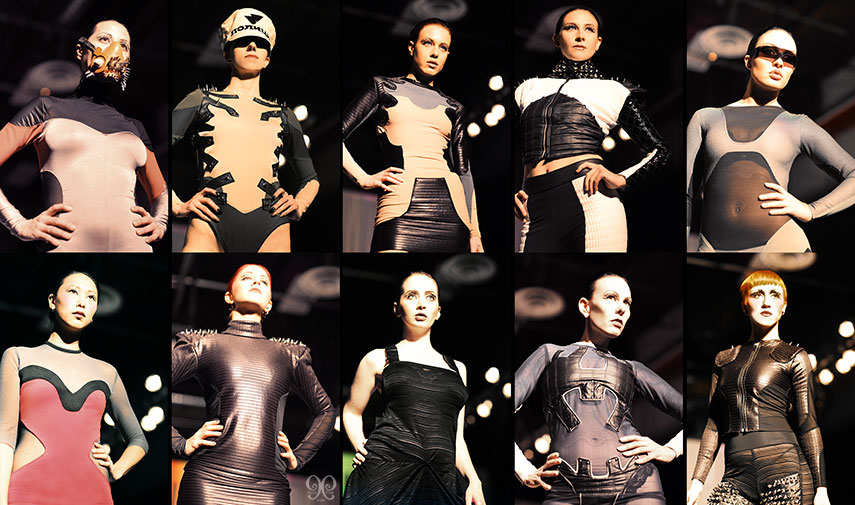 Boring Sidney Hats
Anything but, Boring Sidney Hats conjure up what is beyond imagination. Towering and daring, these seriously whimsical delights soar to high heights, expose the brain in a picture frame, twirl like a fluffy cloud of cotton candy, and illuminate, as did the chandelier hat – pearls swinging. Another outstanding headpiece included a sinking four-masted clipper, with a giant black rat taking its leave. Absolutely marvellous! In the otherworldly realm of Boring Sidney Hats, even gnarled barbed wire and nails can be beautiful. I was fascinated by these wonderous works of art.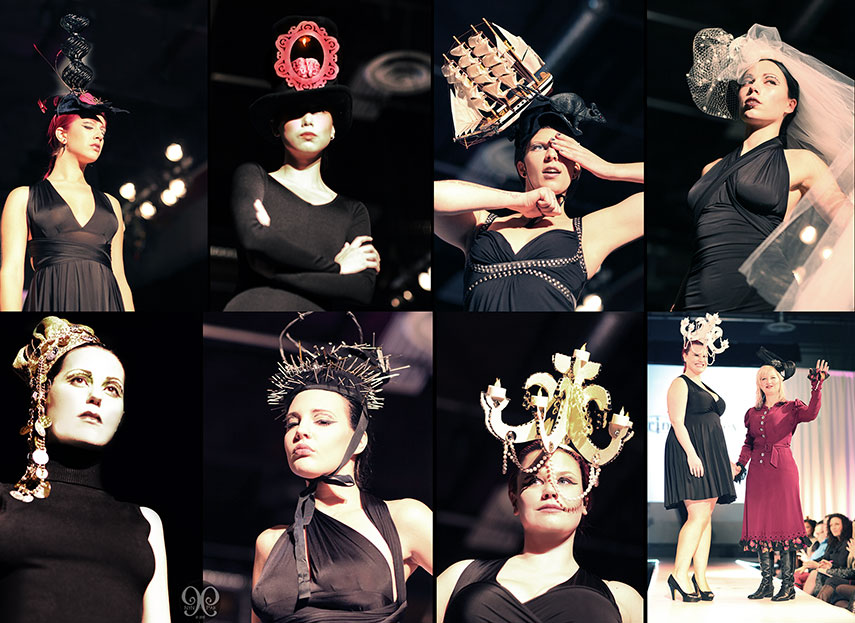 Mitmunk
"Machines should work. People should think."
Mitmunk's soft, comfortable, body hugging creations pushed the limits of what was comfortable to watch walking towards you. They came in the form of disturbing faces, separates and onesies with literally glowing red hems, in what could be part human, alien, machine, and android. The prints are bizarre and brilliant, precisely shaping themselves onto the body so that each perfectly placed rivet, panel, vertebra and muscle is exactly where it should be. Even if you are a Transformer. If a picture paints a thousand words, these sing a robotic cacophony. Wayne Elliot's vision is far reaching and startling, and after the show, the crowd was buzzing about how to get one of his one-of-a-kind pieces for themselves.
"Mitmunk returns to Vancouver Alternative Fashion Weekend this year with daring new styles from a collection that features robotic imagery to explore the Techtopia theme of VALT's closing night on November 24.
Designer Wayne Elliot takes his experimentation with fabric printing to the next level with visual textures of scratched metal armour, circuitry, and the skin of beasts, evoking the ordered dysfunction of a society shaped by highly advanced artificial intelligence and genetic engineering. Form-fitting tops, leggings, and dresses accentuate the organic contours of the human physique.
Working from his East Vancouver studio, Elliot is building on the momentum of his best-selling Bionic leggings, released this Spring. "I'm interested in looking at how technology and biomechanics come together, and what that might mean for our future," he muses. "Fashion allows me to play around with these ideas while creating artwork in a form that people can wear. My new prints are imaginings of intelligent machines, interspecies hybrids, and extraterrestrials. I've been inspired by the work of H.R. Giger lately."
Elliot notes that one of the looks to be revealed at VALT is an homage to the Swiss Surrealist.
Carolyn Bruce Designs
The audience gasped at the sight of, and the models wished to forever possess, Carolyn Bruce's opulent necklaces and earrings. She painstakingly creates layer upon layer of large metal dragonflies, crystals, coins and accoutrements, meticulously arranged down the front of the elegant, dramatic pieces. Jewelry fit for Cleopatra, these are substantial, sculptural works of art that reward the enviable wearer with abundant beauty and femininity. Carolyn is masterful with her medium, even showing a to-die-for silver zepplin handbag that could belong in a museum. This collection was power and grace, intertwined into a wearable fantasy.
Laura Jackson Workshop
Laura Jackson Workshop wowed with her flowing, draping latex capes and dresses. Cozier softly knitted gowns included hoods, and revealing, thigh-high cutouts. Her use of cream, black and red colour blocking, created an elegant, sensual palette to slip into.
Photography by Nina Pak
Written for Miroir by Jacqueline Rya