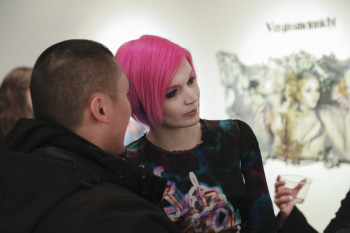 On December 14th, Redd Walitzki's solo exhibition "Vergissmeinnicht" (Forget Me Not), opened at Modern Eden Gallery in San Francisco. Miroir Magazine was on hand to congratulate Redd and capture the action as the pink haired artist frolicked among her painted muses.
Also in attendance were many Bay Area and visiting Seattle art luminaries including art duo Ransom and Mitchell, NoMe Edona, Carl Faulkner, opera singer and model Roxanna Walitzki and many others
Redd's new work was beautifully at home at the Modern Eden gallery where tastefully arranged flowers and well dressed visitors surrounded the intricately complex laser cut paintings that feature Redd's trademark cast of muses. Each painting, from the arrow pierced siren in "Die Wilde Jagd", to the show stopping double portrait "Only Revolutions of Ruin", feature painstakingly realistic renderings of the impossibly lovely subjects.
Alongside the large oil paintings on laser cut panels, Redd offered collectors a series of smaller watercolor works. Each of these pieces features the pixie punk aesthetic and lightness of hand that has become Miss Walitzki's trademark. These elements are highly effective in this collection of little sister pieces that feature sylvan beauties with mohawks, piercings, and brightly colored hair.
The almost gluttonous beauty of Redd's subjects is tightly balanced with bittersweet details that give edge to work that could otherwise stray to the saccharine.  For example, a close look at the gorgeous boy in "Revolutions of Ruin" reveals lavender shadows under his eyes and a flower stem piercing his lip, details that hint at a darker story.
This balance of dark and light is pronounced in works like "Licorice and Lilacs" where the painting's pretty protagonist looks out at us with haunted eyes, hollow cheeks, and ghostly pallor.
As ethereal as they are beautiful the slyph-like muses inhabit a world that is both eternal and transitory, their gender and age as unpronounced as that of the flowers that adorn them. The melancholy of these works is the melancholy of lost and fading things; youth, innocence, nature. Miroir Magazine congratulates Redd Walitzki on a gorgeous showing of highly accomplished work. If you are in the San Fransisco area, please visit the show which will be on display at Modern Eden Gallery until Jan. 3, 2014. The entire show can also be viewed on the gallery website.
Links and credits:
Redd Walitzki's website
Redd Walitzki in MIROIR
Redd Walitzki – When We Break
Interview with Redd's sister Roxanna Walitzki