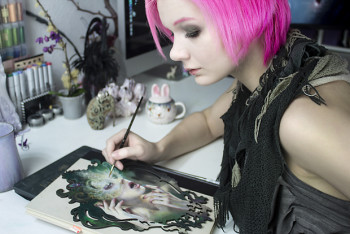 We are very excited about the work of artist Redd Walitzki whose new show "When We Break" will be opening on Thursday, June 5th, 2014 at Roq La Rue Gallery in Seattle, and will be on exhibition through June 28th. New work by Andy Kehoe will also be shown alongside Redd's exhibit.
Opening Reception is Thursday June 5th.

Christian Bazant-Hegemark visits the Studio of Redd Walitzki.
We're very pleased that our newest Miroir Magazine contributing writer, Austrian artist Christian Bazant-Hegemark, was in town recently and was invited to the studio of Redd Walitzki to preview her newest work for the upcoming show. Below in this post you will find Christian's photos of Redd's studio and his impressions.
But first, here are the preview photos that Redd sent us of her newest work for When We Break.
Christian Bazant-Hegemark visits the Studio of Redd Walitzki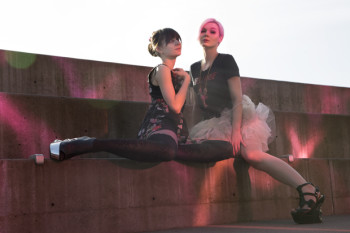 After getting to know german-born Seattlite artist Redd Walitzki already last year, I finally made it into her local Wonderland studio, "X17", which she set up and shares with fellow artist Carl Faulkner.
Walitzki just finished a series of paintings for her upcoming solo show this week at Roq la Rue, which I'll sadly miss out on because of my flight back to Vienna. She explained her work process and the thoughts and emotions behind it in detail, as well as elaborating how to continue expanding beyond her comfort zone. Also, Walitzki showed some of the work that goes into her final paintings – amazing material that has a strong auratic dimension by itself, yet isn't shown publicly. Pieces that, who knows, could eventually surpass her established work's strength.
Although originally working in watercolor and oil, she began developing a formal language that might eventually be even stronger than what has become her figurative canon. Walitzki is experimenting with a wide array of materials that one wouldn't expect when only knowing her published work, which stand equally in quality and thought – making me rather curious about her work's next evolutionary steps.
Roxanna Walitzki
&
Redd Walitzki
Links and credits:
Redd Walitzki's website
Redd Walitzki in MIROIR
Redd Walitzki – Vergissmeinnicht
Interview with Redd's sister Roxanna Walitzki
MIROIR MAGAZINE • Primavera • Redd Walitzki- Featured: Redd Walitzki, Kris Lewis, Jana Brike, Lori Field, Nina Pak, Ginger Blossom, Jennybird, David Hochbaum, CRAWW, Ingrid Dee Magidson, Tatyana Fedorova.• Miroir Magazine is an international arts and fashion magazine promoting aspiring and established creative artists. We are unconventional, and dedicated to bringing you the highest caliber contemporary artists and the most unique…