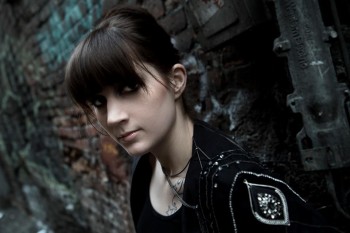 Roxanna Walitzki is changing the opera world by continually testing the bounds of traditional opera and art-song performance. Roxanna is currently working on an art-song recording and video collaboration with Seattle's Toy-Box Trio and Wolfram Productions. The project will reinterpret Schubert's famed song "Erlkönig" in an exciting video format.

Recently, Roxanna was seen singing with Seattle's Opera on Tap, at the Seattle Art Museum's PACCAR Olympic Sculpture Garden for the launch of The Better Bombshell book, and in Vespertine Opera Theater's production of Poulenc's rarely seen opera Les Mamelles de Tiresias.
Roxanna has also been releasing artistic performance videos.
When I am Laid in Earth (Dido's Lament)
Original Score by Henry Purcell
Arranged, Produced & Performed by Roxanna Walitzki
Directed by Anthon Smith
Cinematography by Brendan Flynn
Wardrobe by Roxanna Walitzki, Stone Crow Designs & Redd Walitzki
Special thanks to Anomie Belle, Bogdan Darev, Edward Shoemaker, Hans & Gisela Walitzki, and Axis Pioneer Square.
Poison Oak – Roxanna Walitzki sings Bright Eyes
Roxanna Walitzki, mezzo-soprano, performs her arrangement of Poison Oak. Original song by Bright Eyes.
Robert Schumann I. Mignon "Kennst du das Land?"
Lieder und Gesaenge aus Wilhelm Meister, Op. 98a
Roxanna and her sister, artist Redd Walitzki collaborated on this video of Roxanna singing Mignon.
Performance by Roxanna Walitzki, mezzo-soprano
John Spencer IV, piano
Video by: Adric Hicks, Redd Walitzki, Carl Faulkner, Katie Dalzell.
Runaway – Roxanna Walitzki sings The National
Original Song by The National
Arranged and performed by Roxanna Walitzki
Video by Adric Knight
Interview with Roxanna Walitzki conducted by MIROIR Magazine's Chloe Allred.
Q: Tell me something about your history in the creative arts. How did you decide on music, and what school did you go to?
A: I started taking voice lessons when I was in high school. I think that, originally, it was the feeling of singing that drew me to music; there is something so wonderful about the physical abandon of that activity, and that sensation has always been a huge draw for me. My first voice teacher assigned me a classical song from the German repertoire, and I instantly fell in love. In these songs, the beauty of the classically-trained voice merges with highly expressive musical settings and thought-provoking poetry. As soon as I heard this repertoire, I felt an insatiable need to interpret and express these songs for myself.
I knew that, in order to adequately express this music, I needed to hone my technical craft, and this is why I decided to study music. I earned my Bachelors of Music in Vocal Performance from the San Francisco Conservatory of Music, and my Masters of Music in Classical Voice and Opera Performance from New York University; these schools helped me work on different aspects of my craft and performance, and I am very grateful to have attended each.
Q: What were the circumstances that planted that first creative spark in you, and how is that tied to your current inspirations?
A: I have always had theatrical and imaginative inclinations, and so I think art-music, where so much of the character, circumstances, and story are left to be invented by the performer, was a very natural direction for me to go in.
Just about anything can plant a creative spark in me – often it's a particular poem, melody, or subject-matter, but sometimes it's as little as how one phrase or even one word in a piece is set to music; something as nuanced as that can speak volumes about what sort of character is represented, which sends me off in a spiral of imagination and creation!
Another aspect of classical music that tends to get my creativity flowing is that great music was not created in a vacuum; you can always find wonderful historical connections between the poetry and music, and other fascinating creations like philosophy, literature, or fine-art, and these help shape my understanding and interpretation of any given piece. By reviving and reinterpreting classical music today, I bring my own influences to this lineage, and this re-imagination over time holds a lot of wonder and excitement for me.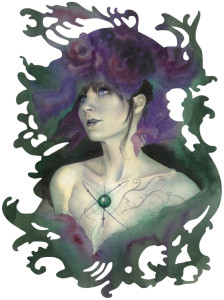 Q: Your sister, Redd Walitzki, is an excellent painter. How have the two of you influenced one another?
A: I am incredibly lucky to have Redd as my sister since I think we bring a lot to each other's work. We actually spent a number of years independently shaping our selves and our arts while living very different lives in different cities, and it wasn't until a few years ago that we really reconnected and actively started collaborating. We tend to have distinct personal-styles, and clearly gravitated towards pursuing different art-forms, but I think that we see eye-to-eye on a lot of matters of taste. Redd has the wonderful feature of bringing a bit of fun and whimsy to my interpretations of life and music, and I think I've directed her attention more towards the intense psychological moods and workings that permeate so much of the classical music I love. Probably thanks to the fact that we are sisters, we have a fantastically easy time conveying our visions and ideas to one another, which always makes working together feel effortless and incredibly enjoyable!
Q: Can you tell a little bit about the show "Love, Loss, and Longing"? How did the show come together, and how has collaboration with other art forms shaped your own work?
A: Just like classical music wasn't created in a vacuum, I don't think it should exist or be performed in one, either. I wish that there was more interaction and more of a dialogue between the fine-arts and music, and it is my desire to enable this kind of collaboration. "Love, Loss, and Longing" was a first step in this direction; we wanted to see what some really talented Seattle artists would create when given the themes present in the music I was singing. We ended up with an incredible collection of pieces that, I think, enhanced the audience's experience of the performance by adding a visual element that colored the texts I was singing. I think that the collaboration also got a number of the artists a little more interested in the performance of classical music, as well as it got the classical music audience to appreciate the visual-art we presented; I wish that these two worlds were a lot more connected than they are at present, and I want to do more projects that help bridge the gap.
Q: Was there a particular person in your past that nurtured your creative instincts, like an artist, or a teacher, or mentor of some kind?
A: One of the wonderful things about studying classical singing is that it is still taught very much like an old art-form, where you were mentored by skilled professional. At a conservatory, university, or college, you are paired with a private voice teacher who serves not only as a guide in the journey towards learning good singing-technique, but also as a mentor who shapes your understanding of music and performance as a whole. I was very lucky to have found incredible voice teachers at every step of my learning process; they not only helped me learn how to sing properly, but encouraged me in all of my unique ideas about performance.
Q: Where does your creative process begin? Where do you get your ideas?
A: I get my ideas and inspiration from pretty much everywhere. The poetry of the songs I sing often serves as a catalyst that gets me thinking about images and themes, and different images and themes make me want to discover and sing particular music. A lot of the 19th Century Romantic songs I love to sing feature images from nature prominently, so the beauty of the natural world tends to inspire me. I am very interested in fashion, since I see it as another way of conveying a mood and character, and I love it most when fashion, nature, and art fuse together to create something that moves far beyond "clothes." I also draw a lot of inspiration from literature, film, and philosophy, since these get me thinking about the power struggles inherent in human relationships, which, I think is what great drama is built upon! I feel like I'm always on the lookout for new inspirations, and, at least so far, they haven't been very hard to come by!
Q: Who are some musicians that you find inspiring or influential and why?
A: I am most influenced by the music set down in writing by the great composers of the past (and of today!). I have been asked countless times why I don't write my own music, but my honest answer is that the music written by Hugo Wolf, Franz Schubert, Robert Schumann, Gustav Mahler, and Arnold Schoenberg, to name just a few, feels like my music.
Q: Where do you live and has that shaped your work in any way?
A: I am currently living in Seattle, which I've found to be a city brimming with creativity. Unlike the other cities that I have lived in (New York, San Francisco, Orange County, Portland), I feel like there is a real sense of support and collaboration here between artists. I have yet to find a creative person who doesn't want the other talented people around them to also succeed, and that makes for a really fantastic environment to be in!
Q: How important is technique?
A: Technique is very important since, without this, you're not really doing the music justice as a singer. It's the main thing that we singers are always working on, and our technique is never complete or perfect. When I focus on the technical aspects too much, however, I find that my singing loses a lot of its emotional depth and becomes less engaging and vibrant. The technique has to exist somewhere in the background so that the real dramatic work can take place.
Q: How important is audience to you?
A: The audience is very important to me. My dream is to make the audience love the music that I love, through my performance of it; I feel that, when given a chance, this music will be as positive a force in their lives as it has been in mine. This isn't always easy, though, seeing as the music that I am most moved by can be very challenging on the listener! Many of the songs I love aren't necessarily "beautiful" or melodic at all at first hearing, but express amazing depths of feeling and thought. These require me as the performer to work even harder, in order to bring out the beauty that is present in this music, and it requires a receptive and open audience that will give demanding music a chance.
Q: What are some of your upcoming projects?
A: I have been focusing a lot recently of working more in the medium of video. In Spring 2012, I created the Art Song music video Mignon, with director Adric Knight, and artistic direction by Redd. In the video, we were striving to join fashion and art with the music, giving it a new sort of vitality, and making it easily accessible online. I think that it turned out to be a really successful and beautiful project, and I want to do much more in the same vein. In the next few months, I will be filming another art-video of the same scale with Redd, Adric, and Siolo Thompson (a featured artist in Miroir's "Viva la Vita" issue), as well as more frequent performance-based videos. I will also be singing at a number of events, including the June Art Walk in Pioneer Square, and an opening for Redd's solo-show in Ballard in May.
Q: What is your idea of success?
A: My idea of success is ever-changing – sometimes I focus on the long-term goals, and sometimes it's all about learning and embodying a new song. Although it might transform at some point in the future, my current long-term goal is to spread a greater knowledge and appreciation of Art Songs, so that this beautiful genre isn't forgotten.
A: What makes you happiest?
A: Discovering and creating beautiful things makes me happiest. The realization that I am living my dream, spreading beauty, and putting thought-provoking things into the world fills me with a lot of joy.
Q: What is your moment of perfection?
A: That moment when all of the critical inner-voices are silent and I can just sing.
© 2013 MIROIR Magazine interview • Chloe Allred
Links and credits:
Roxanna Walitzki's website
Redd Walitzki in MIROIR
Redd Walitzki – When We Break
Redd Walitzki – Vergissmeinnicht