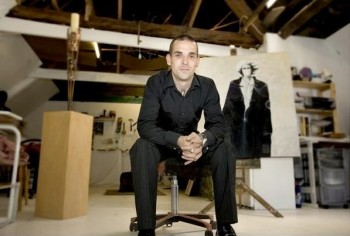 Jeremy Beswick, the owner of Studio 600, is an English artist, photographer, sculptor and designer.
Q: How long have you been painting (drawing), and what was your first memory of the art process?______
A: I have been drawing since I was five years old, but professionally for over 30 years, 20 of those were spent as a full time artist. My first memories of process in art was pencils, graphite mostly, it was the first medium I started with.
Q: Have you been formally trained, and if so from what institution? Or are you self taught?
A: I was formally trained as well as self taught, it has been a life mission to find out about all mediums in art and to give myself a wide spectrum of artistic world by absorbing as much knowledge as possible about the mediums I would work in. I have degrees in different mediums and teachings of craft to 3d and 2d art.
Q: If you could meet any artist who is no longer living, who would it be and why?
A: Gustav Klimt would be my one choice, as am so inspired by Art nouveau and believe its possible to see that in my artwork ranging from pictures of god-like figures to fairy tale history and legends of magic and myth. I adore Klimt's work as it is just like looking at a god's hand perfecting his artwork and learning everything about style.
Q: Was your family supportive of your artistic endeavors?
A: My mum and my grandmother always supported me with my art and pushed me to keep going even when times got hard, just keep drawing and working.
Q: Is there someone special who has encouraged your work and your path as an artist?
A: I have had a few mentors in art world, but mostly have done it all on my own, kept pushing myself and my style. And still do I believe we have to be able to encourage our own visions, to bring the best art we can out.
Q: What are your hopes and dreams or future goals?
A: I would love to do solo shows again as I used to do one every year, one of my dreams is to show in LA, New York and Paris. I have already shown in London and sold work worldwide, which used to be my dream, so now my dreams are of big graphite works public art projects and showing global, and hope to fulfill these soon.
Q: Are you inspired by the history or lifestyles of tribal people?
A: My love for tribal artwork comes from Tattoos and the studies and work I have done on subject, as well as then having a love for pattern which many tribal cultures use. I am also a great lover of tribal stories of magic and folk law.
Q: What interested you in the Tribal theme and what inspired this series?
A: I was inspired by tribalism many years ago and have tried to keep it in my works, as I try to mix symbolic imagery and meanings into my artworks, ranging from magic to science, bonding the worlds of art, magic and math, to create an art style that embodies bits of many tribes and civilizations around the globe and their history in art.
Q: Have you always been interested in native or first nation imagery?
A: I love the works of many tribal cultures and am a nerd when it comes to my history of myths, legends and stories. As an artist, I believe we are tribal and have the power to be a story teller like ones who would sit around fires and tell of their history. So I get to work into my art those same things to create my style and artwork based on all things magic and of alternative culture and story.
Q: Is there a historic or current topic relating to tribal issues that is particularly important to you?
A: I believe we must all keep our history of tribal things alive and feel that in this age of tech we still need the people, artists and tribal people to keep alive the stories of ages past. We must keep things in the minds of the new generations and make new tribes and put out a message that beauty and respect for the worlds of magic and our world are one and the same. I am proud to be a modern day story teller in my art, even if the viewing public doesn't know what is hidden in my work, they can still find beauty in the imagery and can relate on a tribal level. I hope for art that inspires a new tribalism style, with the mixing of many tribes and stories. After all we are all brothers in art and in tribes.