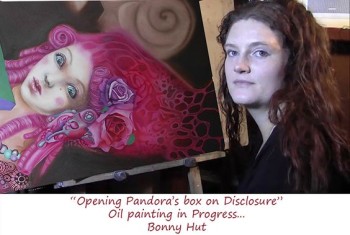 Q: How long have you been an artist? Please tell us a little about your chosen medium.
A: My art career began when I started drawing all over my Maths and English books in primary school in South Africa. I got into HUGE trouble because one of the ladies I drew at the time was semi-nude. My artistic practice pretty much flourished from there when I realized that creating art was more fun than doing anything else.
I am primarily an oil painter. I love the degree of forgiveness and versatility the medium allows but I have been doing some more watercolor lately as I like its mobility – it is much easier to travel with than oil.
Q: Have you been trained, and if so from what institution? Or are you self taught?
A: I spent 4 years studying fine art at the Durban University of Technology and 2 years studying graphic design at the Durban Central Technical Collage. However, I have to say, that I am mostly self taught because the contemporary type of art the institutions were advocating at the time were worlds apart from the type of work I wanted to produce and create now. I initially failed painting a few times. The "top" students were creating more abstract type of work. I have nothing against abstract art… I just cant do it.
Q: What inspires your creations ?
A: Rain, chocolate and dreams. I am inspired by whatever subjects I am currently researching and the theme of the experiences that I am going though in my life at the time of the work. My art is used as a vehicle to reflect, share, express, explore and to process / heal.
Q: Was your family supportive of your artistic endeavors ?
A: Yes, they were supportive, my mother is an artist and my dad took me out of high school and allowed me to go to an art collage instead. However, they did not really approve of my earlier dark art creations and would probably prefer it if I was painting more conservative, main stream subjects like traditional flowers in a jar.
Q: Is there someone special who has encouraged your work and your path as an artist ?
A: I would love to say yes to this question but unfortunately the answer is no. I have faced much opposition and many obstacles from people and situations along my path to becoming a full time artist. Fortunately my passion and oneness between myself and my art is so strong that I would still be creating art, even if I had to live on the streets to do it.
Q: What are your hopes and dreams or future goals ?
A: I would simply just like to keep painting and drawing and keep eternally improving !
I am also very interested in film production and created the VANA project which is about elevating the appreciation of the imaginary arts and artists through the medium of film. (www.visionaryart.net.au)
Q: If you could do any project with full funding what would it be ?
A: We, at the VANA project, have been endeavouring to create one of the first major film / television productions about the imaginary arts and artists around the world. We would also like to be able to support various, genuine visionary charities as a part of the project.
Q: If you could meet any artist who is no longer living, who would it be and why?
A: William Blake. He was next level. A real philosopher and way ahead of his time.
Q: Tell us about the ghostly elements in your art ?
A: A subtle, ethereal quality to some of my work, depicting a multi-layered and multi-faceted reflection of other world reality.
Q: Have these sort of haunting themes always been of interest to you ?
A: I have always been fascinated by the strange and by many aspects of the paranormal. I have also spent most of my life trying to figure people out and have been researching further and further down the rabbit hole regarding who or what is influencing this planet, how and why. I believe that the paranormal is a piece of this puzzle.
Q: Have you ever seen a ghost ?
A: Three times. I saw my first ghost as a child when we were on holiday in some cliché looking old, creepy house. To be honest, I did not enjoy the encounter at all. I was disturbed for a few months afterwards and never told anybody. Infact, I was probably disturbed for well over a decade after that encounter without consciously realizing it. The second time was 20 years later at a bar and third time was a nun at a church, both later incidents happened in Australia. When I saw the nun I thought; if you are dead, and you are a nun, arnt you suppose to be in heaven or hell or something at the moment ?
Q: Do you have a favourite ghost story?
A: Yes, as a child I had this story book which came with a tape and the bell rang when it was time to turn the page. There was a ghost story in that book. I listened to this story hundreds of times. Completely intrigued by the paranormal. Wondering what else was going on in the world that we are not being told about.
Visit Bonny Hut's website for more art and info about the author »