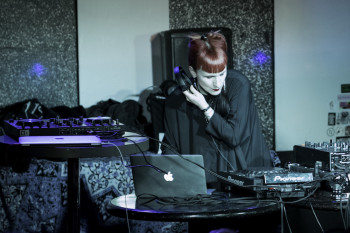 Interview by Natasha Gris
Recently I had the chance to interview a very talented Vancouver artist who I've know for quite a few years. She has been living in Berlin more recently though and was planning a visit home. From the first time I say her DJ at a local club, Celebrities on Davie street, in the late 1990's I was instantly drawn to her style and creativity. It would be many years later I would meet her and become friends.
Daevina is well rounded artist, proficient in many different mediums from photography, to make up artistry, corsetry construction, costuming for film and Dj'ing. It has been wonderful to learn more about her history and how it has shaped her current reality.
Q: What is your creative process like?
A: My creative process varies with each project. I can spend months researching themes and creating storyboards for inspiration, or I can come up with an idea in a few minutes and execute it within a few days. When I shoot, I always aim to have a finished product so I don't have to spend too much time manipulating images digitally. I recently returned to 35mm and 120mm film. Analogue photography may have been trumped by digital SLR cameras and smartphones, but it has not been replaced, and for me, it has certainly not been forgotten. There is something mysterious and magical about film. Especially with vintage cameras. It's like Russian Roulette, you never know what you are going to get. I love that about film. It's a surprise every time. Often when we think we've made a "mistake" we are pleasantly surprised by a wonderful image.
Q: How did you get started in the arts?
A: Both of my parents, and brother, encouraged me from a very young age to be creative and learn to express myself. At the end of elementary school I was offered a place in the Langley Fine Arts School, but I turned it down because I was a shy kid and I was too timid to relocate to a school where I would be a stranger. In hindsight, I often thought this was a mistake, but forgivable of a 13 year old girl. In high school I applied myself mostly to academics because I knew my parents wished for me to attend university. In my mind, university equated to academic, not fine arts. However my passion for art was still there and I endeavoured equally in art and science. When it was time to decide about university, I reluctantly approached my parents about applying to Simon Fraser's visual arts department, fearing it wasn't academic enough. To my surprise they agreed and were happy for me. They just wanted me to study something I loved. Four years later I graduated with a Bachelor's degree in Visual Art.
Q: Who are your biggest inspirations and why?
A: Anton Corbijn because as a teenager I was obsessed with his photography and videos created for the Synthwave band Depeche Mode. His imagery is so strong and dark. I love the high contrast and exceedingly grainy effect his portraitures have. They create a strong sense of mystery, and make me want to delve deeper into the history of the people depicted. I also like that he has a sense of humour. He's not afraid to create ironic situations in his self portrait collection.
Manray because his photography is romantic, dreamy and timeless. I've always been drawn to black and white photography. What I admire about Manray is his use of laying and textures to add another level of attraction to his subjects. His imagery is minimal, yet elegant.
Q: Do you have a message you are trying to convey through your art?
A: I'm not sure it's necessarily a message I try to convey, but rather an emotion or conjuring of memories. I want to create stories or to inspire people to create their own stories based on my photography. Art is flexible and subjective. I believe we each bring our own experiences to art in order to connect to it.
Q: What goals do you have as an artist?
A: My goal as an artist is to capture life and commit it to analogue or digital memory. I do this mostly for myself, as the images I create and subjects I like to capture are my memoirs. However, I want to leave a trace of my artistic journey for others to see and appreciate.
Q: Can you tell me about a time or experience where you had a break through?
A: I think I have break throughs with every collection I create. I am always learning and growing as an artist. I think it's important to not cage or limit ourselves. Look for inspiration in life, books and film. Don't be afraid of making mistakes, changing and experimenting.
Q: If you could sit down with any artist, someone from the past or living, and interview them, who would it be and why?
A: Anton Corbin & Manray (because they are great influences of mine, as stated above), Mucha and any of the Pre-raphaelites, namely Millais, Rosetti (19th Century) and Waterhouse (20th Century). It's too hard to name just one! All of these artists capture a feeling of romance, sadness, love, beauty and sacrifice. They studied nature in order to accurately express it in their works. We need to observe life and understand it if it is to be the theme of our artistic expression.
Q: How have your life experiences shaped your art?
A: I was always fascinated by people. I'm a real people watcher. I can get my head caught in the clouds fantasizing about their story. When I started working in the Vancouver film industry as a costumer on set, this became my job. Watching people and being responsible for costume continuity. I have an eye for detail…to a fault! I can't turn it off. I am always noticing the smallest details in everything. I feel this characteristic, combined with working behind the film monitors for nearly 12 years, helped me to developed a better sense of lining up shots and creating moods.
Q: When did you know you were an artist? Did you embrace it?
A: Even today I am still evolving as an artist. Some people are born artists, and others grow into it. I'm not sure if I was born with this inherent in me, but it's something I have definitely developed over the years. I've always loved art and to be artistic and expressive, whether in photography or in my life and appearance. I have embraced it. I have to give a little more credit to my family again, as they never inhibited me to be me. For this, I am forever grateful.
Q: What achievements are you most proud of?
A: Talking about myself in a prideful way, I must confess, is difficult. I was brought up to be humble, but there are a couple of things I am not ashamed to be proud of.
Firstly, I am proud of being given the chance to attend university, graduate and apply what I learned in school to a 12 year career in the film industry and to also further fulfill my decision to be a photographer. Secondly, I am proud of myself for making a very difficult decision 6 years ago. I was feeling rather disenchanted in my career. Working 80 hour weeks in film was taking it's toll and I was itching to discover what else might be out there for me in the world. I packed my life into a 10 x 10 storage unit and moved to Berlin, Germany. Europe has been a huge source of inspiration for me and my photography.
Q: What kind of reactions does your work elicit?
A: I like to capture both life and death in photography. Often the reactions are varied. Most are positive, but sometimes they are curious. I'll never forget my photography teacher in university saying to me, "I'm fascinated by your fascination with death." I will never forget this and it still makes me smile. This was a compliment for me.
Q: How do you feel about collaborations?
A: Collaborations are necessary, and every photo session is, in effect, a collaboration, unless of course your subject is inanimate. The commitment and discussion between a model, make up artist, hair stylist and the photographer is extremely important. All must work together harmoniously to achieve the final product. I find this very inspiring and really enjoy bouncing ideas off the people involved.
Q: What qualities do you look for in a model or collaborator?
A: I look for flexibility. People who are open to doing anything are the easiest to work with. Sometimes I get crazy ideas and I'm always happy when my partners in crime are crazy enough to go along with me.
Q: Are there other mediums or art forms you work with that our readers should know about?
A: As a costumer in film, I also worked with styling and costume fabrication. While living in Berlin as a freelance artist, I had the pleasure of sewing jeans and casual clothing for Your Local Dealer, wedding dresses for Anne Wolf and corsets for Cyberesque. I also have my own label Vintage Vamp Clothier that began in Vancouver in 2003.
In the summer of 2015, I was approached by a musician friend, Sally Dige, to collaborate with her on a music video. She loved my photography and thought I would be a good fit to her style and imagery. I was so flattered! I thought it would be fun to try "moving pictures" for the first time outside of my film career in Vancouver. I helped film and direct her video for "Your Girl" (link below). Sally is the model featured in the photos you have chosen for this article. At the moment, we are also collaborating on another music video that should be ready for release this summer.
Q: That is very exciting! Music seems to also be very important to you. Would you agree?
A: Yes, I would absolutely agree! Music defines me. There hasn't been a moment in my life where a song did not describe or influence my situation. Music is so emotional and powerful. It conjures memories of happiness and sadness connecting life experiences in the same way art can. I can't go the symphony without crying nearly the whole way through a performance. I find myself submerged in sound everyday to lift my spirit, get me motivated or calm me down.
I have quite an eclectic life soundtrack. Anything from Post Punk to Synthwave or 1940's Big Band to 80's New Wave. Music had such a huge influence on me at a young age that I took up DJ'ing as a hobby. For the past 20 years I have DJ'd in several clubs around Vancouver and sometimes Seattle. Since moving to Berlin, I also had the opportunity to DJ there, as well as Dresden, Vienna, Prague and London. Through DJ'ing I have had the pleasure of meeting and working with many musicians and artists. I feel pretty lucky to have found another way for music to leave it's mark on my life and my photography.
Photos by: Daevina Danyluck, Eavan Derbyshire and Natasha Gris