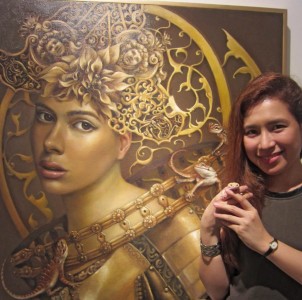 Camille dela Rosa is a featured artist of the Miroir Magazine Inner Vision edition
Q: How long have you been an artist? Please tell us a little about your chosen medium.
A: My early works were inspired by the painting style of my late dad, the noted Ibarra Dela Rosa. I inherited his penchant for strong color combination in rendering my landscapes, flowers and trees. As years passed, I slowly departed from my his style and started exploring the impressionist technique. My subjects widened from landscapes to gardens, churches, portraits, and human figures. These were the so called traditional subject done in various mediums (oil, pastel and charcoal).
It was in 2009, in my solo exhibit aptly titled "Aenigma" when I drastically leaped from those impressionistic style and subjects while bravely exploring surrealism (mostly done in oil on canvas, my preferred medium).
My enigmatic paintings shown during my solo show were characterized by art critics as morbid, out-of-this-world, grotesque and phantasmagoric. It is a contemporary style recognized in some art competitions that I joined, some of them are as follows: Honorable Mention in Drawing during the AAP Art Competition, year 2005 2nd prize in "Pagalingang Pinay" year 2009 and Top 10 Entries in Luzon at the Philippine Art Awards Competition also year 2009. In 2012, my solo exhibition dubbed "Dominion" at the Art Informal Gallery, my subjects was, though still surrealism, were no longer morbid, instead I dared to show subjects that are beyond the concept of religiosity, such subject intrigued the art scene. In 2013, in a Two Woman show with the famous Lydia Velasco, I shifted subject, this time exploring portraits of women in their dreamy and whimsical state. The exhibit was held at Galerie Artes. Then,
just last year in 2015, during my 18th solo exhibit held at Art Informal gallery, I unveiled my "Enchantress" series. My women portraits this time are shrouded with esoteric symbolism. Each paintings, like my contemporary subjects and other surrealist paintings are all meticulously delineated.
Q: Have you been trained, and if so from what institution? Or are you self taught?
A: I'm a self-taught artist
Q: What inspires your creations?
A: My current "Enchantress" series are mostly inspired by powerful women endowed with beauty and intellect. Their strength lies in their charm and wit which enchant the world of mankind.
Q: Was your family supportive of your artistic endeavors?
A: When my father was alive, he did not want me to be a visual artist like him may be because he was aware on the then pathetic plight of artists: painting is not stable job. He did not teach me how to paint; did not even purposely expose me to the art world wherein he was then popularly known. It was only after his demise in 1998, that I was introduced in the art scene. It was my mother, Ethel Dimacuha, a former Art History and Humanities professor and also an artist like my dad who supported my artistic career. My early works, which were influenced or similar to my late dad were all copied from some of the photographs of his paintings. It was my mom who taught me the basic method of using oil pastel on sandpaper. The rest of my knowledge came from my own initiative to study and improve my craft through art books and by the strict discipline of working everyday.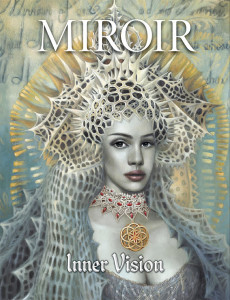 Q: Is there someone special who has encouraged your work and your path as an artist?
A: Yes, It is my mother, who up to this moment is encouraging and intensely supporting my artistic career. Next to God, my mom is the most special person whom I considered an integral factor in my formation as an artist.
Q: What are your hopes and dreams or future goals?
A: I want to leave a legacy with a distinct style and subject synonymous or akin to my name. I also hope to be an inspiration to other women artists.
Q: What does Inner Vision mean to you and how do they inspire your art process?
A: Inner vision to me is spiritual. It inspires my artistic process through my intuition which provides me the knowledge and know how to create or re-create a particular subject I am working with.
Q: Are there any historic works of art that you feel were visionary, and why? How did this art affect you?
A: The Mona Lisa by Leonardo da Vinci, for me is visionary. I agree when Théophile Gautier wrote that " Mona Lisa was a "sphinx of beauty who smiles so mysteriously" and that "Beneath the form expressed one feels a thought that is vague, infinite, inexpressible. One is moved, troubled … repressed desires, hopes that drive one to despair, stir painfully." someday, I hope to paint my personal version and vision of "Mona Lisa", so simple, devoid of unnecessary detail yet so visually and spiritual powerful as well.
Q: Do you feel as an artist that it is important to change the world, to have a vision?
If so what would you hope to change?
A: At the moment, my focus is solely on the enrichment of my craft. My vision to change the world may come as soon as our Almighty God asks me to do so on the right time and according to His will. When it come, God will equip me everything that I will need.