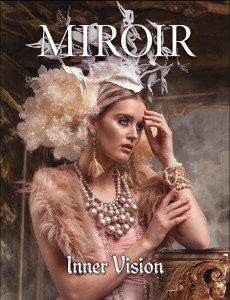 Q: Tell us about your styling and design work and what first sparked an interest in these creative mediums.
A: I grew up in Palestine in the midst of war. I can't say I was poor but the nature of life at the time didn't allow us to have access to many things people take forgranted. For example for christmas, when my mom would setup the tree, we couldn't just go to a store and find a variety of ornaments, so my mom taught us how to make our own from papermache.
Or when we had to stay home for several days under siege, my mom would keep us busy by showing us how to make marionette puppets, also from papermache, so we can create a play. And when I got my first Barbie, I only had the one dress that came with her, so I started to sew because I wanted her to have a change of outfits like what I saw on TV. I grew up with the notion that anything I can't buy, I can make with basic materials and a bit of imagination.

Q: You are highly skilled with make up as well as with wardrobe and accessory design , were you formally trained or are you self taught?
A: I always had a creative side in me. As I mentioned before, I grew up with a creative mom who took art to the next level and applied it in our daily lives. She was also a hairstylist and makeup artist herself. And although I never expressed interest in her work as a child, I think all those afterschool days of sitting in her salon and watching her work taught me alot. And although I did get a degree from a local school here in Vancouver a couple of years back, but my sense of skill had been shaping up for years before that.
Q: What lead you to your design work with Johnny Se?
A: I love art because of where it can take you and the limits it challenges.the art I find interesting is the one that stimulates thought and allows us to experience what otherwise we couldn't. Thus the fashion shoots I always wanted to do were those that did just that. It is not just about capturing fashion, but about a journey we take by looking at a specific photoshoot. It could be rather simple where you look into someone's eyes and it could be more complex and weird where your brain finds itself challenged to wonder. When I first came across johnny Se's work, I was fascinated by how he brings ideas to life through photoshop, and I knew immediately that we would be able to understand each and connect with our art.
Q: Did you create these concepts together or was this your idea?
A: The way Johnny and I work is very interesting. We have reached a point of trust and respect to each others creativity early on. We usually talk about an idea that inspires us or that we want to do,whether it is a color palette, a movie, a dream..and then we let each other think about the idea for a week or and then touch base to see how this idea has inspired us and what we think we can do with it. Many times we dont discuss specifics, we love to work with the flow and see what happens on set. We agree on a high level idea, I create outfits and accessories he creates backgrounds and props and then on the day of the shoot we create the story. It always works out in ways that many times even surprises us!!
Q: What inspires your creations?
A: My creations are inspired by anything and everything. There is no shortage of ideas in this fantastic world, people, the colorful nature and the fashion on the web, pinterest and instagram are my favourites. Sometimes all you need is that one thing that sparks your imagination and the dominos fall into place and all of a sudden your brain is flooded with ideas and you haven't slept in 4 days!
Q: You have collaborated with some creative photographers over the years, how does it feel to see your work realized in print form?
A: I will never forget the first time my work went into print, although I thought that that was the most exciting thing to happen to me ever, I still feel like that every single time. I feel honored that out of so many creatives out there, someone would choose my work. It truly is a very humbling feeling and it pushes me to continue challenging myself, growing and creating.
Q: What challenges do you have when you're creating, and what makes you the happiest when you're bringing a new project to fruition?
A: I would like to think of myself as someone who doesn't see too many challenges while creating because I grew up with a can do attitude. I also have learned that with every idea you cannot accomplish another idea is born. Many times when ideas have failed, Johnny and I have found ourselves ending up with a concept way cooler than the one we started with its quite amazing! Pivoting your concepts on the fly and staying flexible is the best you can do to stimulate and allow your creative thought to grow.
When working on a project, I just love to see how awesome thing look in the end. I would like to think I have an interesting imagination, but to be honest, what becomes reality is always far more fascinating than imagined. It makes me want challenge all the ideas I get.
Q: What advice do you have for young people just starting out in the industry of styling and design?
A: I have to be honest and tell them that it is not easy, but it is important to know that you have to embrace what makes you you! It is great to make a dress using a pattern the first time to learn how to make it, but it is so much more fun to just cut fabric into pieces and see where it takes you!
Find your unique self through your art, do things your way, people will teach you how to do a smokey eye, they will tell you what is wrong and what is right, learn from them and challenge them and yourself to create your own version.
Q: If you had full funding to do any project what would it be and why?
A: I am very passionate about our Earth! I would love to do a shoot to raise awareness of any kind. Whether it would be related to recycling, poverty or saving the Bees..a photoshoot related to any of the sort would be AMAZING!! I know I will get to do something soon as I am flooded with ideas!