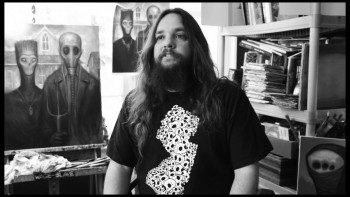 Chet Zar has worked as a professional makeup effects artist for thirty two years, and as a fine artist for eighteen years, he paints primarily in oils and he also sculpts. He is widely published and has a huge following of fans.
Chet took some art classes in his high school, and at a local community center, but he is mostly self taught. His favorite subjects were inspired by old EC horror comics and horror films, graveyards, old industrial sites, decay and life in general.
His family and his wife Lisa are very supportive of his art. If he had full funding he would create a television series or film based on his creations. We asked him if he has a favorite ghost story and this is what he told us:
Our houses were always haunted and I think I was a baby when this happened. The story goes that my sister, who was just a kid at the time, came running in from the room she was playing in and started yelling at my mother, accusing her of poking her with a pair of knitting needles that were on the other side of the room. Of course my mother had no idea what she was talking about. According to my sister, she was playing and a pair of knitting needles poked her in the back. This was one of many ghost stories that had circulated through my family.
Q: How long have you been an artist? Please tell us a little about your chosen medium.
A: Since I was a kid. Commercially, as a professional makeup effects artist, about 32 years. As a fine artist, about 18 years. I mostly paint in oils but I also sculpt.
Q: Have you been trained, and if so from what institution? Or are you self taught?
A: Self taught. Took some art classes in high school, some life drawing at my local community center, but that's about it. My stepfather, artist James Zar, was an artist. But I mostly learned on my own.
Q: What inspires your creations?
A: Old EC horror comics, good horror films, graveyards, old industrial sites, decay, life in general
Q: Was your family supportive of your artistic endeavors?
A: Yes, very.
Q: Is there someone special who has encouraged your work and your path as an artist?
A: As a child it was my mother. As an adult it has been my wife, Lisa.
Q: What are your hopes and dreams or future goals?
A: To make enough money that I don't have to worry about not having enough.
Q: If you could do any project with full funding what would it be?
A: To create a film or TV series based on my artwork.
Q: If you could meet any artist who is no longer living, who would it be and why?
A: That would be a 3 way tie between Frazetta, Beksinski and Giger. Because I love their art the most.
Q: Tell us about the ghostly elements in your art?
A: The ghostly element is one of my favorite elements. I paint monsters and ghosts, primarily. I like the sense of mystery and creepiness.
Q: Have these sort of haunting themes always been of interest to you?
A: Absolutely.
Q: Have you ever seen a ghost?
A: Yes.
Q: Do you have a favorite ghost story?
A: Knitting needles flew across the room and poked my sister as a child.
Chet Zar is a featured artist in the Specter Issue of the Miroir Magazine.