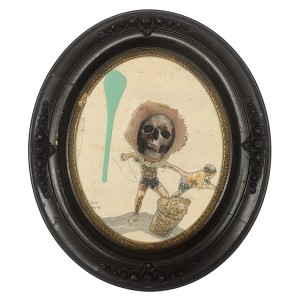 The last step before leaving the studio – sewn cloth bags for all of the new artworks for Dan Barry's Passing Time exhibition at la Luz de Jesus Gallery in Los Angeles, CA – opening reception Feb. 2nd from 8:00pm – 11:00pm.
In his latest show, Passing Time (opening February 2 at La Luz de Jesus Gallery), Dan Barry has assembled pieces whose themes are simultaneously intensely personal and universal: mortality, loss, connection, family.
The show found its genesis in a tumultuous year in Dan's life, one which saw the loss of his father and of his partner's mother, as well as age- and health-related transitions for Dan's mother.
Passing Time reflects his navigation of these difficult waters, all within a general current of unrest in the United States: it is no surprise to see politics also making its way into Dan's work in the last year, including several pieces in this show. He notes that while his art "continues to commemorate the fragility of human life, loss, and anxiety," it also "chronicles [his] personal response to the general climate of dread and chaos found in world events—particularly the erosion of American civility, democracy, leadership, and place in the world." The current political state reminds him of this quote from the Nobel Peace Prize Speech of Liu Xiaobo (1955–2017): "Hatred can rot away at a person's intelligence and conscience. Enemy mentality will poison the spirit of a nation, incite cruel mortal struggles, destroy a society's tolerance and humanity, and hinder a nation's progress toward freedom and democracy."
Dan has always used art as a way of exploring what is going on in his own life. His parents gave him freedom to explore art from an early age, even allowing him to build a studio in the basement of their rural Wisconsin home when he was a teen. By this age he was already assembling, creating images from found objects, wood carving, painting, and drawing. Later, his studies of fine art, anthropology, and art history at Lawrence University provided a focused time to build his technique.
Although Dan briefly attended graduate school, he ultimately decided that he would learn more by immersing himself in his art. He continued creating while holding the proverbial "day job" to pay the bills and gain access to health insurance. A little over 2 years ago, though, he quit his 20+-year career in the corporate world to devote as much time as possible to making art. Dan currently lives and works in Austin, Texas.
To create his images, Dan collects various objects—found paper and ephemera, acquired locally and in his travels—and combines them, layering them and drawing in and hand sewing details so that each piece carries not only the history of its message but also its own history of creation—"a history of marks," as Dan calls it. Many of his creations feature repeated words or images, and he finds the process behind this repetition meditative. The pieces in Passing Time are mixed-media works including found paper, graphite, Wite-Out, acrylic paint, scotch tape, masking tape, and cotton thread. Dan's artworks have a second image on the back side (B side) of the frame—hidden when the works are hanging on the wall—and they arrive from his studio in a sewn fabric bag as a final protective layer.
"I have been placing images on the B sides (and making cloth bags for each artwork) for over 10 years," Dan says. "The images that I place on the back sometimes relate to the image on the front, and sometimes they do not. Some of the B sides could potentially stand alone as artworks; others are not as detailed. It is usually a mix within any body of works.
I do the B-side images and the sewn cloth bags because I consider each artwork to be a complete object. The image in the frame plus the antique frame plus the B-side image plus the cloth bag—all of these elements are part of the object as a whole. I like there being a hidden layer on the back of each artwork as it hangs on the wall or resides in its cloth bag. It is a discovery moment. It is another detail that needs to be there. It is a gift to those who happen upon it."
The overall effect of the images Dan creates is one of both tension and a sense of being adrift: the characters in the pieces are often composites of heads and bodies, some solitary and seeming lost, while their environment is somewhat desolate but controlled by Dan's tight use of repeated elements. There is loneliness and disorder, but there is beauty and delicacy, too, sets of traits that are not mutually exclusive, either in art or in life. This is the balance that Dan's work seems to ask us to look for as we consider his pieces and how they might resonate with us as individuals.
The passage of time offers the chance to consider what has been lost but also to grow. Among the works in Passing Time is a set of companion pieces, "I Remember You" and "I Miss You Already," which represent a bit of a departure for Dan stylistically; he is excited to see where this new direction will take him.
Dan has participated in many group shows at La Luz de Jesus Gallery, and he is thrilled to show again at this venue, this time as a featured artist. It is a promising start to a new year that will also see him returning in March to Vinyl on Vinyl Gallery in Manila, where he had his first solo exhibition in Asia in September 2017.
By Julie Antolick Winters