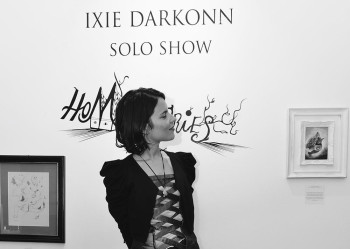 Q: Please tell us about your show that opens on December 6th at Parione 9 Gallery in
Rome. Where did the name Homeberries come from?
A: The moment I named the show this way is the moment I realized that THE MEANING that lies beneath it, is part of me since the beginning of time. When I found this name, it was like a relief. Like giving a form, a color, and a sound to a feeling I never really recognized till now. A feeling I had since I was a kid.
Thats why this show, to me, means a lot. Its probably the first time I truly focus (jn my art) on what really lies beneath my actions, my fears, my hopes, the first time I truly focused on these mix of feelings and gave them the chance to be released.
Homeberries is simply a vision of a bush of thorns… thorns with no berries are just thorns, but a berry completely changes the perception of it: it makes it sweet, charming, attractive… and the way berries find their comfortable space between thorns is kind of a big lesson of life, to me. Perfectly balanced, unharmed, fragile but proud…
So, if a berry turns a bush of thorns into something sweet… the same does a HOME, in life. A home is that berry that hangs there, solid, in the sharpnesses of life.
When I was kid I often felt uncomfortable wherever I was. Not because I was an unhappy kid, but I was very very sensitive, so to "feel at home" I truly needed to feel deep connection with others.
My homes, in fact, the homes that I draw and paint now, if you notice, have one single eye because the other is given by the rest of the world and I believe thats how we truly see, when we connect to one another, when we also let others "see us" so that we can can learn to look at our actions through the eyes of the world without the fear of judgement but, in fact, with the hope of becoming a better version of ourselves.
Q: Will this be your first solo show?
A: In 2012 I had a personal exhibition in the White Velvet Space of Dorothy Circus Gallery in Rome, it was a show named "Hidden Clouds" and I must say, ìf I look backwards…. that I can now understand why that show was named that way, I wasn't aware, at that time, that there was something "hidden" in me, something that I was trying to see. Limits. Fear of the shattered pieces, fear of growth in both things: art and life.
That's why I consider myself an Art Hunter, not at artist. I am simply someone who is in search of the art of living, the art in life.
Q: Tell us about "I Dreamk it" and your limited edition wine.
A: I was painting this piece (A Crystal Shelter For My Homeberry) a home underneath a glass of wine (of course a HOME) like if it's a snow globe.
Home protects us, but who protects the home? What is it? Our crystal clear emotions maybe, our feelings that are fragile but authentic like a glass.
A Glass protects our home!
I immediately thought that the juice and the essence of home could be represented perfectly by Wine.
That's exactly when I thought that it would've been nice to have both nourishments, for the body and spirit in an art show.
SPIRITual! So the connection between symbols ended up putting together different ingredients in this show. Thats when I came up with this name:
I Dreamk It.
and now this is one of my new projects, it means I dream and I drink.
This is going to be an "every year" show that I will curate with the artworks of other artists also. The art on the bottle (the labels) and the wines in the gallery.
the bottles in an exclusive packaging signed and numbered by the artist will be presented along with new artworks in a solo show.
It hasn't been easy at all to put together all this. I was with an idea on my mind and a few drawings and sketches on my table and initially I was thinking to bring this show somewhere in the states, just like all the other projects of mine but one day, I was at Parione9 Gallery in Rome for an opening party …. and I thought to myself "a show about homes… in my hometown ….is actually perfect". I fell in love with Marta Bandini and Elettra Bottazzi at first sight and suddenly the gallery was found and I am very happy for the results.
The first thing to do now was to find a good winery to collaborate with, I wanted it to be special, one of the best italian wines for sure.
i had a few connections but I wanted to take my time, thats when, meanwhile, I started the production of a short movie I directed to promote the show.
Yes, like for the previous shows I curated, for example Painted Sound show in California, Mad Hatters show, The Nightmare In Wonderland project (Vancouver San Diego Berlin and Chicago) the Tim Burton show… I always directed a short movie.
So this time I was very lucky to have the collaboration of amazing professionists like Francesco Baccini a very well known musician who wrote a brand new piece named Homeberries which plays in the movie.
In each short movie I direct, there is almost always a very young actress, like Jennifer Distaso who acted in my movie for the first time and now is a young movie star in italy!
this time was the time of the 6 years old Evelyn Yuki Garnet, actress in Homeberries movie, who was a true revelation and I am so proud of her.
While filming the short movie I absolutely needed a very good advice about a good wine to involve in this project. So there comes Livia Belardelli who immediately loved my project, and thought of Sensi wines for this first edition of I Dreamk It, and it is just perfect.
Q: Tell us about the accessories by the stylist Eleonora Grimaldi and how these fit into
your project.
A: I created these sweet pillows with my homes drawn on 'em with Eleonora Grimaldi an amazing stylist. Because homes must be cozy.
Q: You are also producing jewelry, are the "Homeberries Darkonn by Orozecchino" a
special collection that relate to your current show?
A: Orozecchino helped me bring to life the jewels representing my joyful Homeberry and this one is a limited edition of 16 pieces only…
Q: Can you tell us more details about your launch of the limited edition handbags and
where they will sell in case any of our readers would be interested to buy these beautiful items?
A: My Homeberries Bags are all handmade, leather and resin on paper and the rain won't hurt!
Q: How long have you been painting and from where to you draw inspiration for your art?
A: I started to paint when at some point I thought that I was no longer able to express myself with words. I used to write novels and scripts before (at times I still do it) but it took a while for me to "find myself" in what I was doing and I probably haven't succeed at all yet. But that's what I like in being an Art Hunter. Inspiration comes from everything all the time and sometimes this flow stops and it makes me feel totally lost, thats when I need to travel to find a new balance and a new inspiration. Talking with people, exploring different realities, finding home everywhere I go. That's what I try to do.
Q: Was there someone special who encouraged you along the way?
A: Yes. My father. He was a movie director. But first of all he was a honest person, someone who taught me that we must be brave to be kind and that's the main goal, and to treat with love each perfect imperfection we all have.
He died when I was 15 and he is in each painting I do, in every word I say.
Also some friends of mine are very supportive, my mother… also artists friends… well, I feel very lucky and thankful for this.
Q: Is there any particular artist with whom you feel connected, who you have gained
inspiration from?
A: Many, from the past I would say Magritte and Beksinski and contemporary artist friends also who were like stars out of reach to me at the beginning… and now… it has been an incredible thing to end up curating art shows including their art! What a joy!
Q: You have also been a curator, what would you say is the most important knowledge
or lesson you gained from your work in this area?
A: Yes, artists are pure at heart, not easy to be a creative and at the same time promote yourself… sometimes for an artist is even hard to ask to be paid. Many artists I know that I also admire as human beings, are somehow embarrassed when it comes the moment to talk about "price". Price and Value are things that are easily confused nowadays.
I am one of those who finds it hard to deal with money… but to me is kind of easier to promote someone else's work instead of mine.
Honestly, the lesson I gained from this work? is simply that no matter what, I can't stay away from it for too long, but it is hard. Very.
Loneliness in the studio, or galleries that close without giving back pieces to the artists and dealing with contracts and lawyers (very glad that this is actually something that almost NEVER happens), or pieces lost in the mail, or stuck in custom but first of all something that everyone should keep in mind is that: art will survive until there will be real supporters and collectors.
Do you sometimes feel like you should donate blood once in a while?
Good.
Same thing (well, not exactly the same, but sort of…) would be nice if more people feels to support art by buying it once in a while. As an artist I am grateful for all of you who does it.
Q: What advice would you give your artists who are just starting their careers?
A: Not easy to answer this question because I am still looking for advices myself… but for sure I would say to stop thinking that you ain't good enough to do it. Thinking that "you ain't good enough but you do it anyway", is the secret. Yes, you've got to still believe that "you ain't good enough" because an artist who believes "is good", is not an artist anymore, he will stop growing.
There will be a moment you will start liking what you painted… and trust me, that is going to be one of the best moments of your life.
Q: How did you get interested in film making and where did you learn the skills?
A: My father was a director, my uncle is an actor I was born and raised on set.
Q: If you could do any project with full funding what would it be?
A: Wow. do I really need to answer this question? it's like talking about dreams, if you talk about a dream it might not come true…
They say: when you dream alone is only a dream, when you dream with other is the beginning of reality. So I think that if I will keep looking for "my art home" other beautiful things will be accomplished.
Q: What is the driving force in your life, what are your hopes and dreams, and why?
A: The driving force, mmm I would say love. but it would sound really obvious. Right now, is to stay in the moment, and it is absolutely what is keeping me healthy, otherwise I would go nuts. I am going through a big moment of change in my life so I need roots in the ground and wings ready to fly.
A: What comes next as a creative director?
A few more shows, including I Dreamk It for the second edition, and I am waiting for the snow to melt so that it will reveal new paths.
Everything can be purchased at Parione9 gallery right now (including the wine in its packaging which is a perfect gift and I wouldn't miss this chance!)
The show is on view till January 9th.
For the artwork preview and limited edition items please contact: parione9@gmail.com
And after that you can still find me on www.ixie.it