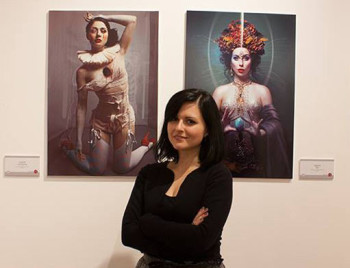 Q: How long have you been an artist? Please tell us a little about your chosen medium, what got you started as a photographer? Do you do any other creative arts?
A: Drawing has always been my favorite child-play, I've always spent my free time creating, manipulating, sewing, making costumes and accessories. I began casually to take photos, first of myself, after that of some friends of mine, then in 2009 I started to portrait young women all around Italy, where I live in, mixing photography and digital art, combining reality and my imagination.
I often hand-made the dresses and the hairpieces worn by the girls, sometimes I do the hairstyle and the makeup and some of the scene-objects are made of clay, another hobby of mine.
Q: Have you been trained, and if so from what institution? Or are you self taught?
A: To be honest I'm totally self taught. I studied psychology at University and now I work in a Residential Care Institution for girls and young mothers from difficult social environments, mild psychological disorders etcetera. It's really hard sometimes, when I come home and I feel so exhausted I just want to lay on the sofa, eating ice cream, binge-watching and nothing more, but usually I force myself to follow my passion every day, so I can use the little time I've left in a better way.
Q: You have been featured in Terra Firma because many of your images depict nature elements, can you tell us a little about why you use them in your photos?
A: I find nature fascinating, with all its animals and vegetation, their presence complete and give meaning to my portraits, there's Always a symbolism behind them. Animals indeed have been present in art throughout history in every culture and period; I find great inspiration in Vanitas themes, its romantic and decadent views of the transience of life. As you can see I often put flowers and butterflies in the scene, as they are a representation of the ephemeral: they're really important in the photograph, as much as the pose of the model, or the dress she's wearing.
Q: Was your family supportive of your artistic endeavors?
A: My parents are my first admirers: in facts my father is a great art enthusiast, he used to paint years ago, but he had to drop this passion in time, and my mother always speaks to anybody she meets about my work, she always carry with her some calling card of mine too! My partner is a great fan of mine too, he always supports me and incites me to get better and better.
Q: Is there someone special who has encouraged your work and your path as an artist, if yes tell us about this person and how they have influenced your path as an artist?
A: My partner tells me every day I must not give up, he advices me, he's the first one to see my works finished and to clear up my doubts. My friends appreciate my work, especially Ettone, an artist himself, shares with me his efforts and we usually celebrate our achievements together.
Q: What are your hopes and dreams or future goals, where do you see yourself in the next 10 years?
A: I'll take what life has for me, I only hope that inspiration will never leave me, to "do art" is what makes me feel good.
Q: If you could meet any artist who is no longer living, who would it be and why?
A: I cannot pick just one of them. I love going into art galleries all over Europe, I feel in peace surrounded by those amazing pieces of art from past times. I'm in love with symbolism, the late nineteenth-century art movement, that used mystical elements and mythical and dream imagery.
Q: Tell us your thoughts on the environment and preservation, there are many problems now for the natural environment, endangered species, global climate changes, what concerns you the most and why? As an artist do you feel there is anything you can do?
A: Everyone should do their little part to take care of the planet everyday: recycling, saving water and energy. As a single individual I can help educate new generations, as an artist I can spread my message to people that follow me. I'm scared and worried about climate change, we let our carelessness rule for too long but I'm more scared by ignorance and ill-informed people who don't trust science.
Q: Do you have any conservation projects currently in progress?
A: Nothing in particular sadly, as said before I can just do my best as an individual and hope to inspire people to beautyness.