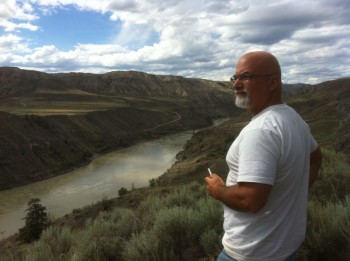 I picked up my first camera at age 14 so I could photograph the fall colors in Ontario. Since that time I have been most inspired by the natural landscape. Once I moved to Vancouver Island I knew I had found my home, my favorite place being that area where land meets ocean. About 10 years ago I also began to photograph nudes in the landscape, primarily the west coast rainforest. I never cease to feel wonder when in these beautiful places.
Mild-mannered geographer by day, Dave is a weekend warrior, kayaker, intrepid explorer and creative photographer. He has successfully published and exhibited internationally and is also known for stunning commercial architectural work. Dave's deep passion is for wilderness landscape of Vancouver Island, portraits of beautiful women and historic alternate processes. He's got a beautiful new custom built 11×14 camera for wet plate collodion and just can't wait to get back out there this season.
Q: How long have you been an artist? Please tell us a little about your chosen medium, what got you started as a photographer? Do you do any other creative arts?
A: I have been taking photographs since Grade 6 (I am now 50), when we made pinhole cameras out of shoeboxes. Seeing the paper develop into an image in a makeshift darkroom had me hooked and I have loved analog photography ever since. I began taking mostly nature and landscape photos as I did lots of outdoor activities. I still shoot mostly film, as well as my recent foray into wet plate collodion photographs. I love shooting large format and use a 4×5 film camera and make wet plates in both 8×10 and 11 x 14 inch sizes. Photography is my primary creative outlet. I am interested in book-making as well and hope to make a series of small handmade books of my photographs in the near future.
Q: Have you been trained, and if so from what institution? Or are you self taught?
A: Initially I was self-taught, but in 1999 I took a one year course at the Western Academy of Photography in Victoria BC to help get me started as a commercial photographer. I did that for almost 10 years shooting mostly architecture.
Q: You have been featured in Terra Firma because many of your images depict nature elements, can you tell us a little about why you use them in your photos?
A: I was always drawn to photographs of the landscape which is something I have always loved. I find black and white landscapes to be extremely expressive and represent the natural world in a way that aligns with how I tend to visualize the environment around me. About 20 years ago I began photographing the nude as well, and it just made sense to incorporate the nude into the landscape. Living here on Vancouver Island the temperate rainforest is the dominant feature so I have primarily been shooting nudes in the forest which to me is the perfect union of two outstandingly beautiful subjects.
Q: Was your family supportive of your artistic endeavors?
A: My family has always been supportive. I was quite young when I started and my parents were extremely supportive of my interest in photography and always encouraged me.
Q: Is there someone special who has encouraged your work and your path as an artist, if yes tell us about this person and how they have influenced your path as an artist?
A: There really is no one person. For me it has been more a process of self-discovery and I have followed where my interests have gone.
Q: What are your hopes and dreams or future goals, where do you see yourself in the next 10 years?
A: At this point I no longer make my living from photography which allows me to pursue only my own personal interests (versus the needs of clients). A regular job also means I can pay my bills without worry and therefore only shoot what I want. Over the next 10 years I hope to continue to photograph areas of my interest – landscape and the nude, as well as to continue to shoot wet plate collodion and expand my subject matter in that area. I would like to make handmade books of my photographs and sell these if possible.
Q: If you could do any project with full funding what would it be?
A: I would love to spend a large chunk of time (6 months or so) just capturing the west coast landscape in wet plate.
Q: If you could meet any artist who is no longer living, who would it be and why?
A: The work of Carlton Watkins got me interested in wet plate. He traveled the American west in the mid-1800's in a horse-drawn carriage making glass plates of the western landscape that are quite stunning. I would love to meet him to discuss both his personal experiences of traveling and shooting in the undeveloped American west, as well as technical aspects of how he produced such perfect images in quite challenging conditions.
Q: Tell us your thoughts on the environment and preservation, there are many problems now for the natural environment, endangered species, global climate changes, what concerns you the most and why? As an artist do you feel there is anything you can do?
A: I could write a book on this topic! Humans have caused vast damage to the natural environment and currently, climate change threatens the planet. I now work in the area of climate change and am shocked that some people are still skeptical of it. Human activity has been pumping massive amounts of carbon dioxide and other pollutants into the atmosphere for about 150 years now and the planet is beginning to show us that it cannot keep absorbing this with no ill effects. Greed and selfishness has allowed this to go largely unchecked and despite all the information we now have, we are only making minimal changes to our actions. I do believe that as an artist I can use photographs to both show the natural world as it is (like Ansel Adams did to influence creation of the US National Parks), along with how it is being disrupted, changed and damaged (like the current work of Edward Burtinsky). Right now I do mostly the former, but I can see moving into a place where I also photograph the landscapes that have been changed by human activity as well, to help show the damage that has been done. I do believe we are near a tipping point and the more we can do to show what is being lost, the better.
Q: Do you have any conservation projects currently in progress?
A: I do not have anything currently in progress, but a goal for the very near future is to photograph the natural landscape of Vancouver Island in wet plate and show that work as an example of what is remaining.