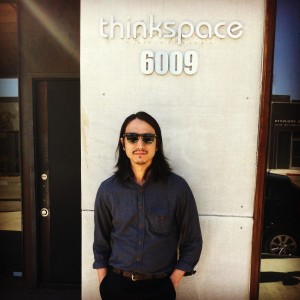 The artist should not only paint what he sees before him, but also what he sees
in himself. – Caspar David Friedrich, 19th-century German Romantic painter
Uninhibited by any sense of natural order, Kehoe is known for his mixed-media work of human-animal hybrids set in forested backgrounds. Greatly inspired by the Romanticism movement of the 19th century and their emphasis on individuality, emotion, and drama, Kehoe has a similar intuition when creating otherworldly landscapes. With a focus on imagination and emotional response as the source of aesthetic experience, his fantastical imagery evokes a sense of wonderment by emphasizing the grandeur of nature.

Kehoe's process is a precise method of painting on multiple layers of poured resin. This technique creates illusions of shadow and dimension, adding a deeper level of enchantment between his subjects and their environment. Kehoe continues to push the boundaries of this unique medium by incorporating a broader color palette and experimenting with different textures.
The artist describes his tableaus by stating the following: "I inhabit my worlds with strange creatures and like many of the subjects in Romantic paintings, they are often dwarfed by the nature surrounding them. Sometimes the creatures are bringing you into the scene with a straight gaze and other times they are facing away so that you can share that contemplative moment with them. There is always a harmony and symbiosis between the characters and the natural surroundings, with the giant creatures themselves sometimes acting as natural wonders. I love the idea of a living, breathing wonder roaming the landscape."
Q: How long have you been an artist? Please tell us a little about your chosen medium? Do you do any other creative arts?
A: Without getting into the philosophical pitfalls of what constitutes being an "artist", I can say I've been making art in some way for as long as I can remember. Professionally speaking, I've been able to make a living with my work for the last 10 years. My first major gallery show was in May 2007 at Jonathan LeVine Gallery and things took off from there. One show rolled into another and, not so shortly after, I was able to do it full time.
The bulk of my work is done with good ol' fashioned oil paint but my love of experimenting with new mediums and techniques led to my work with epoxy resin. I've always worked from back to front with my paintings so working with layers of resin was a natural progression. Initially I was drawn to the immense depth I could achieve with the layers of resin. Now I am more inspired by what I can create in the resin itself. I can produce amazing patterns and textures by mixing wet paint and pigments into the wet, uncured resin. There is only so much I can control during this process, so it always lends an organic and chaotic element to the work, which I really appreciate.
I dabble in other creative arts but, unfortunately, my work doesn't give me much time for other pursuits at the moment. I really wish there were 4 more hours in a day.
Q: Have you been trained, and if so from what institution? Or are you self-taught?
A: I had a meandering journey through art school and I attended 3 different schools: University of the Arts in Philadelphia, Ringling College of Art & Design in Florida, and Parsons School of Design in NYC. Though my educational path was longer and more expensive than any rational person would dare desire, I have carried very important lessons into my life and career from each school experience.
After switching majors a few times, I finally ended up in the Illustration program. That somehow led me into the art-exhibiting world after graduation. Although nothing could have properly prepared me for gallery work, the main conceptual and procedural theories really stuck with me. For example, how I approach a vague concept and carve it down into something concise or how to avoid obvious or conceptual clichés in my work. I learned how to plan out my work, problem solve and how to improvise and adjust when my original plans get smashed to pieces.
I also continue to grow, learn, and evolve on my own. Every piece is a chance to experiment and to learn something new. Almost every technique I use in my work has come from some foray into unknown territory and many of those techniques came from serendipitous accidents. I think every artist is self-taught in a way, but it helps to have the foundation of education to stand on.
Q: What inspires your creations?
A: My inspiration is from all over. Besides obvious art inspirations, most of my inspirations come from random observations out in the world: a peculiar tree, an expansive sky, an overgrown field, the way a tree is lit from a streetlamp, etc. Visually there is a lot to be inspired by in everyday life. I just try to keep my eyes open to notice it and soak it up as best as I can.
Q: Was your family supportive of your artistic endeavors?
A: My family was always supportive of my art endeavors, and I honestly couldn't have done it without their support over the years. There was certainly some trepidation from my parents in the beginning, sending their son to an expensive private art school with a highly uncertain career path to follow. It was not the most practical choice and they did have cause to be concerned about my future. It's a long shot to actually make a living off of this, and it's a very tough road to get there. It takes a certain level of mental fortitude and self-motivation to make it in the art world… so dropping out of my first art school definitely did not help to ease those concerns. But I knew that I was in a detrimental situation, and I knew I had to take the leap to make the change to have any chance of succeeding. Once I dropped out my parents were extremely anxious that I would lose my motivation and become some kind of wayward soul. Proving to my parents that I was going to follow through and that I did possess the qualities it took to succeed was a major motivation. So a year later, I applied to and entered a new school and started the next phase of education with a laser focus and a singular purpose. (Although, that did entail me changing schools one more time!)
After all the trials and tribulations, I'm extremely proud of my accomplishments and the progression of my work, and grateful to be in the position I am in right now. I'm proud that in the end, I really did honor the confidence my parents bestowed upon me and I am forever appreciative for their constant support.
Q: Is there someone special who has encouraged your work and your path as an artist, if yes tell us about this person and how they have influenced your path as an artist?
A: My artistic path has been paved with the support of many people over the years. It's hard to pick just one. It definitely starts with my twin brother Ben. He was my art partner in crime from the onset and he continues to collaborate with and support me to this day.
Many teachers helped and encouraged me over the years. My high school art teacher, Mr. Robinson, saw something in me and told me to: "get my shit together and stop to fucking around if you want to be serious about this". He was a major reason that I decided to go to art school. Then in art school, especially at Parsons, my professors were very instrumental in guiding me to the path I am on right now. Mark Smith was the first person to introduce me to the world of exhibiting artists. He really opened my eyes to the crazy and inspiring world of art that was happening all around me. I had no idea this kind of art could be shown in galleries. Jordin Isip, another Parsons professor, got me involved in the gallery world and got me my first shows. A couple of years after I graduated from Parsons, Jordin physically took some of my work over to Jonathan LeVine gallery to show Jonathan my work in person.
Now my greatest support and encouragement comes from my wife, Ash. We met 7 years ago, and have been married for 5 years. Sharing my life with such a smart, capable, strong figure has had such monumental effect on my life. It's a partnership that never ceases to inspire me to reach greater heights, both personally and professionally.
Q: What are your hopes and dreams or future goals, where do you see yourself in the next 10 years?
A: I have shows lined up into the end of 2019, so I'll continue making gallery work for the foreseeable future. I do hope to branch out in the coming years. Making show after show is mentally exhausting, and a pretty solitary existence. I work in a home studio so our house is my whole world most of the year. I truly miss working with and around other people so I'm going to take some digital painting classes and I hope to work on some more collaborative projects.
Q: If you could do any project with full funding what would it be?
A: I would definitely make an animated movie of some sort. When I create my paintings, I see the worlds and the inhabitants as living, moving things. It would be a dream to somehow bring them to reality. Over the last few years, I've been working on a story during my random smatterings of free time. I hope to dedicate more time to it future. One of the other motivations for taking a digital painting class is so I can more easily work on some concept art for the story. There is no way I could manually paint it all so I hope to find tools that will help me get some of these ideas out in a more timely fashion.