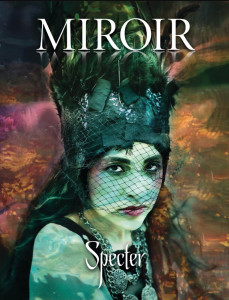 by Nina Pak
For the Haunted series I wanted images that didn't look like a typical ghost image, I wanted something that was beautiful with an edge of a nightmare quality, like you would see in a film like the Ring.
I took the photographs we made at the abandoned warehouse, the old rail station and the graveyard and overlaid them with photos I had taken underwater. The water images have an ethereal feeling to them and when mixed with the headshots I got an image that looked distorted in an interesting way. They remind me a little of the mirrors from an amusement park, or a surreal dream. There was a lot of experimenting with these images for Specter and at least half of them did not make the cut.
Caitlin Fisher did a wonderful job with the pale makeup and smoky eyes on Alanna and Jacqueline, but I also added quite a lot to the images in post production to change the tone of the skin and add color in places. This is a process much like painting, only I use digital brushes on layers, and some painterly applications.

For some of the images I choose to change the backgrounds, opting for the water patterns from other images instead of the environment in which they were taken.
On the day of our shoot we all met in a small town in Washington State, I drove from Vancouver BC and the others from Seattle. The makeup was mostly done before they arrived. Caitlin did some touch ups on location but it was a pretty rustic environment with no place for changing or table for supplies.
I had the help of Andrew Sars, who was a wonderful assistant, he also brought his lighting equipment with him. However it was rather cumbersome to set it up in the building as we had to climb over some rough and broken walls and dangerous stair ways. We finally opted to use natural light to save time.
Not shown in the spread was a third model Katie Angvik. During the final editing of the magazine the images of Katie were removed, so I would like to include them here. Katie did a wonderful job She is enjoyable to work with, and I adore her, so I felt bad about her shots not getting in the Specter issue. Excluding her in the published edition was not because I liked them any less than the others. The spread just seemed to be stronger with less images, and I had to agree it was best to make it cohesive by just using the shots of the other two models, Alana and Jacqueline. I left this editing process up to others as I am sometimes too close to the work to make these decisions.
Helene Hawthorne made all the clothing, headpieces and jewelry for this shoot. She is an incredibly talented artist who is also very humble and does not like to do interviews. For that reason I chose to write about my process and our collaboration instead. Much gratitude tot he team that came together and made this happen, it was a lot of fun.
The images for Haunted by Nina Pak were made for designer Kristine Hawthorne. The company is named after her grandmother who taught her to sew: Helene Hawthorne. This line of garments feature a few select gowns of modern design. The crowns were also made by Kristine of feathers and silk flowers.
The Post editing by Nina Pak was created with a layering of textures and other images. To achieve the ghostly distortions, Nina used her underwater photos, which were layered and masked into the fashion shots, blended with various layer applications to change the tones and opacity, resulting in an otherworldly feeling for the haunted theme of Specter.
Kristine is most notably famous for her Elizabethan and Victorian gowns often used in period style films.
Credits:
Photography and post editing by Nina Pak
Photographers Assistant: Andrew Sars
Models: Lanna Blake, Jacqueline Larkin
Clothing Designer: Helene Hawthorne
Hair: Dreamloka
Make Up: Caitlin Fisher
Links for Helene Hawthorne:
https://www.etsy.com/ca/shop/hhfashions
https://www.instagram.com/helenehawthorne/
https://www.facebook.com/helenehawthorne
http://www.modelmayhem.com/hhfashions