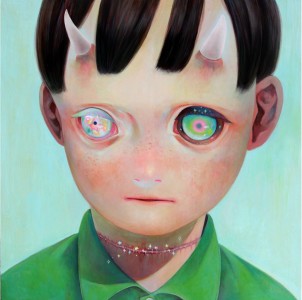 On Saturday, July 7th, Asahi Art Museum of Nagano, Japan is proud to premiere their first exhibition with Japanese-artist Hikari Shimoda featuring a major mid-career survey of her work.
It was in 2008 when Shimoda set on the path to becoming a professional artist, and now ten years later, she is amongst the most widely recognized names of New Contemporary painters rising out of Japan. Entitled "The Catastrophe of Death and Regeneration," the exhibition will take viewers on a journey through Shimoda's narrative and artistic development spanning one decade of her work, including her most ambitious painting to date, a massive ten-foot mural.
"It's been ten years since I chose my life as an artist. I started creating art to express the loneliness and despair I was feeling. Now my brushes paint human beings as a whole existence, beyond distinctions, such as race and gender. I also focus on creating work which reflects human society and its future," Shimoda shares.
The 2011 Tohoku Earthquake changed the face of her work and her style underwent a visible transformation, which viewers can appreciate side-by-side with new works. Today, the artist recognizes sources of despair in different forms. On what inspires her, Shimoda shares: "Today we're living in a world that is full of difficulties; wars, starvation, and poverty are real problems and there are many people suffering from mental disorders and social unrest not visible to others."
"Thanks to the internet, everyone has easy access to declare opinions. However, this just brings about frequent conflict and friction from differing opinions and disagreements. We are always under pressure of being criticized or blamed for what we are sharing…those who attack have power, and the suppressed have a new way to raise their own voices. They are 'invisible' people in the world."
Shimoda arrived onto the international scene in 2014 with her U.S. exhibition "Fantastic Planet, Goodbye Man," introducing her ongoing series entitled "Children of This Planet" and "Whereabouts of God," which are highlighted throughout the exhibit. Themes presented in those works are cultivated and arranged into the exhibit's centerpiece, entitled "The Catastrophe of Death and Regeneration" (pictured above), a highly detailed collage mural that took several months to complete.
Her striking portraits of big-eyed children with a bruised complexion and sparkling slit throats have been described as macabre, even grotesque, masked with "happy" colors. Collages of cute stickers and glitter are added for sparkle effect. These roughed up heroes and heroines are the only hope for salvation of the dying modern landscape they inhabit, a netherworld bursting with problems as humanity struggles to cope with its imminent demise.
The exhibit is being hosted by Shimoda's hometown museum, the Asahi Art Museum in Nagano, located in Japan's beautiful countryside which has provided her with inspiration from the start. "It's a place where I can think deeply and feel a quiet loneliness," she explains. "I am still portraying feelings of loneliness and despair. We should put our eyes on every single piece of this world, share it and exchange opinions…this might prevent us from destruction and help us to make an important step forward for humanity."
The opening reception for "The Catastrophe of Death and Regeneration" will be hosted Saturday, July 7th from 3-5pm in the front courtyard of the Asahi Art Museum. The reception may be attended by RSVP only and the exhibition is on view through August 26th, 2018.
About Hikari Shimoda
Sparkling and sweet, Hikari Shimoda's work is at once enchanting and disarming, portraying a world where cuteness and horror coexist. Based in Nagano, Japan, Shimoda first studied illustration at the prestigious Kyoto Saga University of Art and Aoyama Juku School, before beginning her career as a professional contemporary artist in 2008. Soon after, she was selected for her first solo exhibition at Motto Gallery in Tokyo and has since held exhibitions in galleries worldwide, including Japan, the United States, Canada, and Europe.
Inspired by the Japanese manga and anime from her youth, Shimoda's work expresses modern day issues in colorful and illustrative techniques. Often depicting starry-eyed children, she dresses her characters in heroic costumes resembling Superman and magical girls, an anime sub-genre of young girls who uses magic, revealing problems and struggles in contemporary society through a juxtaposition of brushwork, text, and collage. Such characters are a commentary on Christianity's anointment of Jesus Christ as a savior of humanity, and a mirror of our fantasy heroes. They also represent our adult desire to nurture the children of the world and to defend the world we have constructed.
Asahi Art Museum
1308 Komi, Asahi Village
Nagano Prefecture, Japan
390-1104
Tel. 0263-99-2359 
Open Tuesday-Sunday, 9am to 5pm