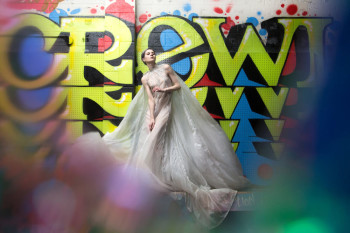 It's nice to think of art as something that lasts. Paintings get preserved and passed through generations. Maybe, in enough time, they end up at a museum. But for street artists and muralists, this often isn't the case.

Dozer's Warehouse is slated for demolition. Like most old buildings in Seattle, the block it stands on will soon house an apartment building. Until then, the warehouse stands as a beacon for street art, housing 103 murals by 75 fine and graffiti artists, curated by Crick Lont (Dozer Art @dozer_art) and facilitated by Beacon Arts.
These vibrant walls serve as an immersive backdrop to a series of self-portrait fashion photos by multi-disciplinary artist Roxanna Walitzki. The editorial celebrates the spirit of collaboration between artists, and captures the ghostly atmosphere that lingers in the nearly abandoned space that's still abundant with art..
Dozer's Warehouse
Photographer/Model/Stylist/HMUA: Roxanna Walitzki (@roxannacwalitzki) roxannawalitzki.com
See more posts with Roxanna Walitzki on Miroir:
Roxanna Walitzki
Roxanna Walitzki. Exquisite Corpse EP