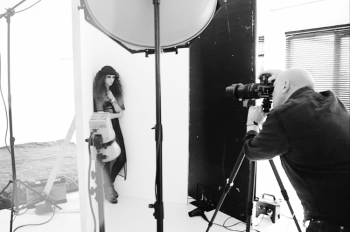 When curating the Passion theme for Miroir Magazine, I came across these amazing portraits by John Rawson. I feel that they embody the very essence of what passion means. These women are powerful, their intensity and strength emanate from the page. I have included shots we did not put in the print issue. John works with a lot of amazing stylists, everything he does is just fabulous.– Nina Pak
Q: How do you inspire the powerful and compelling images you create?
A: It all starts with the brief from the client.. everything we do is commissioned so it's usually a brief although sometimes we are asked to provide an idea or inspiration.. it's a relationship and works well when both parties create input.
Q: What does an image need to have to express desire, sensuality, or passion?
A: Again – it's down to the brief.. there is no right or wrong model- just the wrong model for the job! I think this is imperative , it's no good booking models that don't fit the brief… commercial girls can't do the strong graphic looks that are so in favor in the UK and vice versa it's no good booking strong editorial girls for soft commercial images…when we cast its really important to keep the brief uppermost in your mind.
Q: In your work, can any subject matter express Passion or do you need the human element?
A: I think it needs to be done well! Every element must work individually or the whole look does not come together and that's when the magic should happen.. Its very much up to the girl and the lighting to create mood and I'm a great believer in "Beautiful" and it's a word that has almost gone out of fashion.. everybody talks about Editorial but often don't understand what that actually is.
Q: Is there any Photographer living or dead who has inspired you to be more passionate as an artist?
A: My favorite Photographers are Peter Lindburgh and Sante D'Orizio.. Both shoot mostly B&W and shoot Beautiful emotive images.
Q: Do you need to have the right environment or setting to create a powerful image? If so what preparations do you make to prepare the surroundings you work in?
A: Yes, of course – the environment or Location is crucial.. it sometimes happens by accident but mostly by extremely hard work.. everyone that prep's properly usually achieves success.. you must get the fundamentals correct.
Q: Tell us a little about your process.
A: We have an amazing team behind us – from set builders through makeup and styling. We have spent many years building a reputation and a whole raft of support creative's. I couldn't do what I do without the amazing Digital operators and Retouchers that do the hard yards to help my initial vision come to life.
Q: With your post production work, how much time would you say you spend on the average to get an image ready for a publication or gallery exhibition?
A: Retouch varies – we have a very unique method that we use because I do all the Hair and they do the Skin/Levels etc. My background is in Hair so it makes sense that I use that knowledge to create the right finish on the hair. Time wise, it takes as long as it takes!!!