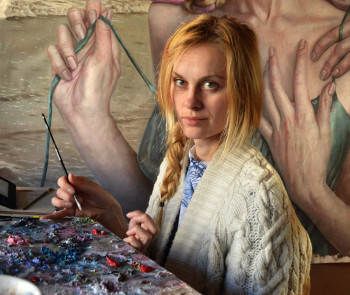 Jana Brike had only two pages in our theme Passion. Unfortunately, she was traveling in Thailand during the time I curated this theme and I was not sure she would get back in time to send me anything.

I wanted to give her a little more attention on our web blog for the simple reason that passion is a common thread which runs through most of her creations. She has represented the theme of the innocent coming of age love, and the passionate, coy sweet and playful characters which we have adored. Here are a few images which so aptly fit our theme of Passion. – Nina Pak
Jana Brike was born in year 1980 in Riga, Latvia.
She has studied academical painting in the Art Academy of Latvia and received M.A. degree in year 2005.
Her work has been exhibited internationally in professional venues since 1996 while she was still a young teenager, and since then she has had thirteen solo exhibitions and nearly a hundred other projects and group exhibitions all over the world.
Her main interest is visual art with a strong narrative and depiction of a figure, mostly using the traditional medium of oil painting on canvas. She has also explored other mediums like drawing, animation, mixed media sculpture, installation and digital art.
The main focus of Jana Brike's art is the internal space and state of a human soul – dreams, longing, love, pain, the vast range of emotions that human condition offers and the transcendence of them all, growing up and self-discovery. Her work is her poetic visual auto-biography.