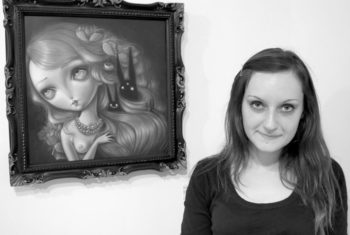 Ania Tomicka was born in 1985 in Lodz, Poland. When she was only 9 she moved to Italy, where she started to draw seriously: manga at first and realistic things afterwards. She attended an art institute and graduated in 2004. During the school years she starts to paint with oil colors, a technique that soon to became her favorite. Hence she attended the Academy of Fine Arts of Venice where she found a lot of inspiration for her realistic and academic art.
A year later she moved to Tuscany where she graduated at the Academy of Fine Arts of Florence. She focused her interest in more things like digital art, illustration and new materials such as wood.
She also completed her studies at the academy of digital arts NEMO NT where she gained the title of student of the year.
Ania has always been interested in realistic, renaissance works. Her first loves are Salvador Dalì and Wojtek Siudmak's big canvases, full of absurd and strange creations, painted in a divine way.
Her current paintings are inspired by the American Pop Surrealist movement.
Q: How long have you been an artist? Please tell us a little about your chosen medium? Do you do any other creative arts?
A: I loved art and drawing when I was very little and can hold a pencil in my hand. I always attended art schools and decided to do it full time about 6-7 years ago, when I discovered young pop surrealist artist that were able to live with their own art (before that everyone was telling me that it is impossible).
When I was 14 years old I discovered oil painting and knew from the beginning that this will be my favorite medium. I find it so versatile and beautiful and now that I am 33 I see how many other things I don't know about it, and how much it is still to learn, this is so fascinating.
At the moment I am focusing on oils, but in the past I used to do little sculptures and I loved engraving which I really miss.
Q: Have you been trained, and if so from what institution? Or are you self taught?
A: I went to art school and to academy of fine arts afterwards but I can't say I was trained there. It was a very difficult time for me because I wanted a proper training with all the basics to be able to express myself at best but it wasn't the case, I was extremely disappointed but tried to continue experimenting and learning as much as I could by myself.
I also attended a digital art school, Nemo NT in Florence, where I gained a lot of useful knowledge about composition, perspective, digital painting and illustration.
After a while I discovered some online lessons and become very passionate about learning the old masters way to use oils and this lead me to be part of an amazing week long workshop with Roberto Ferri and Giorgio Dante, where I was finally able to see skilled painters at work. They taught me really a lot and I will be forever grateful.
Q: You have been featured in Forces of Nature because many of your images depict nature elements, can you tell us a little about why you use them in your art?
A: I could not be more happy about this particular feature. Nature is a huge part of my life and hiking in woods and mountains is a great passion for me.
In art, nature is able to express every human emotion, this is why I use strong natural elements like fire to deliver my feelings to the viewer. It is also very fun to paint!
At the moment I am working on my December solo show at Modern Eden Gallery in San Francisco and the main theme will be nature.
Q: Was your family supportive of your artistic endeavors?
A: Yes, I was really lucky. I always been encouraged to learn and to never give up.
Q: Is there someone special who has encouraged your work as an artist, if yes tell us about this person and how they have influenced your path as an artist?
A: It was Audrey Kawasaki, even if she doesn't know it. Her blog inspired me to believe that the artistic path is possible.
Q: What are your hopes and dreams or future goals, where do you see yourself in the next 10 years?
A: I just want to become a better artist and be able to inspire others. In the next 10 years I would like to start sharing my knowledge on regular basis and continue to do gallery shows.
Q: If you could do any project with full funding what would it be?
A: I don't know if I can call this a project… but I will open this huge house in the Italian countryside where artists from all over the world can came and just paint together, sharing their knowledge and life stories. I would need a hell of a founding for this one!
Q: If you could meet any artist who is no longer living, who would it be and why?
A: There are too many! I want to meet them to see how they paint so I can learn more.
Q: Tell us your thoughts on the environment and preservation, there are many problems now for the natural environment, endangered species, global climate changes, what concerns you the most and why? As an artist do you feel there is anything you can do?
A: The global climate change is something that scares me most because it not only is a threat for humans but also for all the other species that are forced to pay for our mistakes, it is really terrible. I never thought about showing my concerns as an artist (maybe if I will be able to become more influential, this should be my next goal), but I know that anyone can make little changes in their lives to make things better for the whole world.