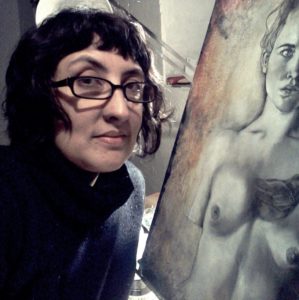 Q: Tell us about your art technique and what first sparked an interest in this medium.
A: I work with different techniques as I have different bodies of work. I've been teaching myself to work in oils and developing ways to combine different media to tell my stories. I can say, however, that graphite and charcoal play the main role; even in my oil and acrylic painting process I am always trying to find a way to make these materials apparent, as if revealing the structure, or the soul, of the work.
Q: Do you use any special materials, or do anything out of the ordinary when you are creating your art, If so could you tell us about it?

A: I think the most out of the ordinary thing I use are cooking spatulas to spread paint around and create some nice textures. I quit buying spatulas for my kitchen because I ruin them all. When it comes to supplies, I am very traditional. Of course I have my creative process, which is very personal, but nothing really eccentric.
Q: What are your favorite products or brands and why?
A: As I said above, I am very traditional when it comes to materials and techniques. I use a lot of graphite, charcoal, carbon, oil… Acrylic paint is an absolute essential in the studio since it is so versatile and useful for a myriad of techniques I enjoy doing. I also like to have India ink at hand, and different metallic materials for illustration work – gold foil, ink, acrylic, you name it. And acrylic gesso and matte medium are the most wonderful inventions ever.
About brands, I usually go with Gamblin for oils, Liquitex for acrylics, and Staedtler for graphites. I don't like to spend a lot in brushes, especially because I am not the type who takes great care of them, so I use about anything that is not overly expensive but can do the job and last more than a couple months. Stonehenge is my paper of choice for drawing, but I am always open to new discoveries.
Q: When did you begin to take an interest in art and for how long have you considered yourself an artist?
A: I remember that drawing was my favorite thing to do since I was about three. As a kid I was never restrained in my creative endeavors so I kept experimenting everything I had the chance to, from dance to music. I think my parents saw this more as a way to keep me entertained and happy than as a preparation for the future, because when things started getting serious my artistic activities began to be seen as a waste of time and even treated with mockery. I come from a working class family, and there were no artists. My mom, however, continued supporting me for years. I knew art was meant to be my life. But I did not really have a specific direction to follow, until I grew really interested in drama when I was eighteen. I dropped out of college to be on the stage. After my first play I officially claimed the title of "artist". And I didn't begin a professional career as a fine artist until moving to the US, in my early thirties.
Q: What inspires your creations?
A: My illustrative work is mostly inspired by my spirituality, and it is embed with sacred/occult symbolism. I draw inspiration from alchemy, the tarot, astrology, spiritualism, myths, and I develop my images through a process of association, in which one symbol intuitively takes me to another and they interweave and build a narrative. Processes of transformation, death, and rebirth, are very recurrent themes. I am fascinated by the natural cycles and how nothing in the universe is static or eternal. There's a permanent flow that is at one time scary and fascinating.
More recently I have started a process of getting closer to my own self in my work and drawing inspiration from personal experiences and the things that made me the person I am today. I have been approaching my emotions and investigating my own process of rebuilding after painful experiences, observing the universal flow in an individual level.
Q: Do you use live models, and if so do you have a favorite muse? Do you find that having a model helps to inspire your creation? Or do you create everything from your imagination?
A: No, I don't work with live models since I need plenty of time to create, and knowing there's a human being holding a pose and potentially becoming uncomfortable would put a lot of strain and anxiety on me. I prefer to shoot the models and work from the photographs, or from stock images. I then take the images to Photoshop and create mock-ups of the images I have in mind, which I use as references.
Q: What challenges do you have when you're creating, and what makes you the happiest when you're bringing a new project to fruition?
A: My biggest challenge is to have too many ideas and end up getting paralyzed. Sometimes I wish I could have one single avenue of creation and explore that to perfection instead of living in this "art candy shop", with energy thrown to different directions. Recently I had to separate my painting and illustration work in different "brands" to bring me a little peace of mind. I am also too much of a perfectionist; nothing is good enough for my standards. There is always this ideal that must be achieved, otherwise frustration takes over, and that ends up influencing even the way I price my work.
Q: Were you formally trained or are you self taught?
A: A bit of both. I took drawing classes when I was young, and later I went to fashion design school, where I had a good training on the human figure and learned illustration techniques. Becoming a fine artist was not in my plans then; it came later in my life, upon my move to the United States, and it was when I started developing the style I have today and it seems ever changing, since I get often excited about finding new ways to achieve the ideals I envision.
Q: What advice do you have for artists who are seeking to follow a creative path as a career?
A: To have profound love for what they do. Art is a challenging path and much of what happens along the way can be very disheartening; one has to have a lot of passion and drive in order to keep going. Once you have that, it is an incredibly rewarding life, with so much magic! Also, be ready to work hard. Don't allow yourself to get satisfied about anything that you do; always think about getting better, and the other things will follow. Study the artists you admire and allow yourself plenty of opportunities for mistakes. A little information won't hurt either: read about history and theory of art in order to understand better what you see and what you do. Commitment is essential. It is the craft of a lifetime.
Q: Has there been anyone in your life who was particularly influential or someone who supported your choice to become an artist?
A: As I said before, I am grateful to my mom for nourishing my early artistic adventures. She was not a particularly artistic type but I am very grateful for every theater play and rock band's rehearsal she allowed on our rooftop, every minute she spent sewing costumes, and every penny spent in art classes. She helped build the foundation of the artist I am today. In the artistic journey as a professional, I have learned a lot with artists Steven Leyba and Justin Crabtree. Leyba was my neighbor for several years and we became close friends. He was always so inspirational and generous with his art, and observing him helped push my work to the next level. Justin is my partner and one of the most knowledgeable abstract painters I had the pleasure to meet. He's been teaching me how to break the boundaries and introduced me to new languages and new perspectives. Meeting these two persons was pivotal in embracing new directions in my work.
Q: If you had full funding to do any project what would it be and why?
A: I am still trying to finish a portrait project I started a few years ago, but unfortunately could not deliver it when planned because of lack of funds. The project is focused on the female identity on the 21st century, and inspired by real women and their stories. So, I think this would be it.
Q: What comes next? Do you have any big projects in the works or plans for the new year?
A: I just want to keep getting better as a painter. Everything that happens next comes with the improvement in the quality of your work, so this has been my main goal. Also, I would like to start teaching again. I feel I have so much to share, and believe that knowledge needs to be passed on, mainly when it can improve the quality of people's lives and promote consciousness, as Art does.