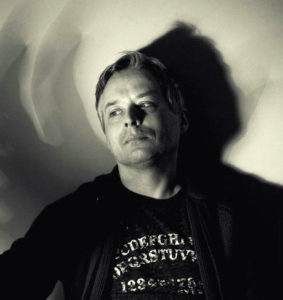 Q: Tell us about your photography and what first sparked an interest in this medium.
A: I've always loved photography ever since my Grandad gave me an old Brownie camera back when I was around seven or eight years old. I still have a handful of fuzzy black and white images of my family from that first roll of film! I had a couple of point and shoot cameras in my teens, but as I grew older and my love of photography continued, I upgraded to a proper SLR in my early twenties and took a photography course at British Columbia Institute of Technology. There I learned the basics of studio lighting as well as darkroom and developing techniques.
Because of the expense, my interest in photography waned somewhat and it wasn't until I received a digital camera about fifteen years ago that a whole new world of creative freedom opened up to me and I fell in love with photography all over again. I started carrying my camera with me everywhere, doing self portraits, pictures of strangers on the street, textures, random objects; anything that caught my interest.
I began to post my images online using Flickr, Facebook and various other forums. I was pleasantly surprised by the response I was getting. It wasn't until I started experimenting with self portraits, however, that people started asking me if I'd be interested in shooting portraits of them. Before I knew it, I was doing portrait photography, and have been doing so ever since.
Q: Do you use photo manipulation or any other editing techniques which are enhancing your images?
A: I do. Especially with fantasy type portraits. More often than not, it's about adding textures or retouching and enhancing the environment. I do the typical dodging and burning, skin smoothing, stray hair and blemish removal where applicable, but I tend to spend more time on playing around with color tones and creating a uniform feel for the image set or removing distractions from the background. There's nothing more distracting than a car or a picnic table in the background of a fantasy scene.
Q: What editing programs do you favor and why?
A: I go back and forth between Adobe Photoshop and Adobe Lightroom. Usually I use Lightroom for the initial color corrections and then export the image into Photoshop for retouching. I do final color grading in either Photoshop or Lightroom depending on the type of effect I want to achieve.
Q: Do you have a favorite application or technique?
A: Recently I've been experimenting more with subtle frames, circles or graphic elements that interact with the model. There's a fine line between enhancing an image and distracting from an image, so I tend to use this effect sparingly.
Q: What inspires your creations?
A: I'm a huge fan of fantasy, horror and experimental films (Guillermo Tel Toro, Tim Burton, Ridley Scott, Tarsem Singh, Dario Argento, Nicolas Roeg, David Lynch, etc) and I find that my love for cinema carries over to my portrait photography. I often watch films and find myself paying more attention to the wardrobe and set designs, or composition and lighting than the story itself!
I like my portraits to look like they're a scene from a film or a page from a storybook. A simple photo of a model isn't enough for me; there needs to be the hint of a backstory to hold interest.
I also enjoy street photography and love the work of Fred Herzog and Vivian Maier.
Q: Do you collaborate with a team of stylists or wardrobe designers, makeup artists or is everything done on your own? If you do collaborate, can you talk a little about how you choose your team and work with them. Do you direct all aspects of the shoot in advance or do you leave some creative freedom to your team members? For this shoot can you tell us anything specific about your team members or models, how did they contribute to the success of the image? Did they help you develop your concept or assist in your overall creation?
A: I've worked with some extremely talented models and makeup artists before, but it's only been in the last year or so that I've started to do more collaborations with wardrobe designers and stylists.
On this particular project I was approached by Isabelle Fallu, an amazing local makeup and prosthetics artist, who was putting together a team for an elf themed shoot. For me, it was a wonderful opportunity to work with some wardrobe and jewelry designers that I'd admired for quite some time, and the theme was right up my alley. It was fascinating for me to see how all of the outfits and elements came together on the day. Whilst there was a great deal of preplanning for the shoot, many creative decisions were spontaneous and made on the fly at the location.
It's always encouraging and inspiring to me to see a group of creative souls getting together on a Sunday afternoon for no other reason than to create something beautiful and fantastical. It's nice to be a part of that.
That said, I enjoy having the time to work on my own personal projects too. I still enjoy street photography and nature photography, so make sure that I leave myself some time to wander aimlessly with my camera every now and then to see what I can find. I'm also drawn to surreal imagery and often experiment with quirky self portraits or still-lifes.
I also bought myself a digital projector earlier this year and have really enjoyed experimenting with images projected over models; anatomical diagrams, macro images of viruses and cells, eyes, images from nature, shadows, abstract textures. It's really opened up a world of possibilities to me and I hope to do some more in the near future.
Q: What challenges do you have when you're creating, and what makes you the happiest when you're bringing a new project to fruition?
A: One of the major challenges I have with creating is time management. I have quite a demanding full time job as a graphic designer, and I often finish a full day of work and then come home and edit photos until the midnight hour. I love having a creative outlet, but I'm learning to set boundaries and manage expectations when it comes to photo shoots.
I like having the freedom to experiment and play around with photo editing techniques, but if I feel like I'm being rushed or am given deadlines, it's not fun anymore and feels like work. Sometimes, if I'm stuck for a look or feel for a particular photo, it's nice to revisit another photoshoot and work on that instead. It's never good to force creativity; sometimes you need to take a break and return with fresh eyes.
That said, it's always so incredibly fulfilling when I finally get the opportunity to share the final images online, or if they're featured in a magazine. It makes me so happy to make somebody look or feel beautiful or to showcase a designers work in a fresh way.
Earlier this year, a model's relative commented that my photo was her favorite of her. It was a small thing, but it made me so happy to hear.
Q: Were you formally trained or are you self taught?
A: I did take a photography course at British Columbia Institute of Technology In my early twenties, as previously mentioned, but to be honest, I've forgotten most of it. I tend to be mostly self taught, whether it comes down to experimenting, watching online tutorials,
or following other people's work. With digital photography, there's no excuse not to experiment! It doesn't cost anything and the possibilities are endless. I have no problem using DIY techniques or shortcuts rather than relying on expensive equipment; for me, the end result always justifies the means.
A: As for photo editing, I took a design course at VCC back in the early 90s which involved learning Photoshop. I still remember staying up late at night manipulating scanned photos from a floppy disc with my Mac LC 575. This was back before Photoshop even had layers or more than one 'undo'!
Q: What advice do you have for artists who are seeking to follow creative photography as a career?
A: Set boundaries and manage expectations. Don't be afraid to say no to a project that doesn't 'speak' to you. Be respectful of your collaborators, whether they be models, designers, makeup artists or whatever. Develop mutually beneficial relationships with reliable creatives. Experiment. Experiment. Experiment.
Q: If you had full funding to do any project what would it be and why?
A: That's a really tough question. I have so many ideas I'd like to try! I'd love to do a series based on the stories of Edgar Allan Poe; The Masque of the Red Death, The Fall of the House of Usher, or The Tomb of Ligeia, etc. There's so much rich, vivid imagery in his stories that would lend themselves well to a team of designers and makeup artists. I'd also love to do a series based on Tarot Cards, or even design a tarot card set with some local creatives.