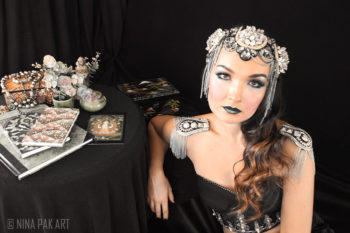 Photography and post editing: Nina Pak
Wardrobe Styling: Dreamloka
Q: Where in Russia were you born and when did you move to the west? _____
A: I'm originally from Moscow, Russia. My husband and I moved to Canada back in 2010.
Q: What brought you to Vancouver?
A: We have spent almost six years in Calgary because of my husband's work. However, I've always dreamt about moving to Vancouver because of its natural allure. Being Beauty obsessed, I am amazed with the physical beauty of this city with it's snow capped mountains, the deep blue sea, and bright sunny days. It gives a lot of inspiration for my work. I think it is the best city in Canada.
Q: Did you attend University, and if so what and where did you study?
A: I attended a University program called "Technologies in Tourism" back in Moscow, Russia. It was a choice based on practicality, and I wanted a degree that would give me a relevant education as per my passion, and prepare me for a wonderful career.
Q: Did you go to school for Makeup artistry, if so, where did you get your degree?
A: Since I was a child, I was obsessed with makeup. I used to do makeup and make hairstyles on my family members, friends, and other relatives. When I grew up, I attended a Visual Art Program in Russia. My main objective was the fusion of arts and beauty. My vision was to increase present expectations and achieve an adjustment in the way and scale at which the makeup artistry is delivered and seen. I received training from leading international makeup artists in Russia and got Canadian Certification in Makeup Artistry.
Q: Did you specialize in your study of make up?
A: I always keep learning new things. I have been certified in five advanced programs with celebrity makeup artists and hairstylists from Europe. I also got training of Advance Makeup Artistry Program at Makeup Atelier Paris.
Q: What is your favorite work related to make up?
A: I love to do transformation because it can bring about new and renewed life to something with just a few brush strokes. I love to be innovative while creating a look. I can take inspiration from even a small insect. Something which is an insignificant thing for most people, could be my new inspiration, you never know what might spark a creative idea! I always try get to the next level of makeup.
Q: Do you have any favorite products?
A: Oh, difficult to pick one. Some products are really my holy grail. I always prefer cruelty free and vegan products. I am an old school kind of person. What I've loved from day one is always restocked in my vanity, e.g. Benefit Hoola Bronzer, Nars Orgasm Blush, Laura mercer Translucent Powder. I also like to try new brands and products. Recently, I really love using Tammy Tanuka, a brand from Russia. They have such innovative shades. I can look at all the mesmerizing pigments for hours.
Q: Have you worked in the film industry, and if so, what did you do?
A: I was part of the cast for one small indie film back in Calgary. 
Q: Recently you have been traveling a lot in Asia, how often do you go, what is it that fascinates you about the countries you visit, and what do you do there?
A: Yes, this year I traveled a lot to Asia. I visited Thailand, Indonesia, Cambodia, Singapore, India (about fifteen trips all together this year). I really love the Asian cultures, which is completely different from what I am used to. Asian makeup and hair trends are legit. People are friendly as well. 
Q: You have been collecting lovely costume items, some of which we have used for this shoot, tell us about where you sourced them and what they were made for.
A: During my trips, I have the impulse to find the local antique and designer stores. A few of the pieces that we used for this shoot were purchased in an antique wedding store in Ubud, Bali. This store has a great selection of clothing and accessories. I spent a few hours to choose the one I finally bought for our shoot.
Q: Recently you decided to try modeling. I know you have worked with at least one other photographer, and you were both model and makeup stylist for this shoot, can you tell us about your experience being the subject of the shoot?
A: While working as makeup artist, designer & hairstylist, I always have a specific look in my mind. The hair and makeup has long served as the finishing touch for my vision, with the model's beauty telling a particular story. However, working with a model, I have to communicate the idea to them, so that they can do my idea justice. So, this time I had a chance to implement my idea and inspiration end to end. It was very exciting.
Q: Was it a transformative experience for you? 
A: Definitely, working in front of the camera is a life changing experience. It gives me energy and confidence. If you want to be happy in front of a camera, you must be happy when you look into the mirror. I was already a mirror queen regarding the makeup looks. So, I took it as a step up.
Q: Were you comfortable during the process? 
A: The very first time I modeled it felt a bit strange, it was difficult to relax in front of the camera, I didn't really know how to pose and what to expect. But that was a long time ago. Now it feels good! I just avoid the self-critical monster by preparing for my on-camera session with confidence, which makes me feel good about Me.
Q: How do you feel about the resulting images, are they what you expected?
A: I always love Nina's work! She captures the essence of beauty in connection with art. She is a ninja with her Camera. When it comes to professionalism, she pairs her skills with patience to meet the desired outcome.
Q: You also created a couple of the headpieces for the shoot, can you tell us about your inspiration for these and where you sourced the materials. Do you plan to do more of this creative work?
A: Don't you feel like a queen when you have a headpiece on your head? Whether it is a tiara, a crown or just a floral band, it gives a woman an amazing feeling. My love for crafting headpieces has increased. The ideas for the headpieces are from various countries. During my journeys, I came across different cultures and people who inspired me. Whenever I saw something which I could transform into something for a creative look, the whole costume and makeup came into my mind. For each idea, I tried to take the materials from the same culture, and then crafted them as I desired for the look I wanted to create.
Q: Do you have any secret desires relating to your creative work?
A: I don't know how secret it is, but I am planning to spend more time in front of the camera. As far as my makeup artistry is concerned, I am soon coming up with some amazing innovative ideas. For that, just stay tuned to my social media handles.
Lyana Gibert's website – www.theartofbeauty.ca