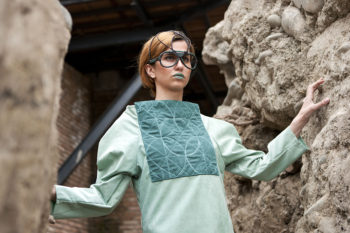 Q: Tell us about your designs and what inspired you to produce imagery that has a futuristic edge to it.
A: My collection "Cryptogram" is inspired by Georgian unique script, which is one of the world's writing systems, as well as the old hidden letters and symbols. This is the formation of these characters in the costumes created by me.
Q: Is there anyone who has strongly influenced your style or direction in design? Or is there any designer past or present who inspires your creations that you wish to mention?
A: In general, a lot of things can be found in our universe, which inspire and which give me some direction. As for a particular person who inspired me to create in a particular style or trend, in the fashion industry there are some strong designers who have created epoch work in this fashion world, so many that my view is not affected by only one particular designer or personality. But I must mention Issey Miyake with his unique techniques and his costume art.
Q: Are you formally trained or self-taught? Tell us about your path as a fashion designer.
A: I graduated from Tbilisi Academy of Arts, specializing in clothing design with a bachelor's degree and then went on to get my master's degree. My career as a fashion designer started by creating a diploma collection titled "Cosmic Angeles". Soon afterward I created a master collection titled "Cryptogram" which attracted Vancouver Fashion Week's producer Jamal Abdourahman's attention and I am very grateful to him for the full funding of the show. That's where the brand Fesvedy started, which was founded by me and my compatriot, Vancouver artist Kakha Berry. The word Fesvedy, in the old Georgian language, means royal garment. This is a conceptual name and is considered to be clothing of a high level, quality, and taste. We are creating collections both in Georgia and Canada now and we participate in the North American fashion shows, including New York Fashion Week.
Q: Tell us a little about your preferred techniques, what makes your designs unique?
A: Generally in the fashion industry exclusive work is especially valued , thoughtful, conceptual Pieces which are made manually. It should be not only a functional but also a piece of art. It is then considered valuable and interesting. With the collection "Cryptogram" many types of techniques are combined, hand-printing, and making ornaments and knits manually. The prints, are picture compositions created by me. It should be mentioned as well, that the accessories and decorations are also handmade and the analogy is not to be found, as the forms are exaggerated by the Georgian Asomtavruli alphabet. We can say boldly that my work is unique in content and the use of techniques.
Q: In a few words, what would be the perfect future, if you could imagine it into reality what are your hopes, dreams, or expectations for the world?
A: The best future for me cannot be considered without my professional progress and going out to the world stage. I hope that my creativity will make people happy, comfortable, and will uplift their self-confidence. I think the chance of better realizing new ideas will be possible in the future.
Q: In practical terms, as things are going, do you see the future of humankind as a Utopia or Dystopia? Do you have hope for the survival of the planet? Please give us a brief explanation.
A: I cannot talk just about utopia or dystopia separately. I think, what is happening in the world today are steps moving into dystopia. In my opinion, technology will conquer the world in the future, but it will have its positive side too. Everything will be simplified in our world and everything will be improved. What is unthinkable today will be the norm in the future, as if it had to be that way, and will not seem so amazing as we might imagine today. What is meant by surviving? I do not think we are on the edge of death.
Q: Do you see yourself as a forward thinker, and if so what solutions would you propose for saving the world? Or do you feel it needs saving?
A: I think the situation is not so catastrophic for the world to be in need of surviving. However, I see the way of progress and development with humanitarian efforts, settling the relations between the Nations, expanding animal protections, developing and solving ecological issues, all by using modern technologies for the benefit of mankind, which take into consideration our global problems.
Q: If you could change any trend that has had an impact on our planet, what would it be and why would you change it, what do you feel it would change and how would it help?
A: If I could help the world and contribute in the improvement of its life, I would definitely change the plastic materials to natural ones. The wide application of plastics has a significant impact on ecology, flora and fauna. Many species of animals and fishes are on the verge of extinction, and there is no way out. Ecological contamination catastrophically impacts human health and there are fatal cases too frequently. If the products made of natural materials were widespread the world would be much healthier and well-organized.
Q: As an artist do you feel you have a voice which could influence or change your audience's view of world events? Do you feel it is a responsibility of an artist to bring awareness to certain issues?
A: Generally art can solve a lot of problems existing in the world relatively painlessly. Art has the greatest revolutionary power. It can change the world radically. This depends on how well issues are introduced to the public. As an artist, it will be quite daring to say that yes, I can do it! But through my art, I still think that I can show, or emphasize, a wide range of problematic issues to public, and make some impact on a wide audience.
Q: If you could go back in time fifty years, what would you tell the world to do differently and why?
A: If I could go fifty years back, I would tell the world about Nikola Tesla's invention of the electric car and tell them to stop using internal combustion engines.
Q: Do you see humankind making space travel an option in our future, if you were asked to go to another world, would you choose to go?
A: If we have a materialistic perspective, modern technologies are developing at such speed that the possibility to travel into space cannot be excluded. We all have to travel in time, we cannot grow without our intangible journey in the past or in the future. I love the diversity, perceiving new things, and of course, I would be glad to go to another world where there would be different and unexpected situations and circumstances from our world.
Q: What advice do you have for young designers just starting out?
A: Be individuals, work hard, because work is never fruitless and always has results. Try to reach the goal. Do not be afraid of obstacles, contradictions or disappointments. Be constantly in motion and never stop. Try to develop your own ideas and give them the right direction. Never allow anyone to interfere in developing your ideas, and most importantly be sure of your capabilities.
Q: If you had full funding for any project, what would it be?
A: I would establish the organization through which people from any corner of the world could introduce interesting, beneficial and useful ideas to the world and thus have a chance to enrich their ideas, of course, taking into account the protection of copyright.
Q: Are there any projects in the making you would like to share with us?
A: We have a lot of interesting ideas that our brand plans to implement, but I do not want to talk about it in advance. I prefer to leave a surprise. It will be more interesting.
Q: If you were to attribute any emotional, spiritual, or physical context to your art, what would it be? Is there a story behind the way that you design, a feeling, a dream or belief?
A: Art cannot exist without an emotional and spiritual load. In my work, there is a different emotional feeling or idea in each piece. My designs are an expression of the emotional context. I cannot give a specific name because different emotional or spiritual backgrounds accompany my work at different times and every time it is a bearer of a different story, history or belief.