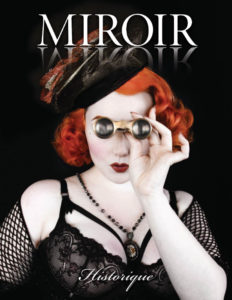 Designer Melanie Talkington Of Lace Embrace Atelier
Q: What inspired you to create garments which have a period style?
A: I've always loved the history of fashion and especially the undergarments that modified the body shape. It's wonderful to imagine a time when people truly enjoyed fashion and dressed for occasions. Each layer of clothing has a story and purpose, it's all so inspiring and fascinating!
Q: Is there a particular time period you feel your designs are best suited for?
A: I used to be quite strictly Victorian/ Edwardian. Now I'm inspired by upcycling beautiful antique lace, bohemian with a touch of eroticism and blending a variety of eras.

Q: Do you create for the film industry, and if so what series or films in particular?
A: Yes, we work actively with film designers. Many shows buy vintage in our shop or order corsets and lingerie. We've worked with Sabrina, Riverdale, A Series of Unfortunate Events, and made all of the corsets in Suckerpunch.
Q: Can you tell us a little about your lectures on corsetry?
A: My first passion lies with my antique corset collection. I lecture on the history of corsets, and we are installing our first exhibit in the back of our boutique.
Q: Who is your customer and how can someone purchase your items?
A: We have a varied clientele, the youngest is sixteen, the oldest eighty-five. We work with brides, medical braces for scoliosis and liposuction, new mothers, waist trainers, kink and trans people. We take great pride in helping people to embrace their inner goddess. We have both online stores and a boutique, please see our website for details.
Q: Would a corset fit anyone, or do you need something specific for each body shape and size?
A: To those who desire an elegant figure, we offer our corsets as the unequaled expression of this elusive form with individual corsetry. With the many variations of the human form, no number of stock styles or sizes could meet all requirements. Each figure compels personal attention that can only be provided with a made-to-measure corset. At Lace Embrace, we believe that the corset is an extension of the self. We strive to ensure our corsets are an experience that will thrill our clients and embody their fantasies with a fit that is uniquely their own. We are dedicated to offering corsets that will achieve a graceful figure.
Q: Do you stay true to historic patterns with your designs?
A: Each Lace Embrace corset begins with an inspiration from an antique corset. All patterns are verified with a sample product to ensure the correct historical shape is achieved. Upon attaining an authentic shape, a graded pattern is created to the customer's measurements. Extra care is taken to ensure the corset moulds your figure. All construction and placement of boning correspond with the original corset. This precise method provides you with a corset made to support and shape your body in the same manner as the original.
Q: How long have you been making these historical garments?
A: Lace Embrace corsets combine the highest skill known to the art of corset making. We are dedicated to the time-honored traditions of corsetry, actively working with historical and modern designs. With over nineteen years of training and experience, our understanding and enthusiasm of corsetry is constantly expanding. We thrive on challenging designs of historical beauty and distinction. Offering a wide variety of Victorian and Edwardian corsets, our collection of styles will accommodate all your desires.
Maria Curcic
Paris born, with a strong European appreciation for fashion and style, Maria began creating hats for high-end boutiques in Canada and the U.S. in the early 1990's. The popularity of her designs led to the opening of her own store, Le Chapeau Rouge, in Calgary in 1990. She shifted her attention to wholesale in the late 1990's, providing hats to over fifteen stores across Canada and the United States. Maria is a graduate of Interior Design from Mount Royal University as well as a graduate of The Alberta College of Art and Design. In 2015 she took a class with Melbourne milliner Louise Macdonald.
Today, Maria focuses her attention on custom creations, from everyday wear, to hats for any special occasion. Maria is also a painter and has her own radio station. Her many talents keep her very involved in the arts community.
"Many of my hats have a period style to them due to my use of vintage materials that I incorporate into the designs of the hats and headpieces. Most of the materials are new but I love using those antique components to express a period style that can work with both modern and antique clothing.
Much of my influences come from 18th, 19th and 20th century headwear and fashion styles or those eras. I incorporate the "feel" Of these time periods into my creations through the use of color, texture and materials. I enjoy embellishing hats with various types of trims. I am particularly fond of embroidered and beaded materials. They are so timeless to me. I love vintage feathers as well. I recently purchased a large lot of antique feathers and trims which will be used to create my future collections which get posted to my site regularly. My designs are best suited to a modern time period that can be matched up with antique or vintage clothing.
I worked with the television series Frankie Drake mysteries for the first season. The hats were 1920's flapper styles, which were mainly cloche styles either made with my flat pattern designs or with my various woodblocks. Many of the hats were hand blocked back then as well as hand-trimmed. Most of the trims were purchased on my travels in Paris, they were true antique ribbons, beads, and feathers from the1920's. By mixing in some modern materials I was still able to recreate the look I wanted. Many of the hats in the 1920's were embellished with beadwork, metal components, and feathers. They also used fur, felt and other materials which were made on wood hat blocks. I would love to create more work for television and film if I was given the opportunity.
My customer base is broad. Many of my customers love the modern designs and yet, many love the more vintage/antique looks. Some of my clients go to special events where they need to dress in period styles. While others want something, Avant Garde'. With such diversity in my designs, I am able to make hats for just about anyone seeking something individualized. I sell all seasonal creations on my website now, as my clients come from many countries."