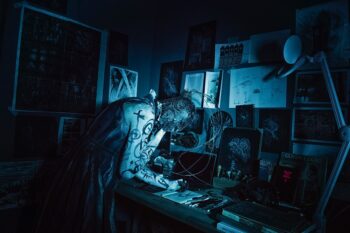 Carbon Console is a so called SellFable Machine Relic. An immersive, multidisciplinary art installation, emanating light and sound. It's a portal that will carry the visitor away like an ancient sailing ship, towards unknown shores: anywhere but here. Whether it is experienced as a portal, a chapel, a mausoleum, a refuge, or something altogether different, is up to the visitor. Its true purpose is open to everyone's own interpretation and imagination.

The structure has elements of machinery. Its ropes, masts, sails and banner bring to mind old sailing ships, a small factory, and perhaps a teleporting device, or a chapel. A structure from a parallel universe. Images cut out of each side, depicting robot guardians glow with the rhythm of the soundscapes. They seem to keep watch, or perhaps they welcome the visitor.
Once inside, the room captivates and immerses the visitor with ever changing soundscapes and lights. As if the machine comes to life, and does what it was meant to do: transport the visitor to that other universe: SellFable. The size of the installation is approximately 4 meters wide, 8 meters deep, and 12 meters high.
Hexadecimal poetry
Hexadecimal numbers are painted all over the installation, easily mistaken for decoration, the numbers have a meaning. Hexadecimal language is an early computer programming language, and the language of the SellFable Machine Universe. It can easily be translated to English, revealing fragments of poetry. For example: 63 61 72 62 6f 6e 20 63 6f 6e 73 6f 6c 65 translates as: carbon console. The sequence 74 65 72 6d 69 6e 75 73 translates as: terminus. These are the texts cut out of the left and right front side.
SellFable
SellFable is a Machine Noir Art Universe inhabited by soul searching electric creatures. Like an ink stain, it slowly creeps into our increasingly detached world. Tainting systems and leaving evidence of its existence: Lost Mechanic Orphans, System Bugs or fragments of machine language poetry. A solitary person called The SellFable Archivist collects and arranges these items, so called 'SellFable Machine Relics'.
About the artist
SellFable, (pseudonym of multi disciplinary artist Daniël van Nes, NL) creates intricate and meticulously constructed works including illuminated engravings, drawings, paintings, sculptures, interactive installations, and performances.
His SellFable Machine Noir Art Universe reflects on social and technological developments in modern day industrial world, in which concepts such as identity and reality often play a role. Arranging characters and elements in a 'machine noir' setting, he illuminates an undefined world that may be waiting for us in the future, or for some already exist in the present. As the 'SellFable Archivist', he collects 'Machine Relics', proof of the existence of this world.
He is known for his installations incorporating unique engravings. Reviving the centuries-old techniques of copper and wood engraving, he transposes them to modern materials and new visual concepts, developing a new technique: 'Illuminated Engraving'. The result of this meticulously handcrafted work can only be seen by use of light.
The 'Carbon Console' installation is exhibited at Straat Museum in Amsterdam, Netherlands
Construction time lapse https://vimeo.com/473726681
Links
Website: https://sellfable.com
Patreon: https://www.patreon.com/sellfable
Instagram: https://www.instagram.com/sellfable
Facebook: https://www.facebook.com/sellfable
Twitter: https://twitter.com/sellfable
Nika Kramer – Photographer