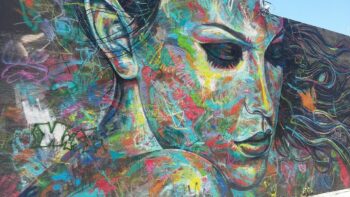 There is always something deeply engaging about a well-made mural. It can make for an almost overwhelming artistic experience — something not just large but complex, and able to be viewed in different ways and from different perspective. Perhaps the best way to describe it, in fact, came in an interview we had with sci-fi- and fantasy-inspired surrealist painter Glenn Barr.
While Barr is not himself solely a muralist, he characterized the medium as a "broad canvas" — a description that is both literally and figuratively apt. It is the seer breadth of mural work that seems to indie such limitless possibility, all around the world.
That possibility somehow seems all the more infinite, too, when we consider street murals in particular. While it can sometimes be more difficult to identify and credit specific artists when assessing street art of this nature, urban murals are some of our most significant works of modern art. They function as displays unto themselves, certainly, but they also help to define the character of our cities. In this piece — again, with some difficulty highlighting actual artists — we want to shine a spotlight on some of the neighborhoods in the U.S. where the best street murals can typically be found.
Wynwood (Miami, Florida)
As a post at SmarterTravel.com put it while outlining some of Miami's best neighborhoods, "If you love art, don't miss Wynwood." Once a warehouse district, it has over time been revitalized by art galleries and restaurants, it has also become one of a number of vibrant cultural centers within a particularly vibrant city. Wynwood, however, is also known specifically for street art, and is even known for a specific outdoor installation called "Wynwood Walls." You might find some equally impressive street murals in the U.S., but you won't find better.
The Mission (San Francisco, California)
Not entirely unlike Miami, San Francisco is a city of neighborhoods and districts with specific characters. But the Mission District (sometimes called The Mission) is one of the most special of the bunch. Named for the Mission San Francisco de Asís — the oldest building in San Francisco — it has evolved over time into a delightful miniature melting pot. It's now an area at once deeply tied to the city's Latin culture and also known for a distinctly modern hipster vibe. And though the Mission District has numerous attractions (including The Mission itself), its murals are perhaps its most unique. On everything from public walls to private garage doors, the neighborhood showcases wonderful artwork.
Fremont Street (Las Vegas, Nevada)
Fremont Street is perhaps the most bizarre combination you'll ever find of a vibrant downtown area and a hidden gem. That's because it's essentially the true downtown of Las Vegas, set apart from the casino strip and possessed of an entirely different energy. And yet, it's where a lot of people go for something of a more genuine place — a district where food, drink, and bright lights are in ample supply, and where as Poker.org put it in a piece on Vegas activity it's "virtually impossible not to have a blast." There is simply a spirit to the place that is different from that of the Vegas we all have in mind, and it just so happens to manifest in superb street art as well. Along Fremont Street and some of its offshoots, visitors will see a number of gorgeous and eccentric murals.
Kaka'ako (Honolulu, Hawaii)
Kaka'ako in Honolulu is a neighborhood that shows off much of the best of urban Hawaii. There are excellent restaurants, local brews, and even a number of well-regarded juice bars for the more health-conscious. The neighborhood stretches from the water (at Ala Moana Beach) into town, and thus provides people with a little bit of everything. Over the years though, Kaka'ako has also become known for one thing in particular: its street art. The neighborhood has become the center of the POW! WOW! street art festival, which now takes place all around the world. This festival is many things, but it is first and foremost a large gathering of street artists who paint and repaint the walls of Kaka'ako each year.
This kind of art isn't always easy to track or appreciate at a distance. But visit these neighborhoods in person and you'll find some of the very best mural art that America has to offer.