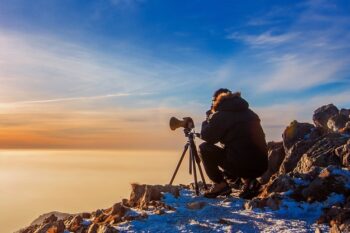 Art is about capturing the world as we see it. For centuries, oil paints were the best tools for fine art and it was the commonly adopted medium for the Old Masters.
Today, while traditional media is just as important to art, new tools like digital cameras are coming to the fore. Photographers are now playing with the past and present in their work with the aid of tools, such as cameras, lenses, lighting, and mirrors.
Here are five top contemporary photographers and their best tools:
Lillian Liu
Lillian Liu is a fine art photographer who uses modern tools but takes inspiration from historical silhouettes. She is naturally drawn to elements of baroque, medieval art, and the romance of the 1800s. Lillian Lui was interviewed previously on the site, where she shared her views and perspective on modern-day art. During the interview, Lui said, "My style is a deliberate marriage between creative post-processing and fine art photography!"
She has become famous for her masterful use of the Infinite Color Panel, which is evident by the beautiful color grade and rich tone of her edited masterpieces.
Giles Clement
Giles Clement's photographs are loved by art enthusiasts around the world because they express a unique and modern style of contemporary artwork. He amazingly uses
a 16×20 ambrotype camera he built himself. This early camera served him well for a year and a half. Clement eventually constructed another camera that could produce
images on sheet film or paper. By constructing his own camera, he was able to increase its versatility and compatibility with different types of lens, such as a super-wide 14-inch f/16, a 27-inch f/8 Anastigmat, and a 1918 GoerzDogmar 500mm f/4.5.
David LaChapelle
David LaChapelle is a famous photographer well-known for his pop surrealistic photographs which have caught the eye of prominent magazines. As a result, he did the front covers for The New York Times Magazine, Rolling Stone, Details, GQ, Vanity Fair, i-D, and The Face, to name a few. LaChapelle has a number of books already published and his unique style has gained a reputation for his work being "full of juicy life." LaChapelle's arsenal of tools includes a Phase One camera kit with two IQ180's, two Mamiya 645DF cameras, and an array of lenses including a 28mm, 55mm 80mm and 110mm Leaf Shutter lenses.
Deana Lawson
Deana Lawson is a contemporary photographer famous for capturing a mix of formal portraiture and spontaneous snapshots that reveal both truth and fiction. Her works can be seen at Lawson's first museum survey show, at the Institute of Contemporary Art/Boston (ICA). The show covers the whole spectrum of her work such as early portraits and recent color photographs with holograms. During an interview, Lawson said, "I just want to make a picture that gets closer to representing how I envision myself — as an artist, as a creator, as a person who holds a camera." She uses a smaller 4X5 camera that she customized with crystals surrounding the lens.
Rinko Kawauchi
Rinko Kawauchi is a gifted photographer who gets her genius from the wisdom of Shinto, an ethnic religion of Japan. People of Shinto believe everything on earth has a
spirit, so nothing is too small or ordinary to not be photographed. Her photographs are famous for their unique beauty, simplicity, and ability to capture intimate details which usually go unnoticed. On her website, Rinko Kawauchi said, "I put a lot of focus on equipment, most of the time I use a Rolleiflex 6×6 which is a looking down camera."
Art is truly about capturing the world as we see it. All great artists know this, and they have an uncanny ability to see everything and express it in such a way that is creative, unique, beautiful, timeless, intimate, romantic, modern, contemporary and juicy.