Kai Altair is an American singer/songwriter, dancer, performance artist based in Brooklyn, New York. Often seen dancing barefoot on stage backed by deep beats, keyboards, and guitars, Kai Altair mesmerizes audiences with an ethereal voice and captivating lyrics. Hailed by CBS News as a "modern day mermaid," Kai is influenced by dance culture, myth, storytelling, and dreams when creating her music and multimedia stage shows. Kai is a classically trained musician with a talent for blending ancient rhythms, futuristic beats, and a rock edge to create heartfelt, mysterious music.

Kai Altair burst onto the Brooklyn music scene in 2010 with her debut EP "Star of The Sea", following it with the single "Shine." Performing with her band in venues and parties across New York City, Kai's creative visions often involve a collective of rising stars from the dance, circus, and costume worlds. She starred in the glittering circus musical, The Wonderneath, sponsored by Swarovski Crystal at The House of Yes, and trains with world-renowned tribal belly-dance coach Sera Solstice. She is the a songwriter for two award-winning films: feature length drama "Exposed", and the magical short The Hidden Sister. Kai is also writing music for the environmental dark fantasy Dreams of The Last Butterflies; a short film in which she will star as a queen of butterflies. Kai's passion for storytelling, imagination, and adventure lead her to many exciting collaborations with artists from around the world. One of the most recent is with legendary "Flambeaux Fire" in "The Calling," a fire musical set in the heart of industrial Brooklyn starring Kai as a young witch on a journey through the spirit world. Kai's love for the ocean inspired her to create "Mermaid Lagoon", an annual ocean conservation benefit and variety show that sends thousands of dollars annually to local and world water organizations. Currently preparing to record her first full length album, Kai's eye catching music videos and live webcasts are spanning the 7 seas via online communities, and sparking a devoted international fan base.
Q: Tell me something about your history in the creative arts. Did you have a formal school education or are you self taught?
A: Although I emerged from the womb singing songs, I did receive a formal education. I began taking classical voice lessons at age 14, and went to conservatory to study classical voice, and electronic composition. I attended Manhattan School of Music, and Brooklyn Conservatory. Much of my rock n' roll sensibilities had to be learned later in the downtown NYC, and Brooklyn nightlife world. I actually had to do a bit of UN-learning after I finished my classical education at college to end up with the voice and abilities I was going for.
Q: We're interested to hear about your basic inspirations that drive your creative energies.
A: My inspirations usually begin with experiences that move me so deeply I have to create something around them. Many times these experiences are too big to put into words alone, so I write songs, dance, and create imagery to attempt to come close to the initial seed that is planted within me. I am drawn to the natural world, spirituality, magick, dreams, ancient cultures, and the idea of past and future lives, so I tend to attract and seek out experiences that will quench that thirst. As you can imagine, when one goes hunting for adventures in those areas, the experiences can be much bigger than a simple conversation or poem could ever convey. When I am done making something with the seed of inspiration that is planted in me I usually feel better at the end. As though I have somehow made solid and real those things that are so ephemeral and strange in ordinary reality.
Q: What were the circumstances that planted that first creative spark in you, and how is that tied to your current inspirations?
A: I can partly say (and my parents would agree) that I have always been like this. Making costumes, singing songs, and making shows up with my friends has always been my passion. There was a moment that I knew that it was a life mission of sorts though: I had a dream when I was about 13 of being on a beach at night. As I looked up into the sky I saw star people made of light, and I could hear the most beautiful music playing. The entire dream carried intense emotion, connection, and vibrancy that shook me to my core. I set out to make that music and feelings of magick come to life in my waking world, and the dream continues to guide me to this day.
Q: How do you feel living in New York affects your creative energies?
A: New York is the most amazing, international city in the world. I get to touch and mingle with so many other cultures, and kinds of people, and I am constantly reminded of our shared humanity. I am also blessed to be constantly inspired by my fellow artists, who are always challenging me to new heights of creativity. It is true that the city never sleeps, and because of that LOTS of creations are made. There is a feeling of never stopping the momentum, which can be overwhelming sometimes, but ultimately leads to more art coming into the world, and new dreams constantly being born. For me, it is impossible not to be inspired in new ways every day here.
Q: Can you say something about your use of storytelling, and its role in your work?
A: Stories are the lifeblood of humanity. They carry the energy of the ancients, and in each telling and retelling power is imparted. I feel that I am always trying to tell a story of one kind or another through my music and performance. A story can hold many strong symbols at once that stir deep energies in an audience–sometimes without them ever realizing it.
Q: How important, in your art, is the message, as in, imbedding a message into your artistic aesthetics?
A: Quite. The experiences and ideas that I write about usually begin with some sort of message that was imparted to me, that I attempt to then re-tell. Although I don't believe that all art needs to have a message, for me it is one of the most important things to include, even in a subtle way. Most of all I hope to re-connect people to the parts of themselves that already know the truth of the message I am working with, and to the spirit that runs through all of us. Considering the times that we are living in, love, compassion, dreams, freedom, courage, and the belief in the deep magick that the universe holds are of the utmost importance. I hope to help people to remember how precious our existence is, and to help them to reconnect to the earth and unseen world in the hopes that we will preserve and protect all that we have.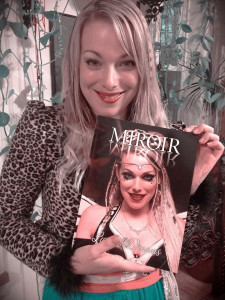 Q: What is the power of film as a medium, and message, for you?
A: Film is especially exciting to me because it combines all of the mediums I work with unto one. It is the ultimate game of pretend and creation captured by the camera. Stories, music, movement, costumes, make-up, and message all come together to create an experience that has the power move audiences deeply.
Q: Do you ever want to get away from it all? What do you do for release, and to shake out the cobwebs of energy spent?
A: YES! As I said, New York is a city that is constantly on the move, and to a sensitive person like me it can get to be a little much. I love to travel to beautiful far away places, especially ones with ancient history and ruins. I also love to spend time in the mountains in upstate New York, and try to swim in the ocean as often as possible in the summer. When I can't get away from the city, I get my nature doses by running the parks, and by the water. Meditation and dancing also help me to stay grounded and centered in my day to day life.
Q: So many of the projects you've been involved with involve collaboration with so many others needed to complete the presentation of something larger than the sum of it's parts. Can you speak about how this interaction with fellow collaborators works for you?
A: One of the biggest gifts of my life are the fellow artists I am surrounded by. Many times my ideas are much bigger and multi-layered than something I could ever accomplish on my own. To know that I can turn to my fire breathing, stilting, costume making, acrobatic, aerial, make up artist, party promoter friends when I have an idea means that my dreams can truly come to life. I am inspired by other worlds, and by visions of humanity in the future, so it takes a very broad skill set to create those visions in reality. I am also blessed that those same people turn to me when making their own massive creations. This means we are constantly working inside each other's dream worlds, and it is. . . dreamy.
Q: Do you have upcoming projects that you're inspired with?
A: Yes! I am about to begin recording my first full length album inspired by my journeys into the spirit world, and by the intensely unique times we have found ourselves in in relation to history of the world.
Q: As a unique voice in the larger artistic community, how does that effect your goals?
A: As I have developed as an artist, I have seen that the art that I create is not necessarily packageable for mainstream corporate media. Initially this presented a problem for me, as I dreamed of 'superstardom' and all that it entails. My creations demand authenticity, and for their spirits to remain intact however, and I have begun to create more from the heart and raw emotion than for what I think will be easily consumed by the masses. Many of the artists that inspire me most have operated this way as well, and achieved great success in their own right.
Q: What is your idea of success?
A: My idea of success is to create art that reflects my experiences that reaches the shared humanity and spirit that I share with an audience. Success is the resonance that is felt when others 'pick up what I am putting down' no matter how far outside of ordinary reality it is. Success is living as my authentic self, and inspiring others to do the same, and to share that with the world.
Q: What is your moment of perfection?
A: Joining with others through sound, image, and movement in a moment of synergy and release that enables us to connect to the greater spirit that resides in all of us. I can experience this as a performer or an audience member and seek it always.
Q: Where do you go when you need that fire inside you stoked.
A: Besides beautiful settings in the natural world and the creations of antiquity, I get my literal 'fire' from Burning Man, and the larger community and festivals that exist regionally because of it. I am inspired by the principles of radical inclusion, radical self expression, participation, and immediacy (among others) as well as the idea that we can 'leave no trace' on the earth as we join together at festivals like it around the world. I love that events like Burning Man seem to stand outside of time and ordinary reality completely, and carry the energy of dreams and imagination to heights that constantly challenge my imagination, and force me to grow as a person and artist. I also love that there is a temple built in the center of the desert at Burning Man that serves as a spiritual center beyond all boundaries of religion, race, and country. Arts festivals like Burning Man that also include the element of fire, impermanence, and letting go all contribute to the feeling of a personal 'vision quest' that brings about profound change in the participants. All who enter emerge transformed. This is an ancient way of living that is now being reborn in our time.
Q: 2012 – verging on 2013! What's the best part of being who you are right now?
A: The love and inspiration that surrounds me, and most of all my hope for the future. I believe that although the world is faced with many challenges, that the human heart and imagination will rise to the occasion, and create great change that will bring about more unity and harmony with each other and the planet.
Kai Altair' website
Music Video directed by Zina Brown of Thousand Names Productions.
MIROIR MAGAZINE – Lyrical Dreams – Featured in our Lyrical Dreams edition: Dreams of the Last Butterflies, City Nymph, Surreal Dreams, Nina Pak, Exiles from Delight, Stephen Thorne, Ragen Mendenhall, Charlie Terrell, Francis A. Willey, Kelly Brown, and showcasing the art of Mark Garro, Josh Keys, John Brophy, Marion Peck, Mark Ryden, and Ron English. • Miroir Magazine is an international fashion and arts magazine promoting aspiring and…